Discussion Starter
•
#1
•
I've owned my 95 Sahara for about 4 months now. I've been picking away at it here and there trying to make it more reliable and fixing some of the PO's headaches. I figure this would be a good way for me to keep track of everything I've done and will do as I continue working on it.
When I bought it, it was filthy and not running so good. It ran ok but I knew it needed a tune up badly. I wish I took more pictures of it when I first got it, but here is one as soon as I got it into my garage.
And a few days later after a quick wash: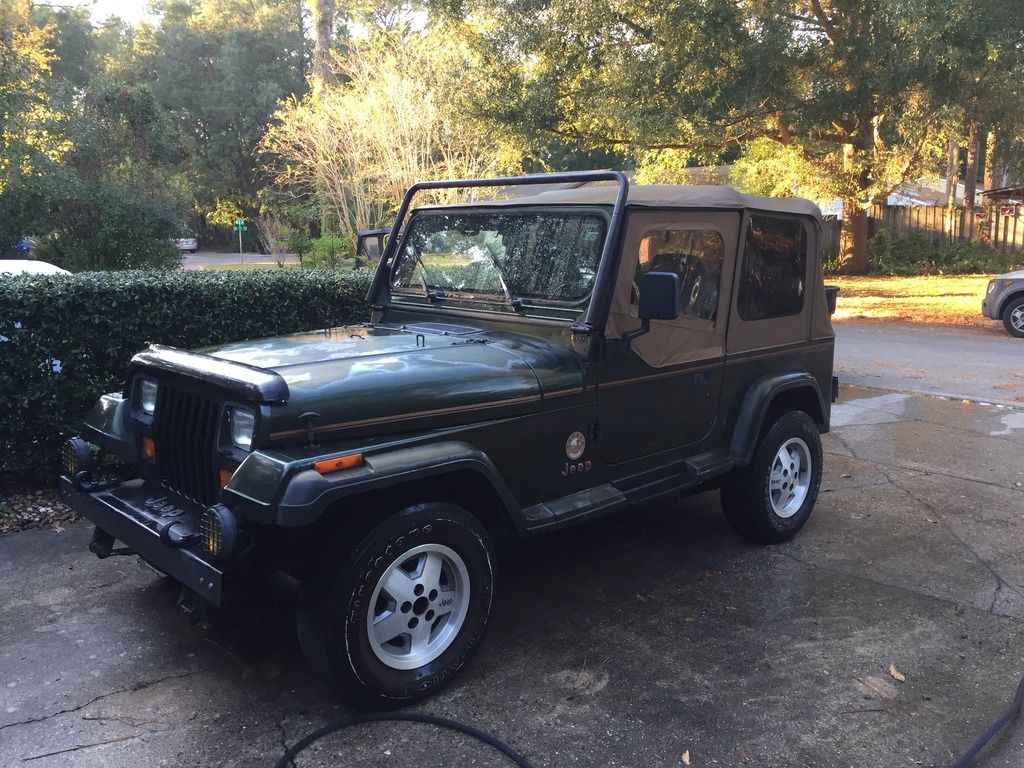 When I bought the Jeep, the previous owner was in the middle of taking the dash apart because none of the guages worked. I basically told him to stop working on it and give me a price and he said once he fixed it he was going to ask $1000 more. So I bought it without him fixing anything. I took out the gauge cluster and found this behind the speedometer: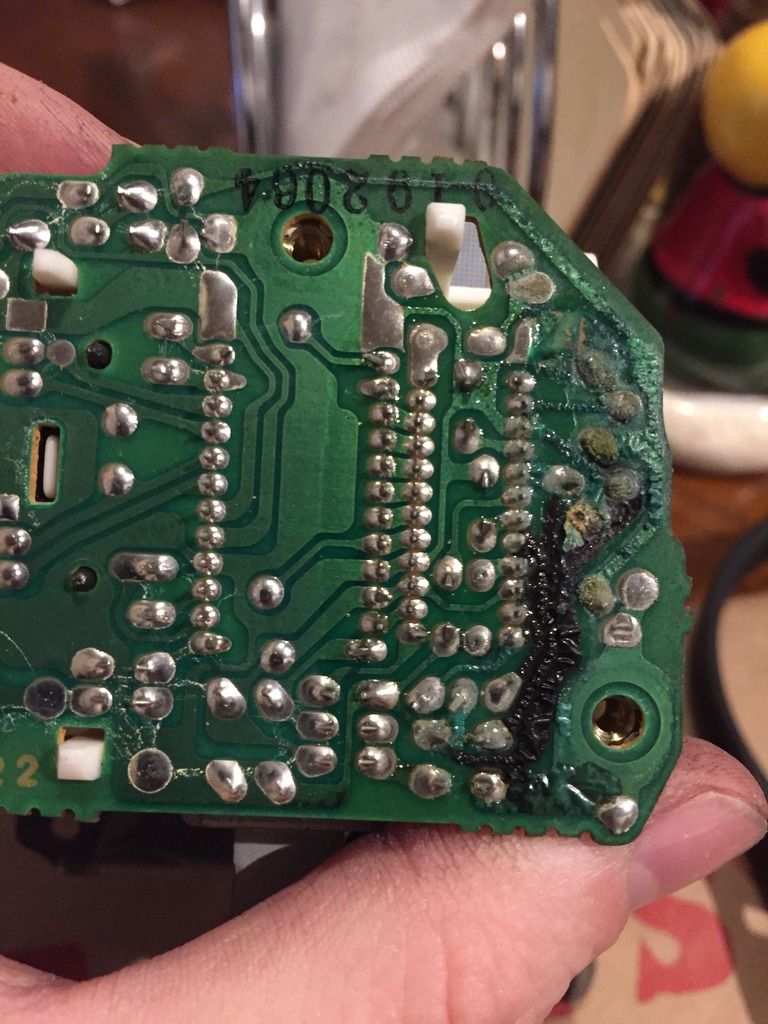 so I assumed I would need a new one. After reassembling everything I started looking at the fuse panel and low and behold, there was a burned out fuse. I'm guessing someone messed up trying to jump start it, as he told me he just had to put a new battery in it. Looking at the battery terminals I knew something had gone wrong at some point. I replaced the fuse and....All the gauges work! Except the speedometer/odometer which I wasn't really expecting to work anyway. I also did the following quick and cheap things:
Replaced wiper blades
Installed battery tie down
Replaced battery ground terminal
Degreased engine, transmission, front and rear differentials to identify leaking fluids
Added a gallon of coolant (YIKES...and yes it stayed full after)
Removed stereo (still need to remove all associated aftermarket wiring)
Replaced passenger window skin with a new condition one that was included with the sale
I ran some seafoam through the engine and put some in the gas tank and crank case as well, then did an oil change. It improved the idle and how it drove but it was definitely still running rich.
Last month I decided to do a thorough interior cleaning. It has no carpet but the back of the Jeep was full of an oil and dirt mixture that I cleaned out, and I also lubricated the seats so they work as they should. They were practically frozen and would not recline. That same weekend I decided to replace the 02 sensor and wow what a difference. I was getting a CE light and the exhaust smell was nauseating. The 02 sensor fixed that right up. The serpentine belt showed a lot of age and was very cracked so I replaced that as well.
The biggest cosmetic upgrade so far came with a new tire purchase. I'm not making this Jeep into a gigantic mud toy, I'm going for a "restored classic cruiser" kind of vibe. So I got some BFG All Terrains in the factory size, with the white letters out, of course.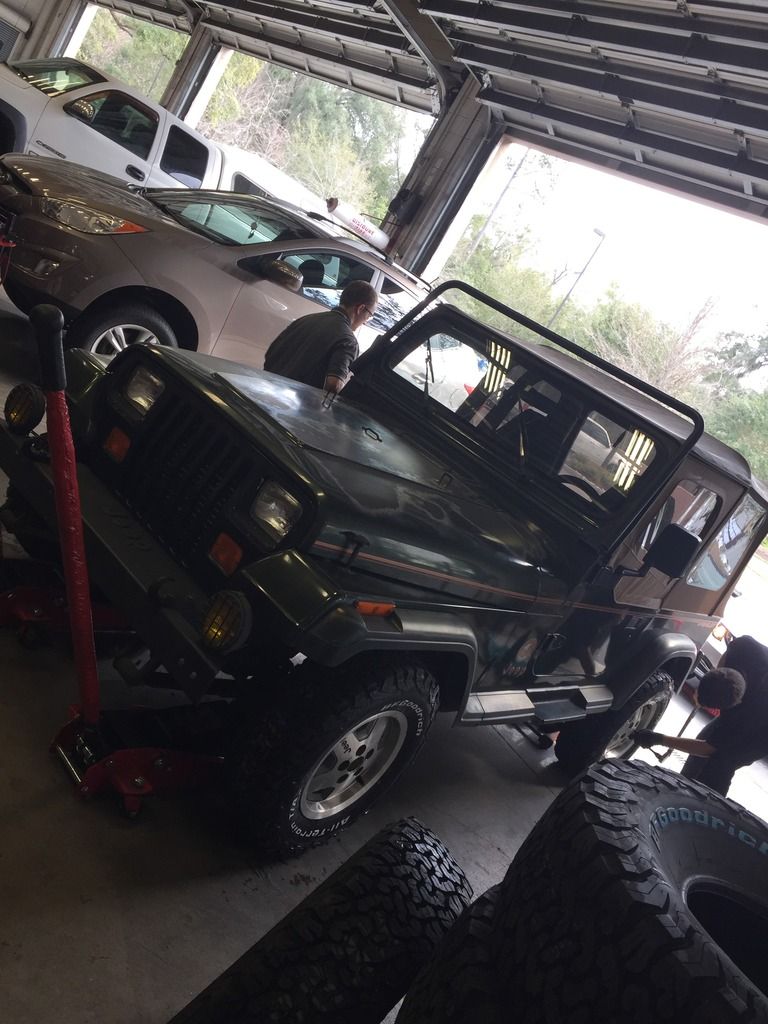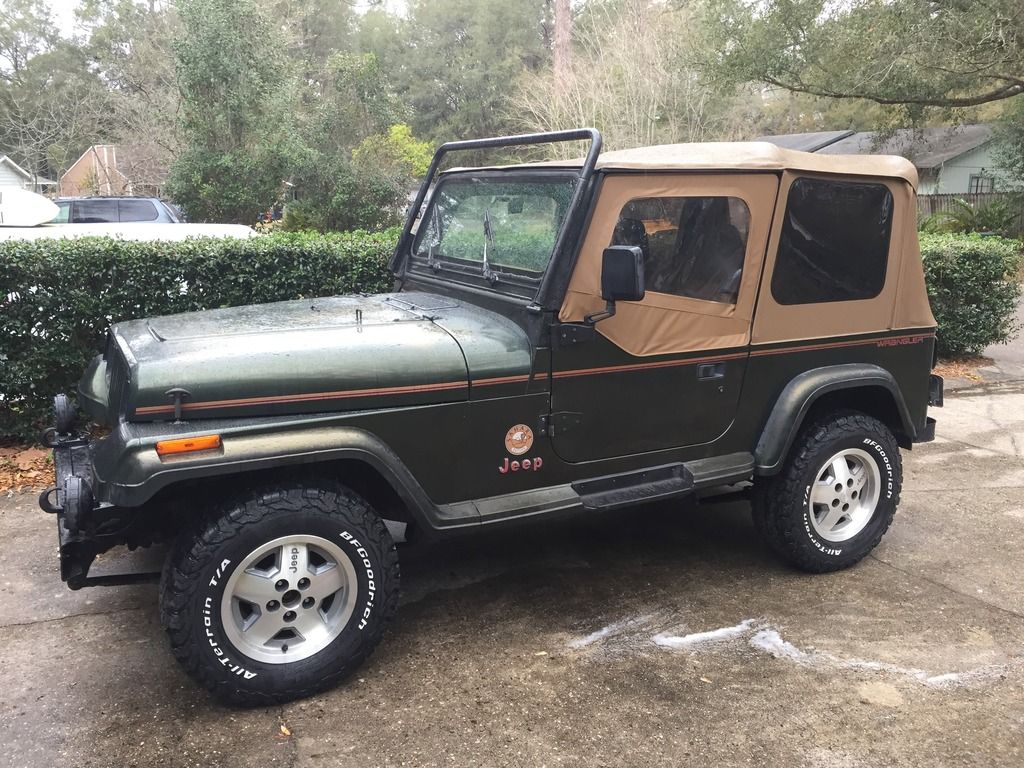 Not a day after getting the new tires, I got stopped in traffic to tell me I had no brake lights! After getting home and checking the fuse panel once again, I found that there was no fuse for the brake lights at all! I looked online for a fuse panel diagram and matched it up to mine and lots of the fuses were not even the right size so I made them all correct. I'm so thankful I wasn't rear ended after not having brake lights for that long! Luckily I don't drive it everyday.
Oh one more thing, the day I bought the tires (but not the install day) my speedometer decided to start working again. I think it was my Jeeps way of thanking me. However it didnt last, it only worked intermittently.
We are getting mostly caught up to present day now. Last week I crawled under the Jeep and saw this: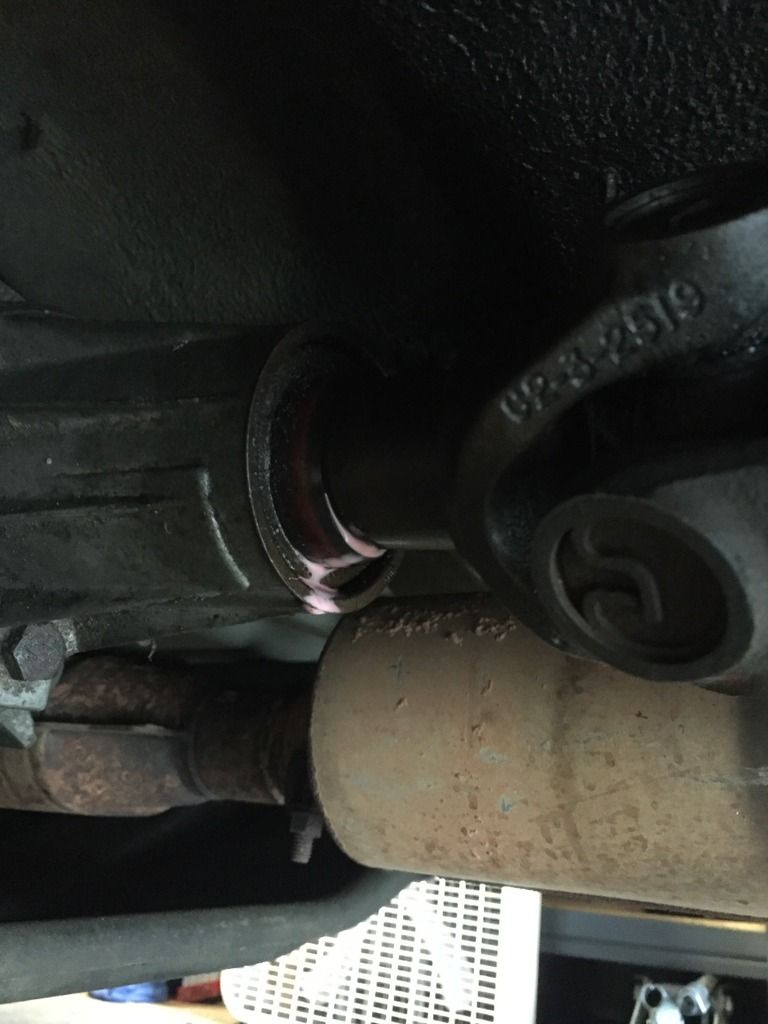 Bought a 4 dollar output shaft seal and proceeded to replace it. That old seal was not playing nice and I couldn't get it out. While I was carefully trying to chisel and pry it out, I cracked off a piece of the tailshaft housing. Thank goodness they went to a 2 piece design. I bought a new one on Amazon and 2 days later I had the seal replaced.
HOWEVER when I drained the transfer case fluid I was met with bad news:
Pepto Bismol does not belong in a transfer case. And worse, there was hardly any fluid in there. I refilled it with ATF and will flush it out and refill it again soon.
All fixed, no more leaks!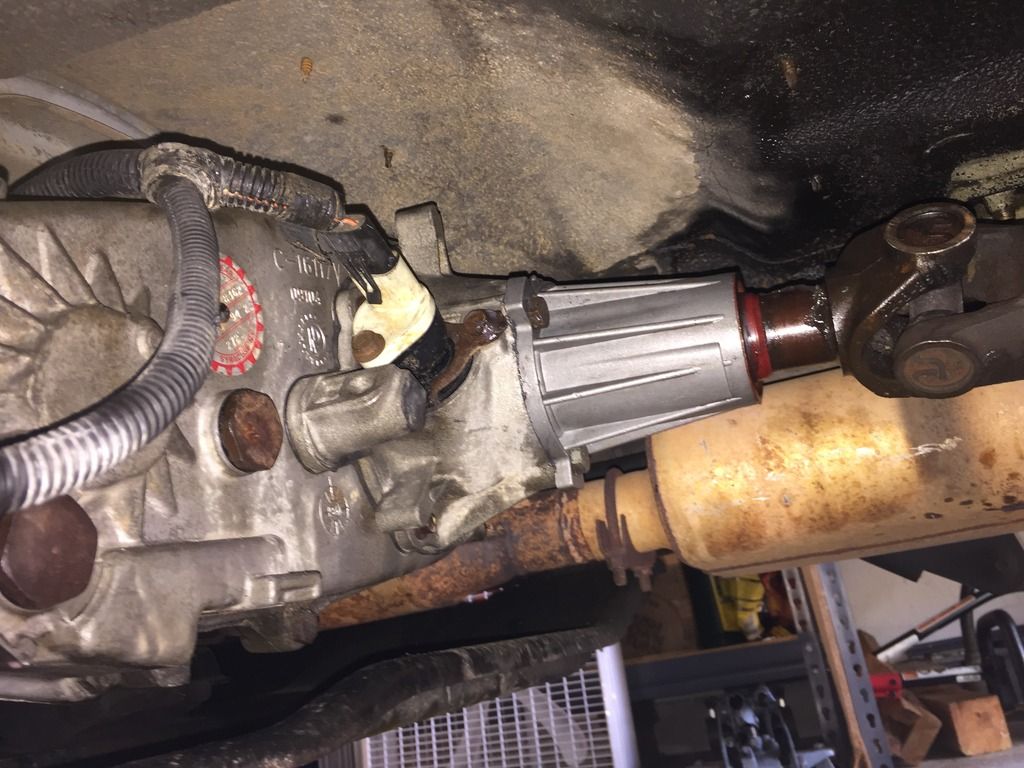 It was such a nice day I took the top off and decided to actually drive it around without fear of hurting anything...I must say I think it's a great looking Jeep with the top off!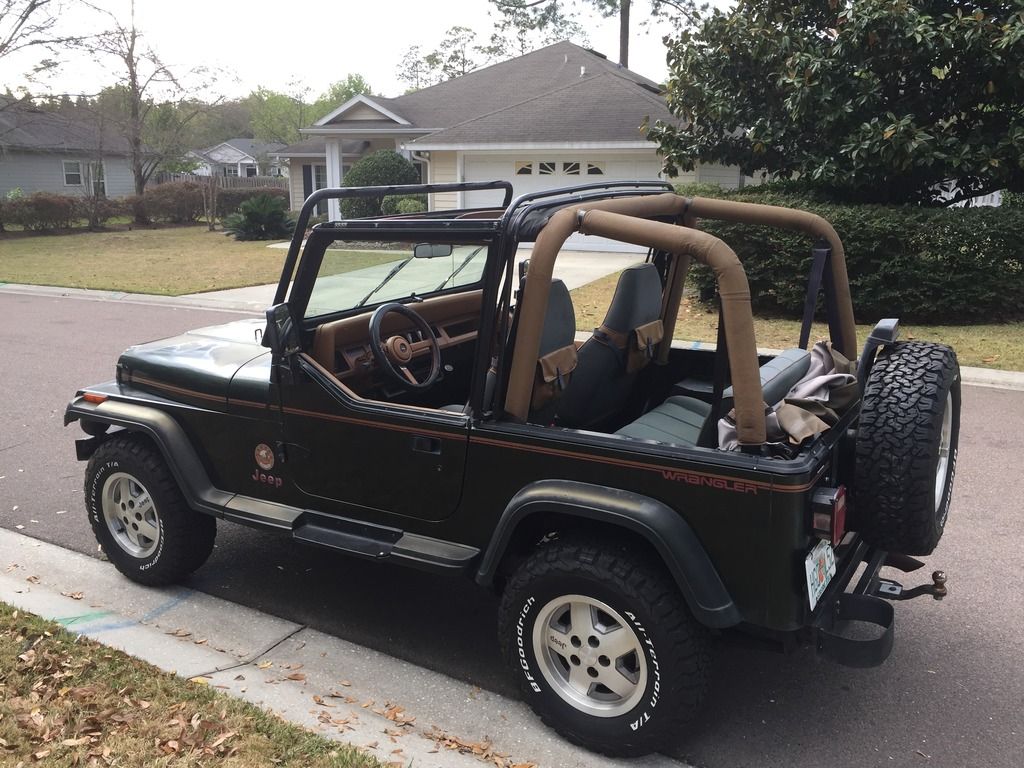 After driving it around for a few hours as I was pulling into my neighborhood I got a strong odor of gasoline. I hopped out in my garage and fuel was literally pouring onto the floor.
It was very easy to see where it was coming from...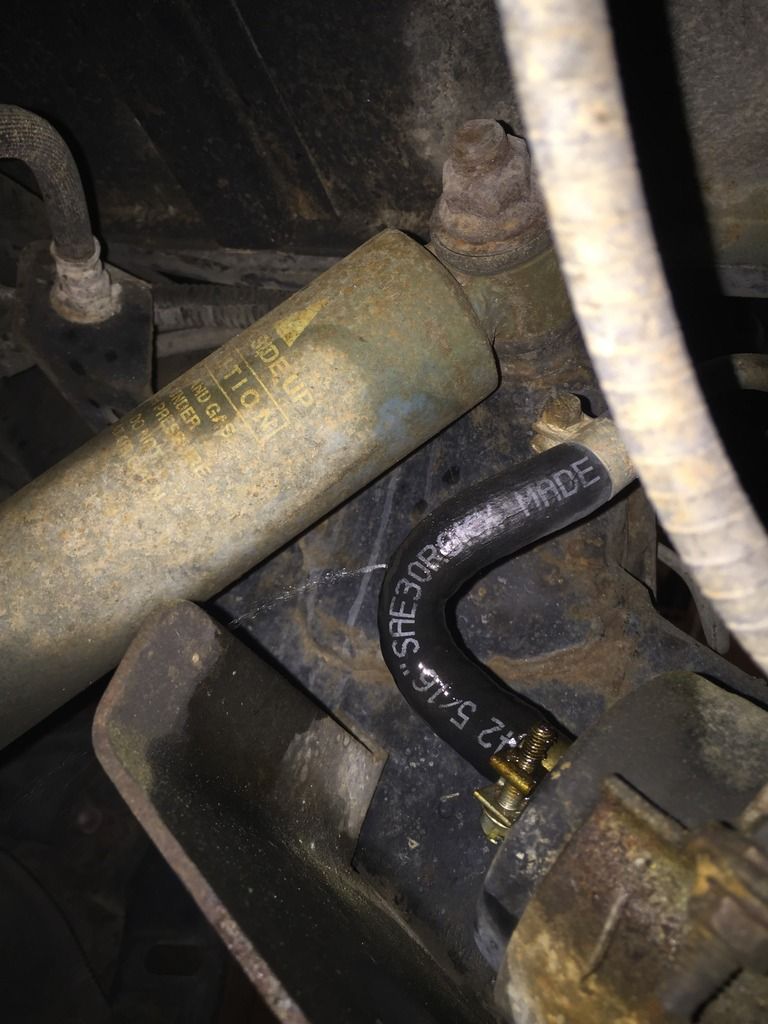 So after work today I bought some new fuel line and a new fuel filter and went to town on it. 30 minutes later it was back together, no more leak and the new fuel filter added some more pep to the engine. It's running very smooth now and a great improvement over when I bought it.
Now that you're all caught up to the present status of my Jeep I'll keep updating this thread as I work on it.
The to-do list includes checking/changing the diff fluid, figuring out a squeak in the wheel that goes away when I apply the brakes, more cleaning and eventually painting it. Stay Tuned!