Discussion Starter
•
#1
•
Another alignment frustration thread
So I made an appointment yesterday with my local Jeep dealership to get my alignment checked and any adjustments that may be needed. I went by the dealership and talked with the service advisor directly and he confirmed that they could do the alignment including adjusting control arms.
So I dropped the jeep off this morning ( @815am), asked to speak to the alignment tech, after a few minutes 2 guys came out and we walked out to the jeep. Both young guys crawled under the jeep talked to each other then stood up and said – shouldn't be a problem.
This afternoon @ 330, go to pick up my jeep.
Good News – Oil change at 3000 miles was successful and I have good clean oil !!
Bad News – Alignment couldn't be completed and there's no charge " we did adjust your toe a little." – Explanation – the alignment guys didn't know how to adjust the caster – never done control arms here !!
WUT !!!
More bad news --- We broke your plastic center hub piece on your Rugged Ridge XHD wheels
WUT !!!
Kinda good news – we ordered you a new one and it will be here in 1 – 2 weeks.
Kinda good news – our new printer was broken so no alignment printout but I took a picture of the screen with my cell phone.
So – I'm here asking for assistance -- Can you tell it wasn't the most successful day .
Stats:
Metalcloak adjustable control arms x 8
Rock Krawler 3.5" coils
Front lowers set to 23 1/8" ( MC suggested 23 1/16" – RK suggested 23 1/8" - Stock 22 5/8")
Front uppers set to 18 ½ (MC suggested 18 ¾" -- RK suggested 19 5/16 - Stock 18 ¾" )
Alignment PIC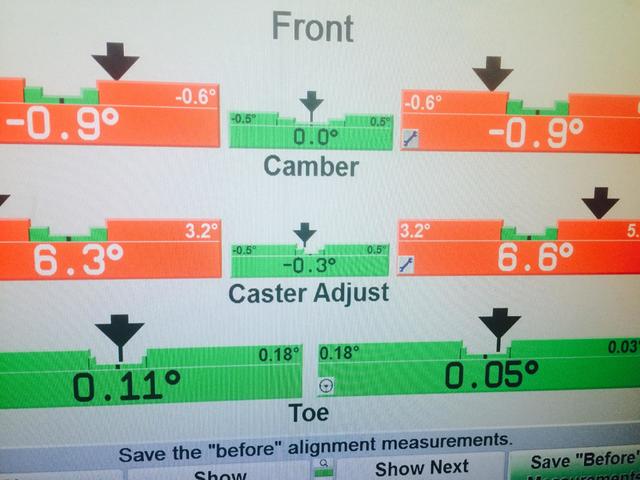 Jeep drives straight and fairly good right now and I thought I was just about spot on and just went to get the alignment for a small adjustment but seeing this today evidently I'm way off – went and bought an angle finder because my smart phone app kept giving different readings ( maybe due to the cell phone case).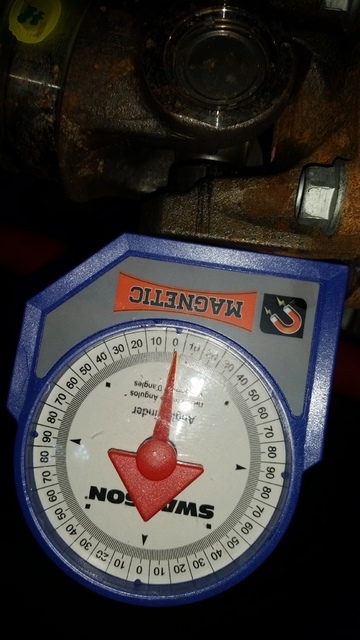 DO I need to adjust where the above picture the arrow is between 1-2 ? on the left side ? It looks like the "tic" mark is on "1" on the right side .
So do I just need to dial back the front uppers till the angle finder reads 4 or 5 – how do you guys fine tune to 4.6 degrees to 4.8 degrees?
Do I need to adjust the front lowers at all ? The wheels seem to be centered in the wheel well.
Do I just disconnect the CA at the axle count 3-6 rotations out – reconnect
then remeasure ? and keep doing this until I have the 4 - 5 degree angle ?

I'm a pro at this point with removing , measuring and reinstalling, so i understand which points to place the jack under the jeep.

Any help ? – BTW Ive read the different threads on alignment on this forum as well as on WOL but still trying to understand it all -- Work in medical field so Jeeping mechanics and suspension work is all self learned via web ..lol