I'll start with a little background. This is my second Jeep and the first one that is also a DD, my wife's DD to be specific. So many of the decisions on how to build have been "jointly" made. :whacky: It is what it is...
It will be done in stages as many of us do on the major components. First will be lifting and tires. Then armor, trail doors and bumpers, etc. If all is going well, there will be an increase in tire size and gearing after that depending on what garage I am trying to fit in (it's an issue now).
It is a '12 that I have owned for about 2 years. The agreement with my wife was, own it a year and then you can play... My Miata was a full coil over suspension job 2 weeks after I got it, that didn't go over too well.
I am very in tune with suspension systems. I have raced motocross at a very high level and fast off road cars for quite a few years. 20 years ago, we were hand building suspension systems that ended up being the mainstream designs in off road cars for years to come.
Starting with this Sahara, as it is spec'd perfectly for my wife. She was so specific on the spec that I was looking all over the country for the exact rig and found it in California. It was originally in Texas. Most of the electronic goodies, including remote start and NO leather and it had to be Cosmos Blue. I just needed the 3.73's and the 3.6...
This was the second day of ownership: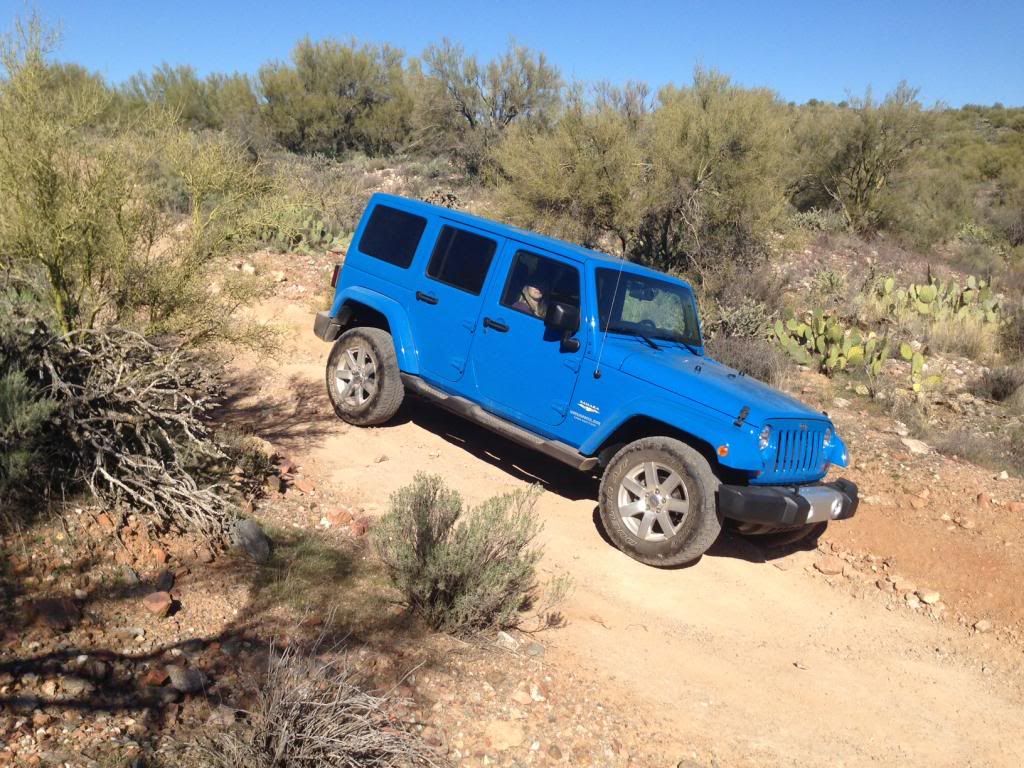 I did add a number of pieces for fun.
Grabars - SpiderWebShade - SWS Cargo Shade - Besttop Tonneau - RedRock4x4 Wheel Spacers - Hella E-Code's and Philips X-Treme Power lamps. No need to photo that stuff as everyone knows the parts and they'll probably show up in photos later anyways.
I also spent a lot of time working on the audio system. Many of you know about the
Stock Tweeter Mod
and then the
6032si sound bar mod
and lastly the
subwoofer mod
that makes up the PRS audio upgrade. Which has now continued to develop and add an amp to sub creating the PRS+ system.
In the first year, I also went through some fun with the suspension just to get familiar with it. Different factory springs and Rubi shocks went on as well as a set of TF front spacers. A couple of friends saw what I was doing and the next thing I knew, we were doing lifts on their rigs in my garage...
Having installed multiple kits and going through cycling the suspension, etc. it became clear to me that I could do it better than a kit. Why? Because they all design and engineer very conservatively. They don't know what size tires you will run, flats, what offset wheels you have or even how heavy your bumpers are, etc. For these and other reasons, the suspension "kits" are certainly not optimized. For example, they bump stopped for 35's to be safe, but you are running 33's and could use the extra 1" up travel without rubbing.
Then, I ran in to the deal of the century. Amazon was selling the Rancho RS66104 4" crawler system for less than $600. This was an 8 control arm lift that normally runs about $1700 and I couldn't resist and ordered it in January. My plan was to modify the lift with 3" springs and custom bump stops, etc. Well 2 of us here on WF ordered those kits within about 5 minutes of each other. Then when my "kit" arrived, I got only the box of 4" springs. Amazon said that's all they had and that I would have to wait if I wanted a replacement. So I did... for 4 months. It's important to note that the other guy got his lift complete and put it up on Craigslist and even here on WF to resell and make a profit. Good for him, but it didn't work out for me. Eventually my lust for the smokin' deal faded, the Amazon order was cancelled and I went back to create the lift I wanted to create in the first place.
Some of my choices were made based on input from very respected posters here on WF, for example the RK springs... I've put on TF and Rancho and ridden in many rigs with others springs like MC and RE, etc. I had no personal experience with RK, but that's what I ordered. Thank you @
kjeeper10
and @
jadmt
.
Everything I will use was chosen for a reason. Be it design, fitment or price and even influence from others, like the springs. For example, the JKS front track bar. It is simply the best product on the market. I've worked with the TF Monster and others and the JKS simply stands out above the rest in my opinion.
More to come later today, including my lift BOM...