Discussion Starter
·
#1
·
I recently bought a set of Dirtworx bumpers, and thought I'd do a review of them.
Front bumper install:
I ordered the bumpers on Oct 5, my front bumper showed up on Nov 3. Needless to say the suspense was killing me!
Here's what FedEx brought me:
Now, Dirtworx does send them bare steel, so it's up to you to paint them. I don't mind this at all. If my bumpers get scraped up, I can just do some touch-up work, or pop them off and repaint the whole thing for about $10.
After cleaning the steel up, I chose to paint my bumpers with the same paints I used on my headlight bezels and mirrors: primer, hi-temp flat black, then clear engine enamel. Several coats of each.
I thought this would help to tie them into the Jeep appearance-wise, and this paint has proven to be fairly durable over the summer.
After an afternoon of watching paint dry [sigh] this was what I got:
Robert was kind enough to send a Dirtworx bumpersticker with each bumper. The one that came with the front bumper got a nasty gouge in the middle of it during shipping, so it didn't get used.
The welds look great, the bumper looks very nice.
I opted to not have the hoop, just personal preference.
I did get it winch-compatible, with welded in D-rings and 4 light tabs.
Here's a view of the back, you an see the light tabs and the welds on the D-ring mounts: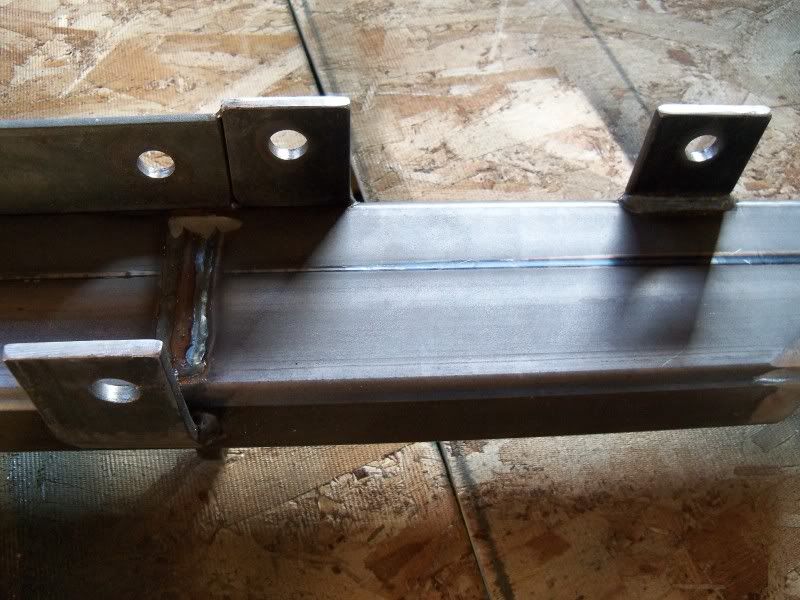 Robert was very helpful in helping me choose how I wanted the bumper to look.
I did have to drill into it to mount my license plate. I recently moved to Oregon, and they require a front plate.