Discussion Starter
·
#1
·
I"m helping a buddy diagnose a starting issue. In the interim I asked him to get a new cap/rotor because the old ones were so worn down I think that's the starting and running issue. The new cap he purchsed fit, but the rotor was different. All the rotors that show should fit in this Jeep only have the solid shaft that is notched on the inside to slide over the top of the distributor shaft. The one that came out of the Jeep has a pig tail on the end of it that slides into a disk on top of the rotor. Anyone very familiar with these engines shed some onsite to what year motor this might have comes out of so we can order the right part?
The owner mentioned to me that is was on it's second engine and he has no history of where the engine came from. It appears to be the 2.5. How would I determine what engine is in it? I can post a pic of the entire bay later tomorrow if that would help.
The Jeep is a 1994 YJ 4 cyl 2.5L.
My issues is the distributor he has in the car does not match what rockauto or motoralldata shows should be in the jeep. It's also wierd because the spark wire closest to the accessories rest so close to the ac compressor that it has rubbed a section off the top of the plug wire.
According to rockauto this is what shoul dbe in his Jeep.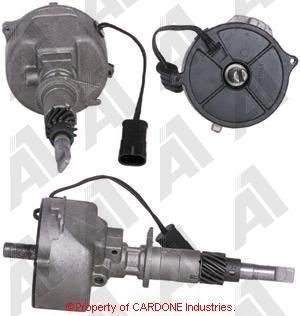 Here's what is currently in the Jeep right now.
Here are a few pictures showing how the one plug wire rides on the AC complressor line. I don't see them designing it this way and wonder if someone jerry-rigged something.