Discussion Starter
·
#1
·
This will be my thread walking through the building of an eventual full set of adjustable control arms using Metalcloak's Duroflex joints.
I say eventual because these are getting built in stages. The truth is, they are actually a bit cheaper to buy already built from MC; however, taking the DIY route is allowing me to spread the cost out for the materials, while still remaining productive with what I have in the meantime. It is also allowing me to select the DOM sizes and specific joints that I choose to use.
That's my story and I'm stickin' to it.
My original plan was to use Currie Johnny Joints. It is no doubt the JJ has been the undisputed flex joint king for many years. With that said, I have been very intrigued by the reviews of the Metalcloak Duroflex joint. I am typically interested in trying newer things, and the majorly positive reviews make that an easy move for me.
I am starting with the rear upper arms. I have a SYE and CV ds sitting in boxes waiting to be installed and the rear uppers are one set of the two (lowers being the other) that I will need on hand to dial in the pinion.
After some deliberation, I decided to go with a single adjustable end....one end will have a fixed, welded on flex joint housing and the other will have a welded-in tube insert and a threaded flex joint.
I intend to follow this path for all of the sets of arms.
I decided on this route for a few reasons....simplicity, strength, and overall cost savings.
There were a couple conveniences I had to consider losing by not doing a double adjustable CA. One was that it is easier to adjust them with two adjustable ends. Another was that if I ever do a stretch, I could reuse the joints with new DOM tube and inserts and save the expense of rebuying joints.
My counter justifications for these are that once I do the initial length adjustments, I won't need to mess with them again and if I do a stretch/4-link, I will likely use all larger joints.
I started this build thread now because I just started receiving parts today.
I ordered the DOM and tube inserts from Ruff Stuff (cheapest prices and FAST shipping). And I of course the Duroflex joints from Metalcloak.
The DOM and inserts came in today.
I went with a 1.75"OD x .25"wall - 1.25"ID
And a corresponding 1.25" OD insert with 7/8" threaded shaft part.
Did I overdo the upper arms?
The Duroflex joints I am using going with are these: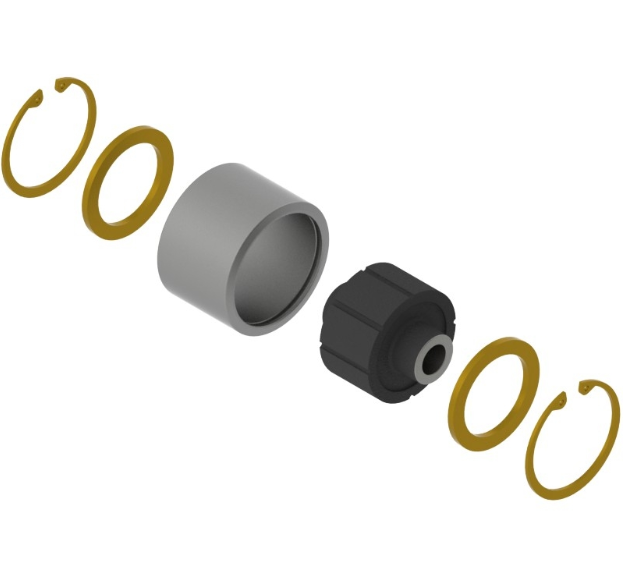 2-1/4" OD x 2"W - 7/8" straight spud
[/URL
]