Discussion Starter
•
#1
•
If anyone was
following my build thread
or happened to catch the post, I've decided to go the V8 route with my YJ. There are a few reasons that pushed me over to the V8 side, vs. the 4.6/4.7 stroker I was planning on.
First, I just couldn't find a good spare 4.0L block at a reasonable price. Some people are getting $500+ for a solid running 4.0L! Second, I couldn't find a good 4.2L crank or block either. Prices would make one believe that there is a abundantly high level of precious metal in the blocks. With the shortage of 4.0/4.2 parts at honest prices, I began to turn towards other options. A local guy was selling a supercharger kit from a 96' TJ and there are alway a few turbo kits available. But, at the end of the day was hearing a V8 TJ again that made me go - yeah, I need one of those :drool:
This naturally leads to "what engine"? The various generations of GM engines are common, almost too common IMO. As a result, even mid-90's TBI engines are going for $600-800 with 150k+ miles. With the popularity of LS conversions, LS 5.3's are also inching toward the $1000 mark for an engine that's been heavily used as well. Although rebuilding any GM is relatively cheap, then I have to figure out what to do in regards to transmissions. Do I switch to a 700R4 or newer model? The 700R4 has a terrible OD and robs gobs of HP compared to later options. The 4L80E is stronger and with a more desirable ratio set, but is bigger and I'd have to plan on making that work with my NP231J (such as a C/J hybrid case) or go full nuts and go Atlas.
Some people opt for a Ford V8, especially those from the Explorers. They are cheap (I can get a 90's Explorer for $800-900 for the whole truck and can part out everything, plus the F8.8 rear too!) and abundant, plus they work well with the Jeep fuel system. However, the Ford transmissions are even more clunky and less desirable than any GM transmission and mating them with a Jeep transmission requires some work...
So I decided to look at a Mopar engine. Although they have their quirks and aren't known for making anything near LS-power, they have a lot of advantages for a Jeep swap. They're cheap, generally reliable, readily available, have ECU's that literally bolt into place of a YJ ECU, and can be made reasonably powerful with some basic upgrades. With that in mind, I kept my eye out for one. Enter my favorite search engine - Craiglist - and before I knew it, I was making arrangements to pick up a 1995 5.2L Dodge Magnum from a Ram 1500.
The gentleman selling the engine offered to sell me the entire front clip - and I mean entire front clip, sans the body panels! He simply cut the frame horns off just behind the firewall and as a result, had everything I needed for the swap - harness, ECU, all accessories, etc. Originally he was asking $150 just for the engine itself, but we worked out a deal and for $200, I walked out with everything, including a spare PDC and harness from another 95 Ram and even the airbox and related parts...
Before heading home, we burned up a large bottle of Super Clean and hit the power washer. Once we got it home, I unbolted the engine from the crossmembers and picked it out of the trailer.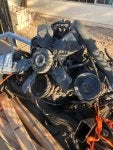 My son (Leo) and I got to work securing the engine to the stand (another $35 Craigslist score!) with new Grade 8 hardware.
After a few hours of labeling and unclipping harness connectors, the engine is stripped and ready for mechanical tear down...