Discussion Starter
·
#1
·
Some time back I'd read about "bead balancing" tires so I decided to investigate a bit more.
The biggest benefit I found was that when off-roading with low air pressure in the tires it's possible for the wheel to spin in the tire or for a rock to knock weights off the wheels, which immediately throws off the typical static balance using either adhesive or clip-on weights. By using beads inside the tire to balance, there is no concern of the wheel spinning in the tire because once the vehicle gets to highway speeds again the beads will move wherever needed in order to balance the assembly because the beads are not affixed to the wheel.
There are lots of discussions on what material works for dynamic balancing including (but not limited to) water / antifreeze, sand, steel bird shot, steel BBs, Airsoft BBs, ceramic beads, even golf balls and tennis balls. What you choose to use will ultimately depend on your tires, driving needs, and climate.
I'm in the process of changing to a new set of wheels. I've had my tires balanced with #8 steel birdshot for quite some time and while I have no proof it was causing me problems, I want to try plastic Airsoft BBs this time to see if it's any more reliable. The bird shot is heavy, so it takes a lot less material. This means there's less to "float" around the tire as needed. The Airsoft BBs are very light (.12g ea) so it takes a lot of them to balance a single tire, which means there's more to spread throughout the circumference, potentially providing a more reliable balance.
I hadn't seen many write-ups specifying just how to go about bead balancing tires (just a lot of people saying they did it) so I figured it couldn't hurt to make one.
What you'll need:
Large container of Airsoft BBs (roughly 12,000 - 15,000)
Food scale
Sandwich size sealable bags
Large plastic cup
For starters, I typically use the DynaBead Balance Chart to get an idea of how much weight to add. For my 35x12.50-15 tires it recommends eight ounces per tire. I opted for nine, as I've known several people who needed to go back in and add an ounce or so over the Dyna recommendation. It won't hurt to go a little over what you NEED, but you do want to keep it to a minimum- this is still weight that's being added to your rotational force.
Now that you know how much weight to use it's time to measure it out.
Take the food scale and set the plastic cup on it. Zero it out with the cup on the scale so you can get your starting point. My scale has a "Tare" button, which is what you want to use. This way it's not counting the weight of the cup and you don't have to remember the weight of the cup to subtract it later.
Once you have a zero weight with the cup on the scale start adding beads. If you're using the Airsoft BBs it's going to take A LOT of them. Keep going until you hit your target weight. Again, I'm shooting for nine ounces per tire.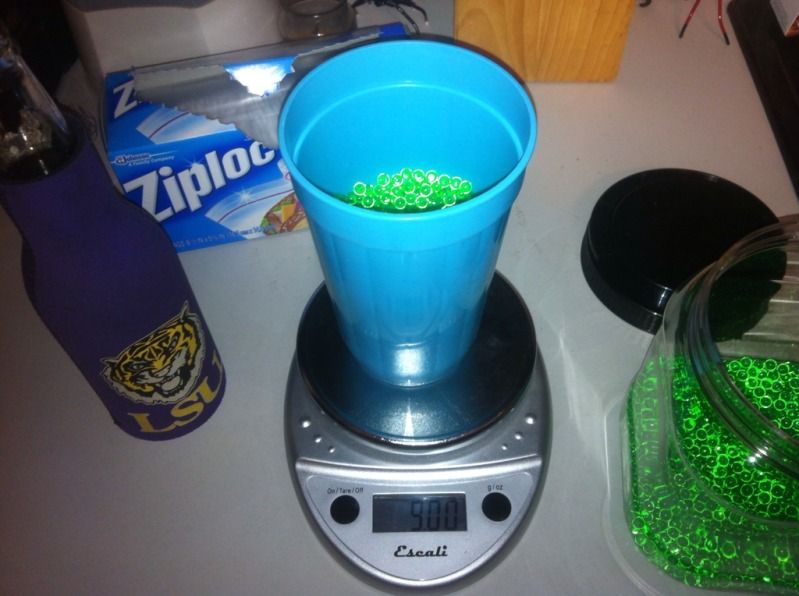 Once you have the correct amount of BBs, pour them into a sealable bag and close it up tightly. You need one bag per tire. I have five tires, so I need a total of 45oz of BBs. The 10,000 BB (.12g per BB) container I purchased had just under 39oz, so I had to open another container to finish the job. I'd recommend having 12,000 - 15,000 BBs on hand to ensure that you can reach your target weight for each tire without coming up short.
If you are having new tires mounted the best thing to do is to hand the bags to the tire technician so he can add them once the tire is on the wheel. If you are adding them to a tire/wheel combo that's already assembled, it's best to just take it to a tire shop, as they'll have the equipment available to perform this task without damaging the side walls. Ideally, he'll seat the tire bead completely, then free the bead on top to pour in the balance media. This way the bottom is closed up tightly and the beads won't dump out between the tire and wheel on the bottom side.
Once the beads are in, refill the tire with air and mount it on your vehicle. Make one more pass around the wheel to ensure there are no adhesive or clip-on weights remaining. Once all the tires are dynamically balanced, take it out for a drive and enjoy never needing to get those tires balanced again!