Discussion Starter
·
#1
·
Hey Guys,
My Girlfriends's 1997 TJ was hit in our apartment complex parking lot a while back. There is a whole thread with the details on it here:
http://www.wranglerforum.com/f5/look-what-i-woke-up-to-this-morning-234671.html
And here's some pics: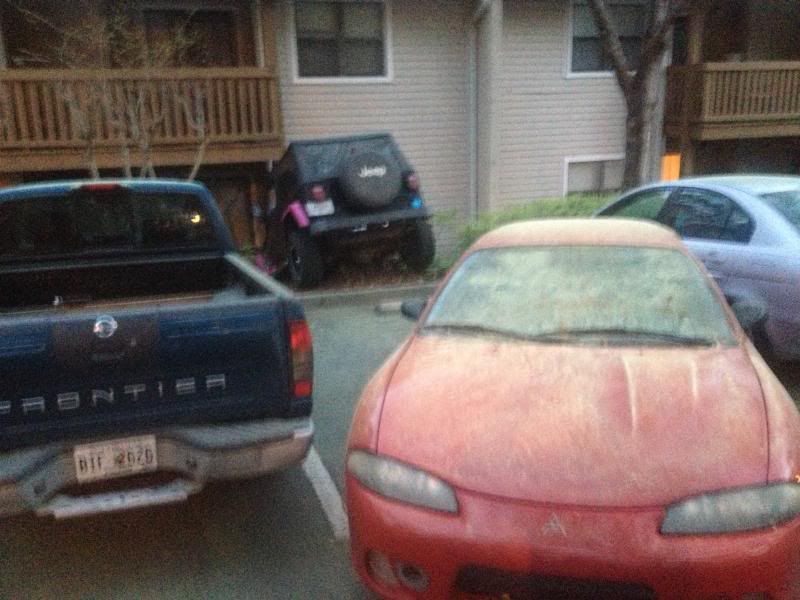 So, the insurance company declared it a total it a "total loss" because it had minor body damage and the oil pan was crushed in. We ended up settling with them and had enough cash to go buy another Black 1997 TJ and bought the salvage title to the wrecked Jeep.
I then proceeded to transfer all of the Pink trim to my Girlfriend's new TJ and got her some new decals. Then I started in on the "salvage" TJ.
Salvage Title: $1000
Oil Pan: $107
Oil Pump: $80
Grill and Tailgate off Craigslist: $200
Transmission Mount: $34
Colormatch Black Paint and Clearcoat (rattle can): $30
Time spent messaging the hood to "acceptable damage" as deemed by the State inspector: $0 but probably close to 4 hours.
Lime Green Decal Pack (I didn't need this, but I wanted them): $13
Tires and Wheels off my YJ (Girlfriend wanted the tires and wheels put on her new Jeep): $0
State Inspection Fee and Title Fee (he had to come out 3 times): $360
Tax and Tag: $159
Total Spent for Daily Drivable TJ: $1983
I got it tagged late last week and after driving it around town a good bit, decided to take the big test and drove it 12 hours round trip to Florida. Took off the doors and sides to the trektop and snapped a pic:
I'll get some more pics of it and will also get a few of my girlfriend's new Jeep. Thanks for everyone's help on the forum who helped me with advice and with help getting parts that would pass inspection.