Whether you are showing off your rig or asking for help with an issue, nothing can get your point across better than a good picture. There are several ways to post a pic on Wrangler Forum. You can either upload a picture through the forum or through a 3rd party hosting site so I'll go over both.
First, uploading a pic through Wrangler Forum
The number of pictures a member can upload is limited depending on the account status. A regular forum member has 500 megabytes of storage space available for pictures. Supporting members have 5 gigabytes of storage space available. Obviously, the larger the picture, the more storage space required.
Okay, that being said, here is how you go about uploading a pic:
STEP ONE:
When posting a quick reply, you can doing one of 2 things to take you to the screen to upload pics:
a.
Click on the button labeled "Go Advanced" under the lower text box

b.
Click on the "Post Reply" button that appears both above and below the thread posts on the left of the screen.
STEP TWO:
In the advanced edit screen you can do more things like add an emoji, change the text font, etc.
STEP THREE:
To begin uploading pics you have 2 options here as well
a.
Click on the attachment icon that looks like a paper clip
b.
Scroll down and click on the "Manage Attachments" button

STEP FOUR:
In the manage attachments screen, you can
a.
Upload from another web site using their URL
b.
Browse your computer for the pic to upload.
STEP FIVE:
Click on the "Upload" button to place the pic in the forum server.
STEP SIX
Click on the "Submit Reply" button and you are done.
I'd like to thank a long time forum member AzTJ. He created the original "How to post a Picture" thread, I'm just updating it since it was made 7 years ago.
To upload pictures from a 3rd party hosting site:
The first thing you need to do is get your pictures hosted on the web. There are a number of FREE image hosting sites, but I'm only going to demo one.
FREE IMAGE HOSTING OPTIONS:
each host has their own quirks, so read up before deciding on using one
Photobucket
ImageShack
TinyPic
Flickr
VillagePhotos
Special Note about Imgur:
The Imgur image hosting site is not compatible with Wrangler Forum. The pictures will look good when first posted but the links will break and the picture will be unviewable shortly after posting. We believe it is due to their Terms of Service.
One of their terms states
Also, don't use Imgur to host image libraries you link to from elsewhere, content for your website, advertising, avatars, or anything else that turns us into your content delivery network.
STEP ONE:
After choosing the image host you want to use, in this case
Photobucket
, you need to find the photos that you want to use.
Special Note about Photobucket:



On July 6, 2017 the Photobucket image hosting site changed their terms of service and pricing.
As of that date, 3rd party hosting (uploading a picture there and linking to it from some place else, like this forum)
is no longer free
. Even though use of their site is still free, there are 3 pricing plans with added features. Only their top end plan (the Plus 500 plan) allows 3rd party hosting for $39.99 per month.
STEP TWO:
Go to -
Photobucket
You need to create an account but its FREE! There are paid accounts but the free one should work just fine for you. If you don't have any pictures there, select the "Upload" button at the top of the screen to upload from your computer or phone.
If your pics don't come up when you log in, click on the
"Your Bucket"
button on the left of the screen and navigate your way to the location of your jeep photos. Select the one you want and double click on it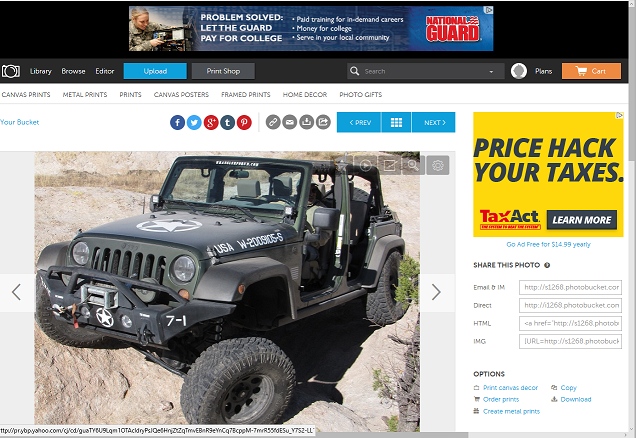 STEP THREE:
Now if your images are pretty big you can have Photobucket resize them for you. If your pic is larger than 1024x768 pixels, it would be wise to resize them something smaller. A general rule of thumb is, "800x600 is big enough." Either way, if the pic is too big that's okay, it will be resized when you post on the forum.
STEP FOUR:
On the screen with the picture you want to post, you will see 4 boxes on the right side of the screen labeled Email & IM, Direct, HTML, IMG.
Click in box to the right of the letters IMG and this will copy the pic.
STEP FIVE:
Once you have the link copied, go over to the thread that you want to post your picture in. In the space to type out a reply, right click and hit
"PASTE"
.
It should look similar to this code:
If it looks like that, then hit the
"PREVIEW POST"
button and make sure your image shows up. If it does, go a head and hit the
"SUBMIT REPLY"
.
Congratulations! You just successfully posted a picture!

Now go out and take some more pics of your Jeep to share!
Just a note before you go.
The pics you post using a hosting service are not uploaded to the forum and are linked back to what ever service you have used.
If you delete the pictures from your host server, they will no longer be able to be seen here.

Photobucket broken links look like this:
Here's a great tutorial video by AzTJ going over what I just posted above:
http://www.youtube.com/watch?v=z4oMgOTrpjE