What is caster, how lifting has a effect on caster, How to read caster, and fixes
.
**Caster is the tilting of the uppermost point of the steering axis either forward or backward (when viewed from the side of the vehicle). A backward tilt is positive (+) and a forward tilt is negative (-). Caster influences directional control of the steering but does not affect the tire wear and without adjustable control arms, is not adjustable on this vehicle. With too little positive caster, steering may be touchy at high speed and wheel return-to-center may be diminished when coming out of a turn**
The caster and pinion angles are set. Raising/lowering caster has the opposite affect on pinion, and vise versa.
Problem for some of us, the Jk only has 6* between these two angles.
4.2*
caster and
1.8*
pinion angle. At stock height the driveshaft is at a decent angle.
What happens when the Jk is lifted ?
The higher the Jk is raised from stock height, the axle is rotated up , which actually betters your pinion/DS angle. Caster angle is decreased which might affect handling,
There's a few variables like height, size tire, type of driving, etc. A small drop in caster might not even bother you. If your jeep does not include (at min) front lower control arms or drop brackets. Plan on them if the jeep handles poorly.
If your kit does come with adjustable/fixed control arms. Obviously you will be able to tune to your liking. Most company's shoot for stock
4-4.5*
but I've seen people (this includes me) try and run
6*
with a modest lift. Your driveshaft won't like this trust me :nonono:
The issue with 4" of lift, there's not enough separation
(6*)
built into the axle to run a safe balance. Stock caster still might be too much for the driveshaft angle. Running a aftermarket double carden DS, it becomes more of hassle trying to balance the two angles to prevent vibes or TC failure. I've seen
3*/3*
of in some cases
2*
caster and
4*
pinion. I could only imagine how the jeep drives
Some kits will supply
cam bolts
. Me personally, I don't care for them. The factory lower axle mount is opened up for a offset bolt which will give a small caster bump.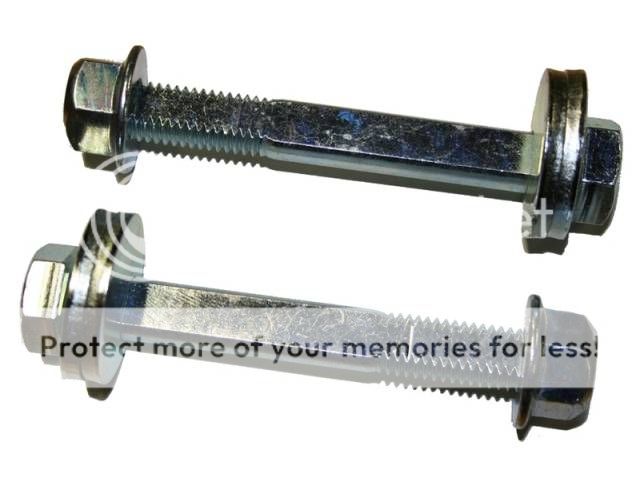 Then there's
control arm drop brackets
offered by Rancho, AEV, Rough Country, TNT customs. These provide a very nice ride, not only correcting caster but changing the geometry. These may not be for you on a trail rig where clearance is a concern.
How do you read your caster angle?
Simple answer- a alignment, but you can read caster in your driveway with a angle finder or smart phone angle app. Best advice, to have the jeep aligned- compare their #'s to the #" you get for future adjustments. Ex.. You wanted and set for 4* and the alignment reads
5*.
Next time around set your caster to
3*
knowing the
1*
difference,
I set my lower CA's at the time for
4*
and alignment read
4.5*
(slaps myself on the back)
There's a couple ways to read caster around the interwebs that really is not accurate. Measuring of the lower C which is a cast surface. Another method is off the upper ball joint, I tried this with no luck.
The easiest and preferred method to read caster off the
pinion flange
. Ok... That doesn't make sense?? Actually it does. We know the JK has
6*
between the two angles. Knowing what your pinion angle -- some simple math --will give you caster.
Here's a pic measuring off the pinion flange
Also the two flat circles on each side of the pumpkin can read pinion also. These 2 spots are perpendicular to the pinion flange (above)
Now take your measurement and total 6
Stock is going to read around +2* or (88*) caster = 4*
If the pinion reads +1* or (89*) caster = 5*
If the pinion reads. 0 caster = 6*
You might have read about people cutting and rotating the factory C's. A lot of fab and welding involved but a option to increase caster on the factory housing,
Aftermarket housings like The
Prorock
,
Taraflex
and I believe
Curries
front housings all have increased caster. Prorock unlimited being around
10*
Rockslide engineering
now has a TC brace available. The brace was designed to keep the case in one piece if a driveshaft were to fail. Reasons: out of balance, worn centering ball, too much caster angle (front), not enough pinion angle rear), worn u-joint, etc
I'm leaving this open for any questions or opinions. Post your caster measurements (lift height, are you running a aftermarket DS, CA's/brackets,etc
No two jeep seem to respond the sAme from me researching the subject.y