Discussion Starter
·
#1
·
So, yeah. I got back yesterday and I guess I should start one of my usual picture soaked threads with wheelin' galore... but I don't have my usual millions of pictures. My regular copilot was home and he's the wheeling photographer.
You'll all have to live with my descriptions and some landscape pictures.....
We started the day heading out to GoldMountain which seems to be the best way to JohBull. I hadn't done JohnBull and I was pretty nervous. Unfortunately I ran into a problem halfway up Gold and couldn't get into 4low. I'd just checked it the week before to make sure everything was fine but I guess I screwed up because it just refused to engage.
After some fiddling we thought it was fixed and the group convinced me not to turn around. Too bad it wasn't fixed and I did GoldMountain and half of JohnBull in 4h. Made for a stressful day. I couldn't understand why I was having such a bitch of a time and the dang thing sounded awful. Guess I hadn't wheeled enough to realize it was in high and not low. Eventually though, I had to get into low after I got caught up in a tough area.
Our leader bravely climbed under my jeepity jeep (with me still in the driver's seat
scary) and disconnected the linkage then manually popped my boy into low. Thank god because my head was about to explode and I suspect my tranny was about to start sweating from the heat.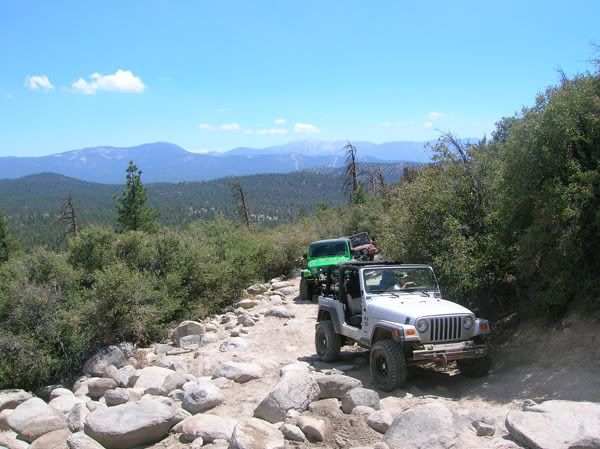 Well, anyways, I haven't got many pictures other than when we were at lunch and when we were sitting...... waiting for one of the rigs in another group to fix his tie rod. We had 16 or more in our group and there were at least two other groups as big on the trail. It was like being on the 91 at rush hour..... but there sure were a lot of pretty jeeps. Walking the line was almost as fun as wheeling the trail.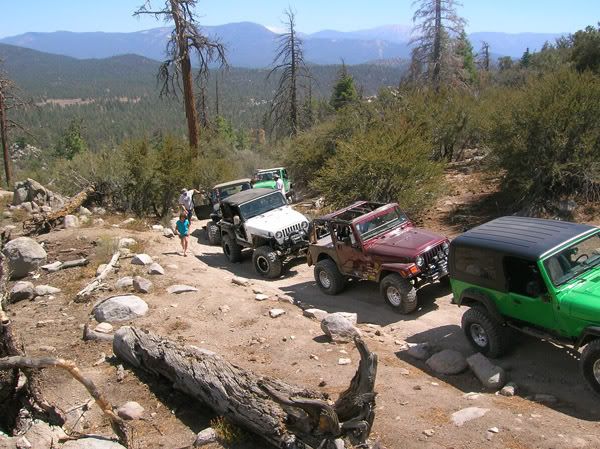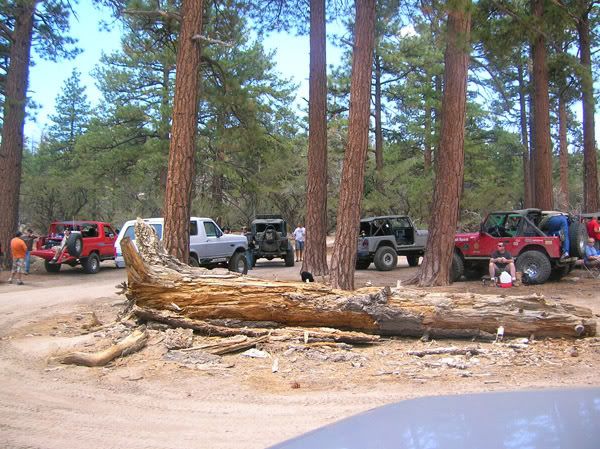 Big Bear is really an amazing place to wheel, even if you're just looking for the views.