Discussion Starter
·
#1
·
I was in the group who pre-ordered Wranglers sight unseen during the first week of ordering for 2012 models. I have a 2012 JK Sport 3.6L / Auto with the S package, towing package and hard top. My plan was to drive it mostly stock for a few years, and then build it up just the way I want it. The plan is to build an off road capable daily driver with a 2.5" lift, 35" tires, fenders, and a rear bumper / tire carrier. I'm keeping my eyes open for a Rubicon D44 front takeoff, at which point I'd regear my D44 rear to match. I'm in no rush to get a front bumper / winch. I made my own front bumper for my 1990 YJ, and would like to do something similar for my JK - maybe if I have a vacation week with no plans! Here are the parts I selected for my Jeep: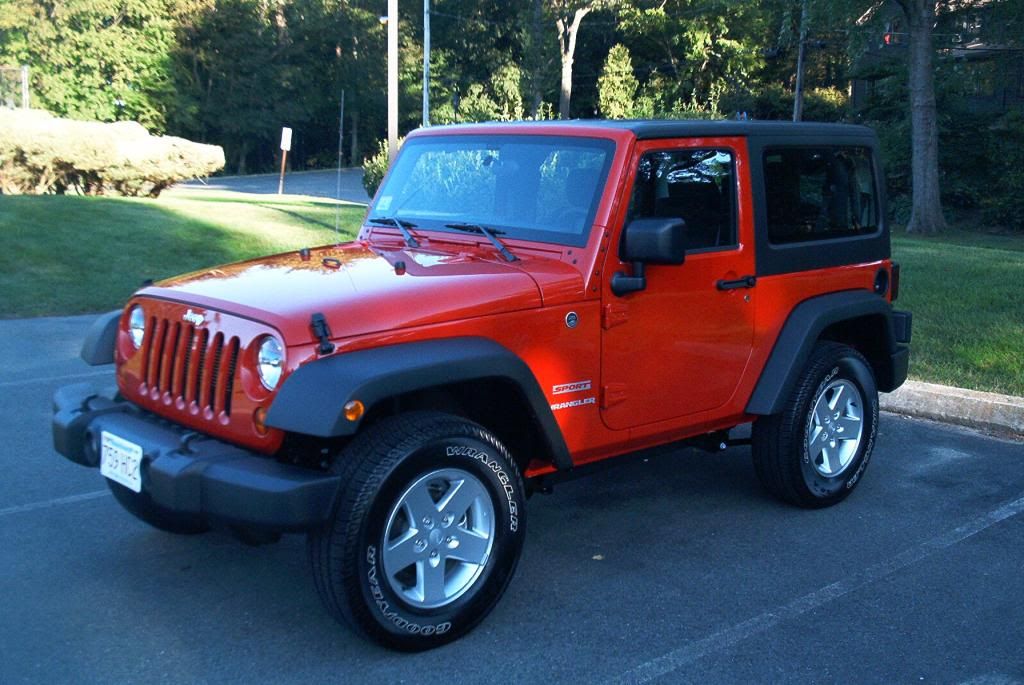 ACE JK Rock Sliders
(My rating: 10 out of 10)
These were my first upgrade. I installed them after some careless driver hit my Jeep in a parking lot. The install was simple. The quality is excellent. They are very strong, but also very heavy. They feel as solid as a frame rail. The finish is excellent, and it still looks as good as when it was new, despite the abuse that they have seen.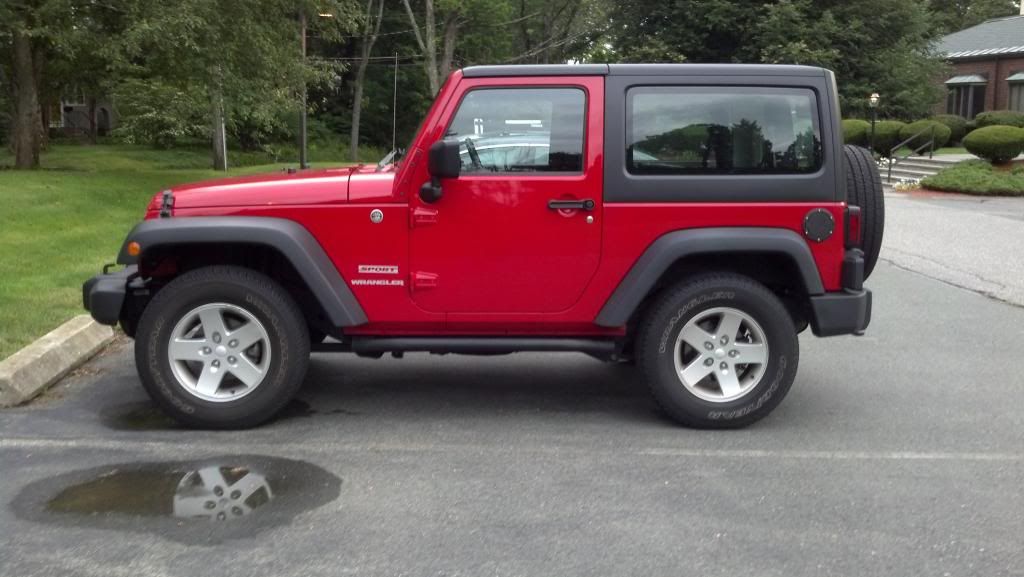 Bushwacker Flat Style JK Fender Flares
(My rating: 6 out of 10)
I'm still not sure about these. I bought them knowing that the install was a huge pain. Well, I was right. It takes all day to do it right. The directions aren't helpful at all during the most difficult parts. Even before the install, I spent hours reading the directions, reading others' write-ups, and watching install videos. I would actually start with the rear fenders first, since the trimming is easier. I used a utility knife with a new blade on each fender. When the plastic is out in the hot sun, it cuts like butter. Plan on the first fender taking 3 hours. Trim less than you need, and don't be afraid to go back several times to trim more. If you trim too much, you're screwed. If you cut 1/8" too little, the fender won't fit. If you cut 1/4" too much, the new fender won't hold the liner in place.
Also, don't be afraid that the instructions say to cut wires. It is really just a 12" extension piece that clips into the main harness. However, note that the black and white wires must be reversed, or the light won't work.
Ultimately, the front inner fender liner will be held in by 3 fasteners, but one can't even be fully tightened. Bushmaster should have included a new fastener to fix this problem. They give you some really nice hardware for the install, most of which is plastic, or stainless. They give you extras of some pieces, but they shorted me 1 speed clip, which drove me nuts!
Quality control is certainly questionable. I actually had to do slight trimming if the product in order to make the front passenger flare fit properly. the top of the entire fender was about 1/8" too long, which wouldn't allow it to be installed.
It's funny that since I bought these fender flares to make more room for 35" tires, yet 35" tires rub on the forward part of the rear fenders near the pinch seam. BTW, you must trim the pinch seam. I used a hacksaw and then used a little touch up paint. You'd never know I removed any metal.
As much of a pain as the install was, the fenders themselves seem very good quality. The Bushmaster fender flare material seems better quality than the stock material. I also think they will be more resistant to sunlight fading, and staining from bugs and tar. And mounted on the Jeep, the Bushmaster flares feel very solid; Seriously, they feel like steel.
I've always been hard to impress when it comes to fender flares. Usually I like stock flares over all of the aftermarket options. I would buy these again, but only because I'm not sure any other fender flare kits are better. And, I really like the style of these.
If you are in the market for these, check OC Auto Access. Their price was so low I thought it had to be a scam. But, I was willing to take the chance, and it paid off.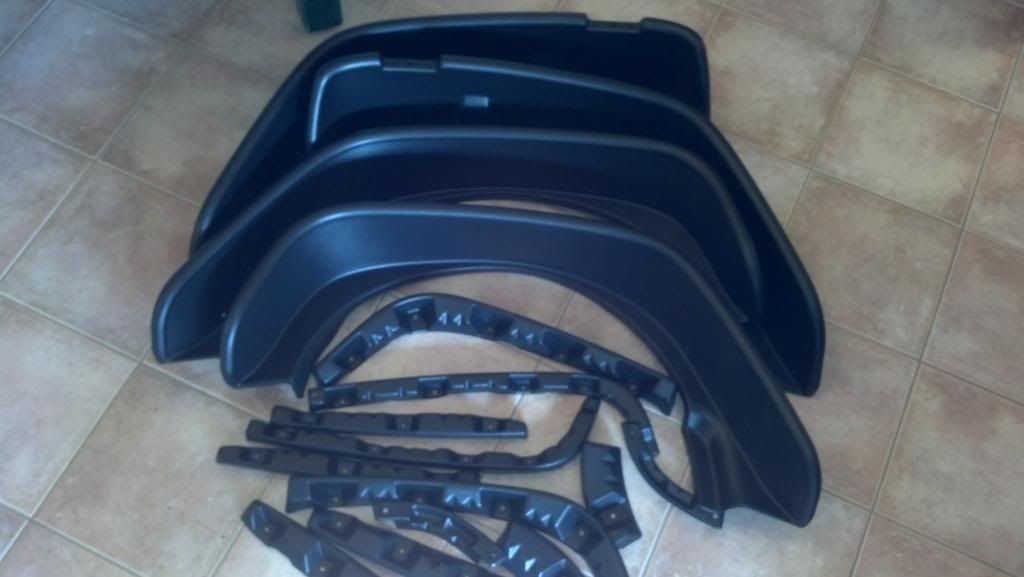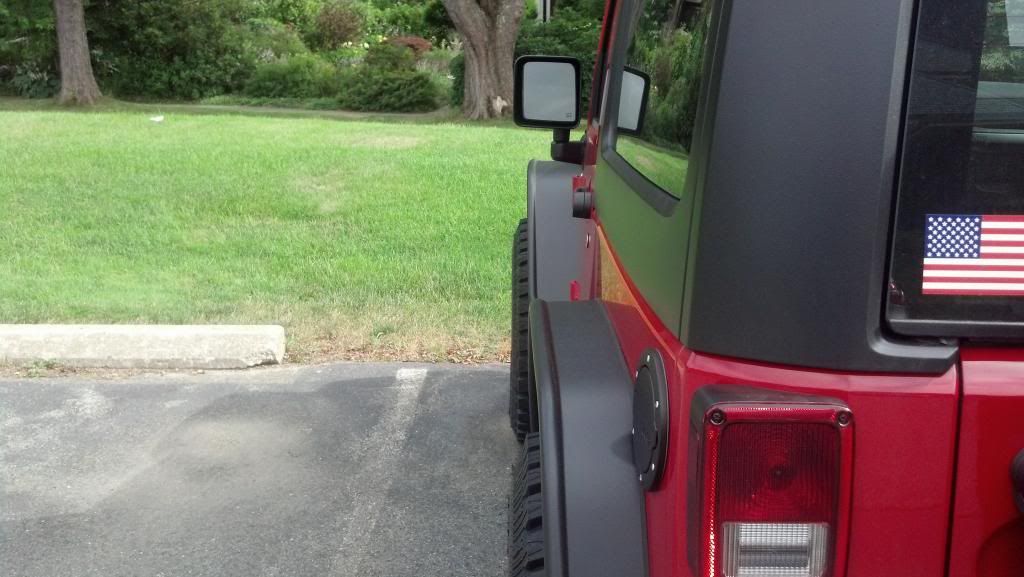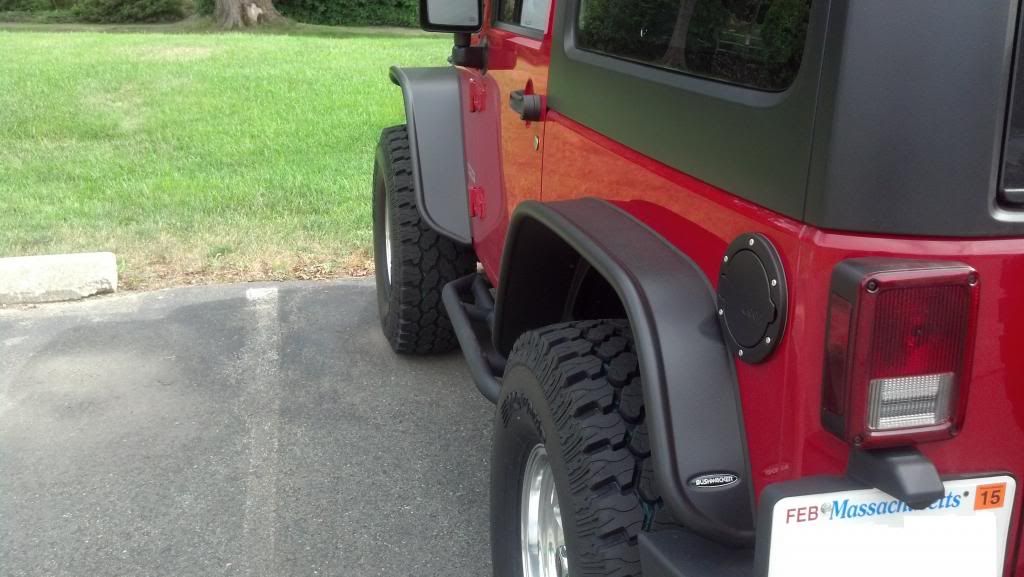 American Racing AR172 Baja Polished Wheels
(My rating: 10 out of 10)
I love these wheels! I'm amazed that you can buy a wheel of this quality for just over $100. They seem very solid. The finish looks great. I love the style. I got the 16x8 on 5x5 with 4.5" of backspacing. I think this size is perfect for a 12.5 inch wide tire, which sticks out past my fender flares by about 1 inch.
Pro Comp Radial Xtreme 315/75r16 Tires
(My rating: 10 out of 10)
These tires are amazing. This will sound hard to believe, but they might actually be more quiet and ride smoother than the stock tires! But, they are noisy (like mud tires) when taking extremely sharp low speed turns. The tires handle bumps and pot holes much better than the stock tires, probably due to the increased track, width and diameter. The Jeep just bounces around a lot less when I hit bumps now.
The tires seem to measure 35" exactly. They fit on my Jeep with no lift and don't rub during normal street driving. However, I do have Bushwacker flat fenders, and I've done some minor trimming to the fenders, pinch seam, and air dam. I don't think the tires can make contact with either bumper during normal street driving. But, the front tires can get close.
I ordered the wheels and tires through Town Fair Tire. This is the fourth time that I've dealt with them in about 10 years, and they have never disappointed me. They don't even carry Pro Comp tires. I just went in there with a quote from another place, which they TFT beat! They said it might take 2+ weeks to get the wheels and tires in, because they were special order... It took 3 days! They handled all my special requests related to my spare, pressure sensors, log nuts and locks, mounting, etc.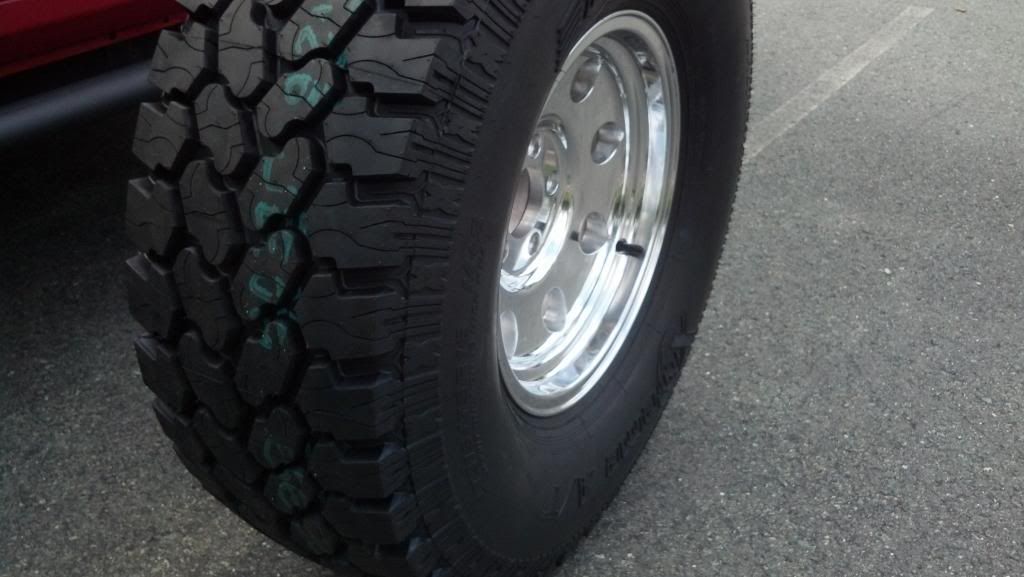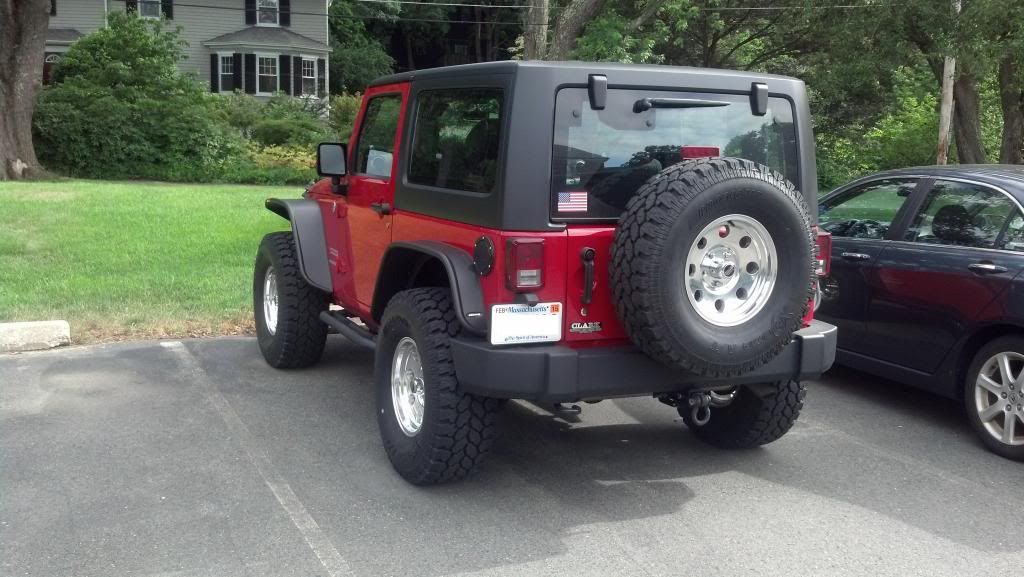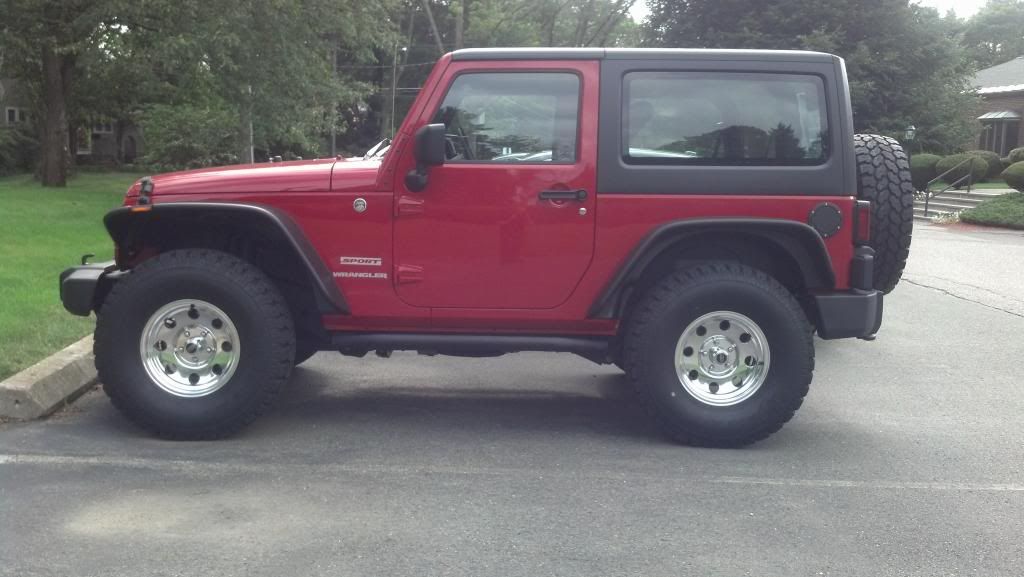 I should also note that my first drive on these tires was pulling a 1500lb+ trailer on the highway, still running 3.21 gears (Yea, I know...) But, the drive went surprisingly well. So, this was my first drive on 35" tires, and I still hardly noticed that I was pulling a trailer!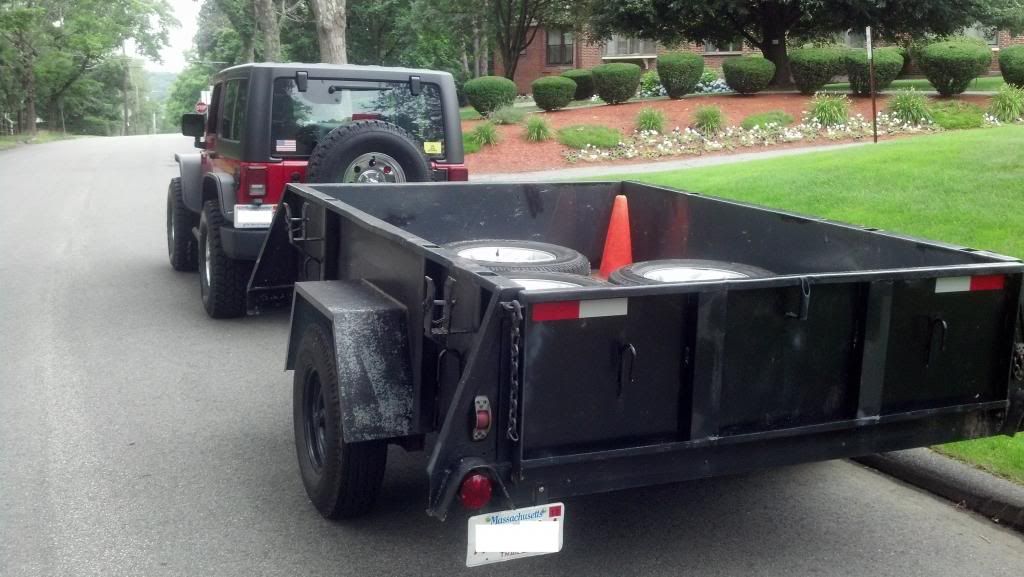 Superchips FlashCal
(My rating: 10 out of 10)
I purchased this mostly program my Jeep's new tire size, but all the other functions are nice to have. The LED screen is great. This is very easy to use. I programmed my new tire size in seconds while in the tire store's parking lot. I can't understand why this isn't more popular. Most people seem to buy the AEV ProCal instead.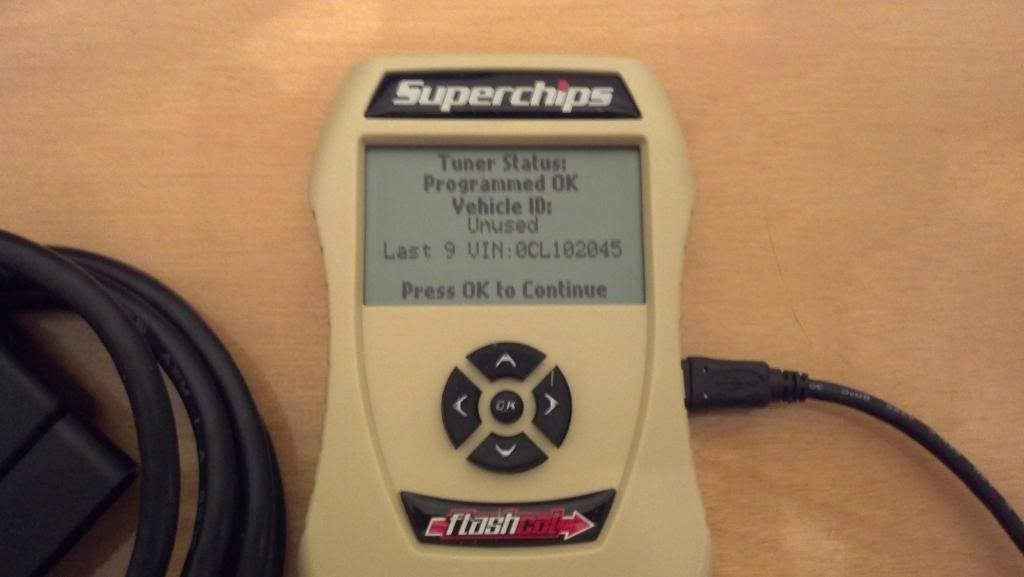 This week I'll be installing:
Teraflex 2.5" Coil Lift
RS9000XL Shocks
Teraflex HD Forged Front Adjustable Trackbar
Rugged Ridge Exhaust Spacer
Rough Country Jeep JK Front Control Arm Relocation Kit
I ordered my ACE JK Pro Series Rear Bumper with Tire Carrier from Jason at KrawlOff-Road.com. It sounds like the wait on this will be about 6 weeks.