Discussion Starter
·
#1
·
So i finally started a project i've wanted to do. I have no rear seat in my TJ anymore. I like storage. I don't want to pay some exorbitant price for a pre-made unit. Even if it is better, i enjoy doing things on my own, and i like the idea of a custom fit. I wanted to utilize the rear space for a drawer or 2, then maybe an access compartment that was part of a platform. I envisioned a platform at wheel-well height, and maximizing square footage up to the rear of the seat. Perhaps some Quick fist mounts for shovel, axe, etc. Easy access to things while in the driver's seat. I'm going to make a 2" tall frame for a cooler so it can't slide anywhere, then i'll have a holddown system so it can't go up and down. Again, something that will be easily accessible from front seats. I also wanted somewhat of a slant at the part behind the seats. A) cause i think that looks cool B) it reflects more of a custom fit and C) i can mount a couple amps and have a shallow mount speaker box coming off of it for a 10" sub. We left the cargo tie-down things in as i didn't want to drill them out. We might put rubber/poly feet to act as shock absorbers, although we are thinking we can skip it as the fit is pretty tight so far. For securing, we will use the center hole where female seat belt buckles normally go, then use forward bench bracket holes. Additionally, the platform "wings" will be bolted down to wheel well. The rear half will be a wide drawer on heavy-duty, full extension slides. The front half will be hinged and will move up in an arc towards front of the vehicle (rear access). Finally, it has to be semi-removable. Top platform will be the only piece of wood not glued.
Keep in mind there are custom cuts for roll bars (platform) and rear striker and handle mechanism (left side, platform and drawer front). Also, it should be noted that stock 3rd brake light gear is all gone from my TJ. The platform, box and drawer face is all 3/4" unfinished white birch G2S. It's layered particle board that cuts almost like hardwood. Box bottom and drawer is all 1/2" unfinished red birch G2S (they were out of 1/2" white birch). Wood was $120. Hinges, screws, glue and slides came to $25. Carpeting will cost more. We are attempting to brainstorm a front handle idea. Throwing the idea around of a long handle that pivots like a Craftsman Griplatch tool box drawer.
With the help of my oldest and dearest friend (who happens to have a shit-ton of woodworking equipment, we went to it. We did a lot of figuring last week, then started today. We are probably 1/3 done. I came up with a cut list, which is slightly off due to some things not forseen. I will basically just walk through where we have gotten to and everyone can see it unfold.
Cutlist. Every 11.25" should be 11.5". We screwed up, i explain below. We cleverly rectified this...Also, "Box Top" under 3/4" Cuts should be 35.5 x 55. Box could be maybe 1/8 wider between wheelwells but that's about all you're gonna get.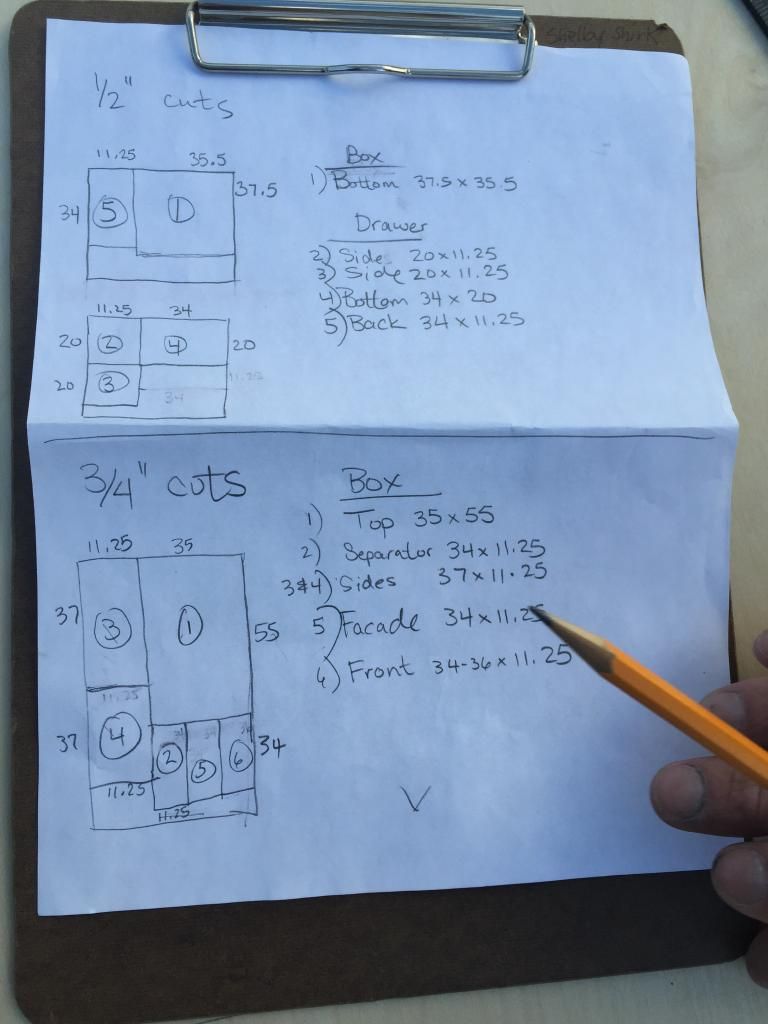 Tool porn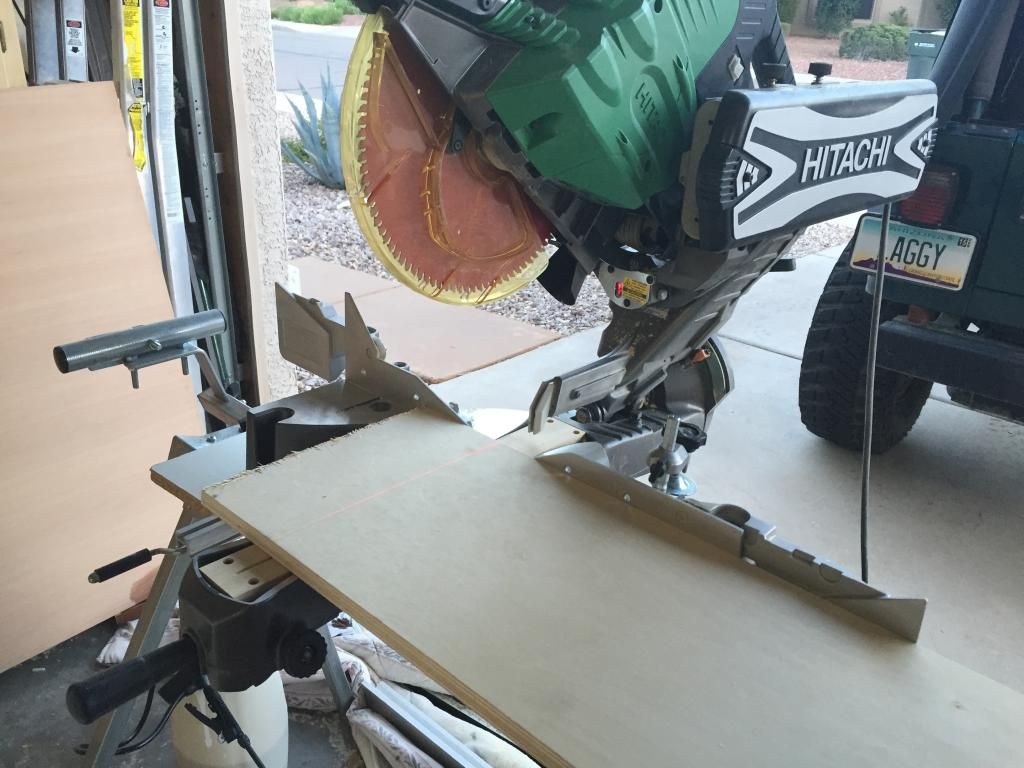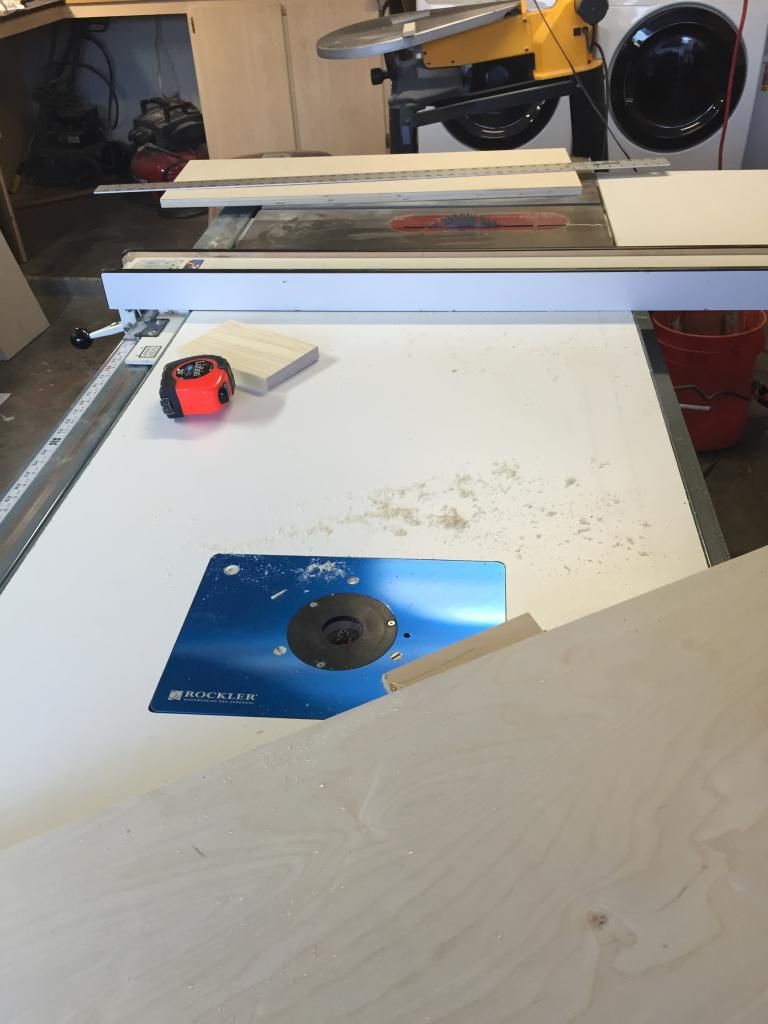 Sunset and beer time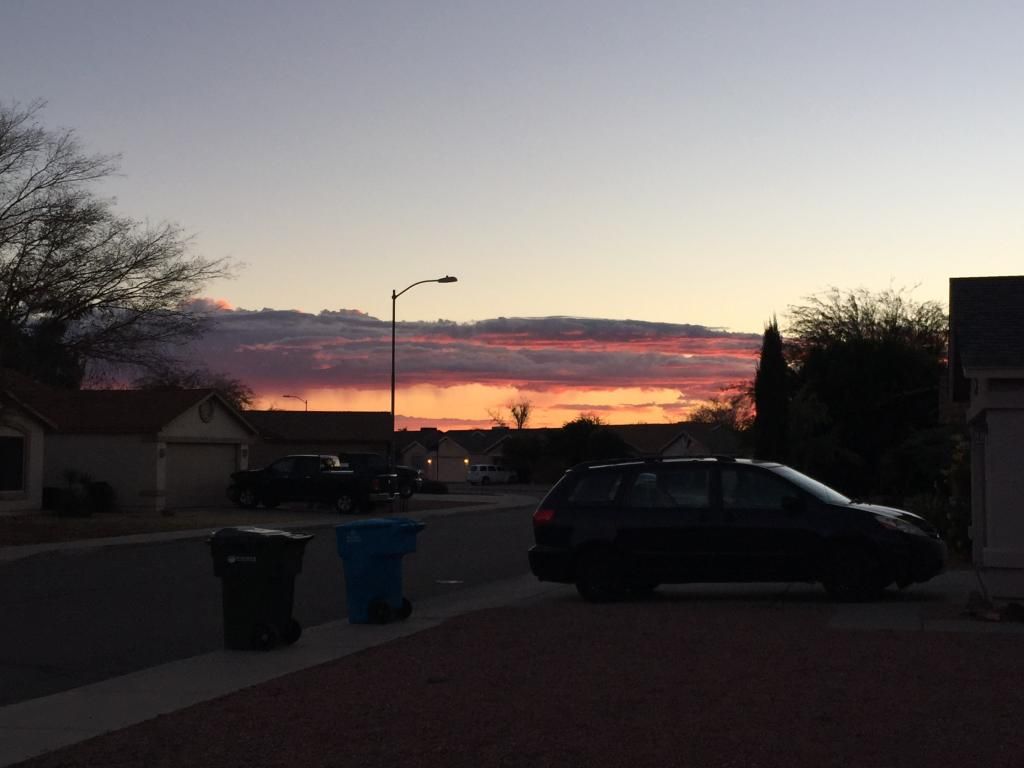 Side panel cut (x2). This is strictly aesthetic idea of mine to kind of follow the wheelwell slant behind driver and passenger seats. Exterior angles are 80 top/10 bottom. Left is back end, right goes towards front.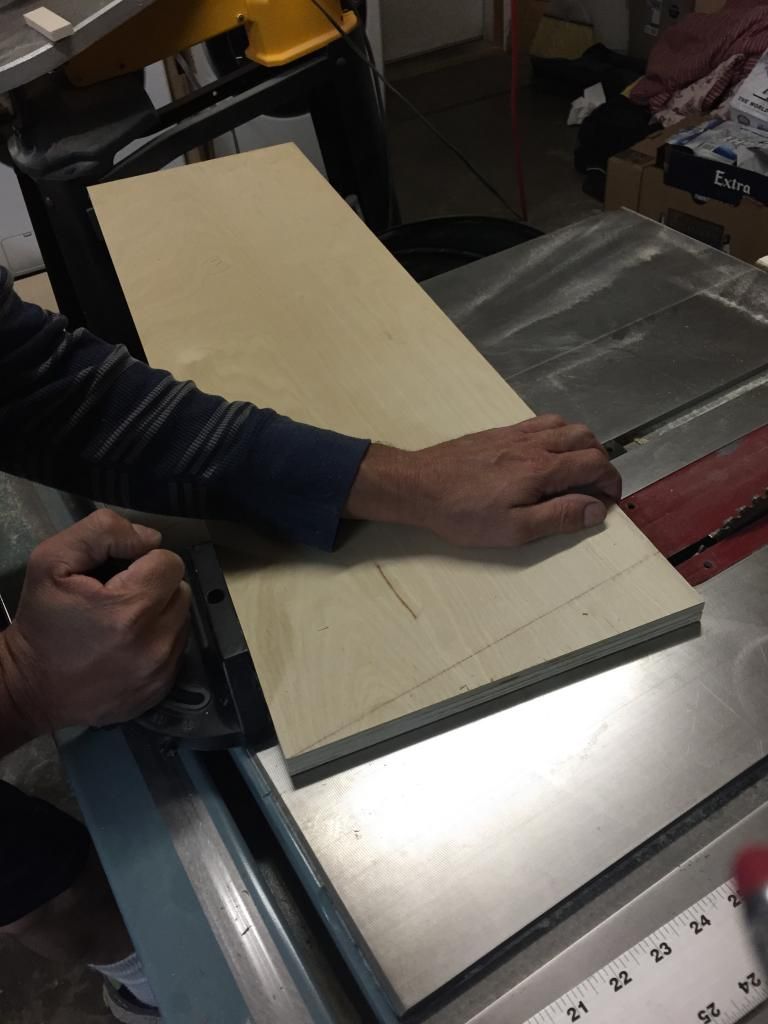 Now the front piece that goes across, behind seats, needs 10 degrees shaved off to snug over the base and under the top platform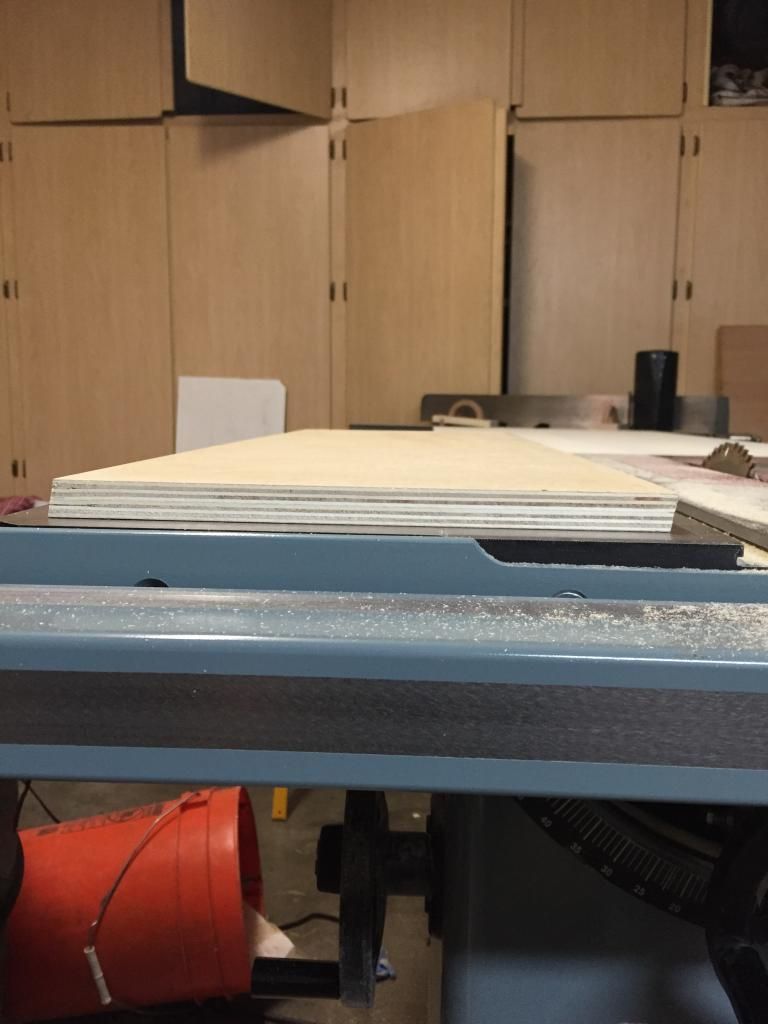 Cutting around the rear door striker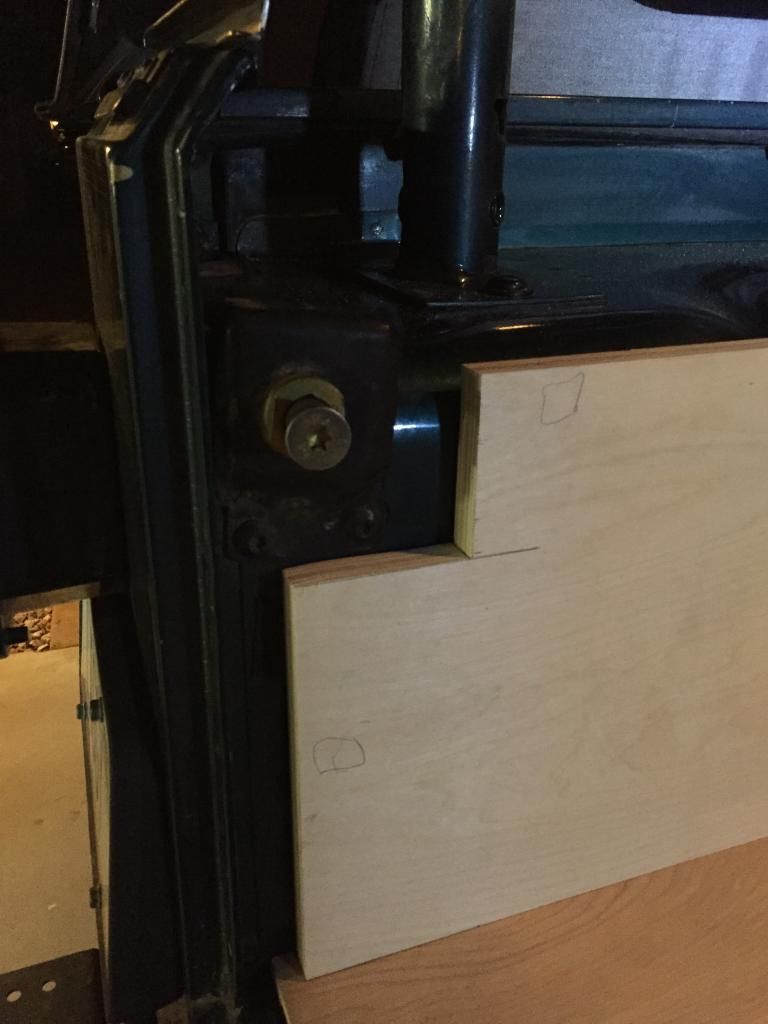 Tetris. This is the top platform. 55" is about the limit. Bed width i think is 57 or 58, but that ain't happening. We couldn't quite get the piece in, until we cut out for the rear rollbars. Side windows had to come out. We were pretty stoked that we got it in. We had almost given up and were going to attempt to design a 2-piece platform.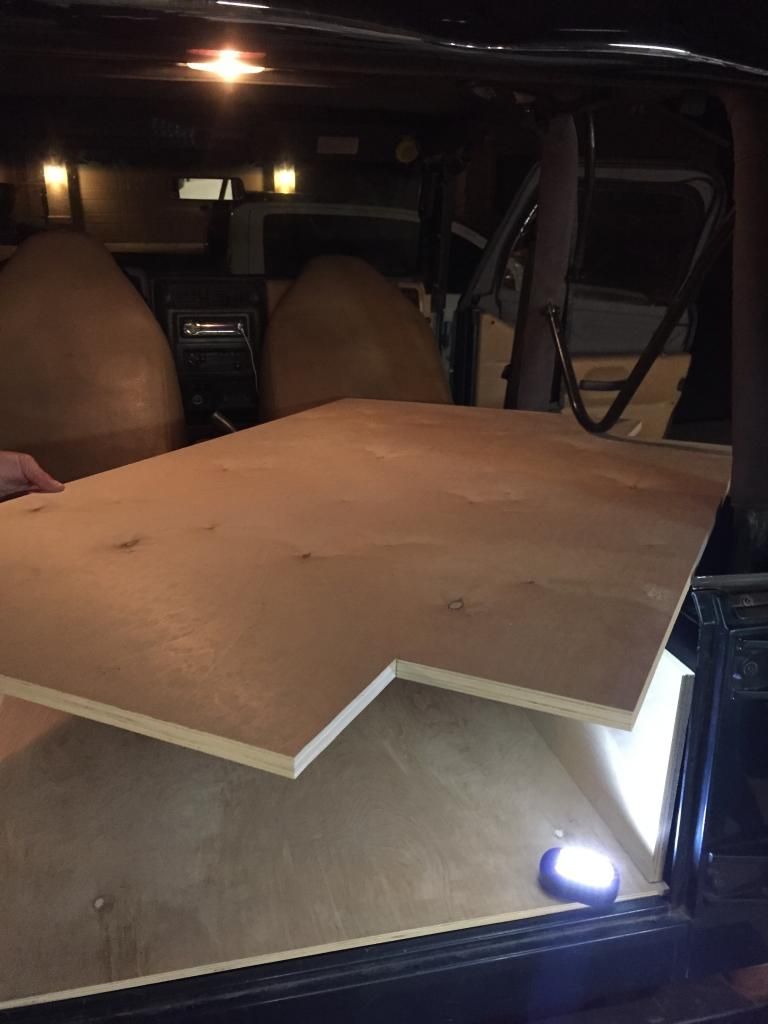 So our sides (and every other vertical piece) was 1/4" too short. It was an oversight during a design change, as we assumed a 3/4" bottom piece for the structure, but for maximizing wood usage and not spending $60 on a 4x8' sheet of 3/4" particle board to get one piece, we decided on a 1/2" bottom. This is why all our vertical cuts should have been 11.5". So we ripped a bunch of 1/2" boards to bring the base up. Screwed and glued. Going over ridges but staying in between cargo tie downs (or whatever they are). I would have cut those off, but again, i always liked the idea of backing out to stock. Also, there was a weird bulge in the bed. It was right above some urethane donut near shock mount....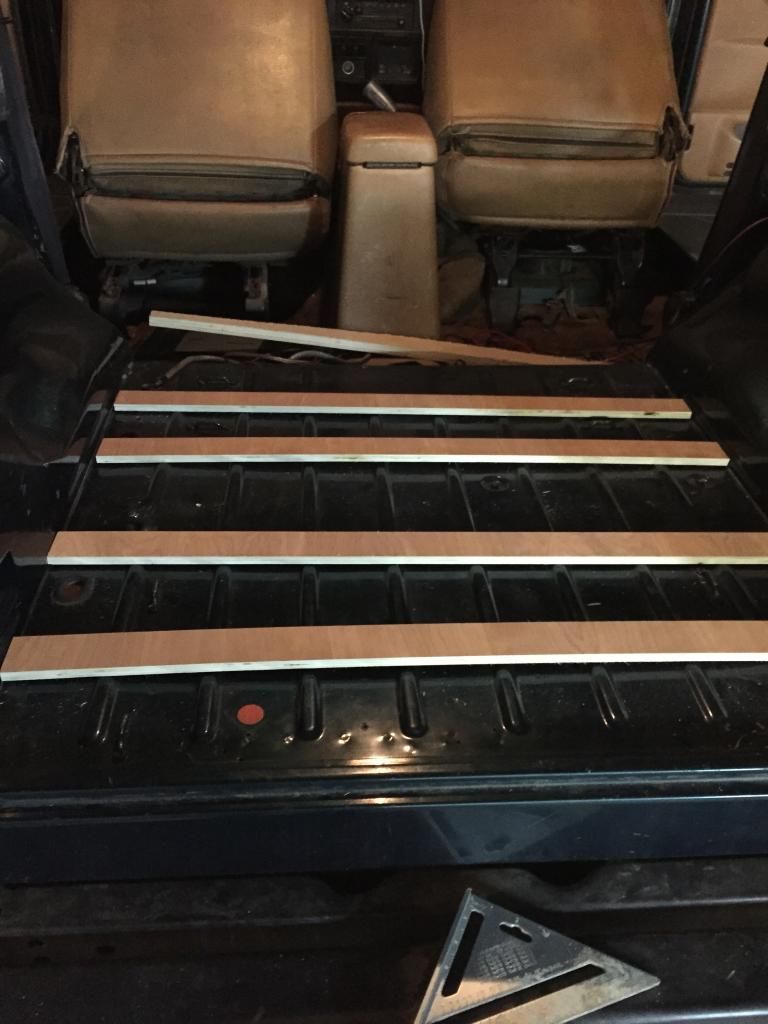 Screwed and glued!
This is where we called it a day. Still a couple things to go back and do. The structure overhangs the area behind the seats. Haven't fully decided whether to totally cut around rear tailgate mechanism, or just inch the box forward (see overhang). Anyway, it's on to drawer time! Which should prove interesting. I'm probably not getting back to this until early next week, but stay posted!!