1990 4.2 motorcraft 2150 ordered from the famed guy on ebay... and yes it is nuttered.
Okay this will be long winded...... at the bottom is the diagram I kinda used for the running of vac lines.
(1st pic) pic is of the CTO, like diagram shows the 2 ports T and....
(2nd pic).....they plug into the carb high on the carb here
(3rd) Now this pic is where my vacuum advance from the dizzy hooks in low on the carb where my finger is at.
(4th) breather at the front of the valve cover where you add oil
(5th) back valve cover breather tube the attaches .....
(6th) ......to the bottom backside of the carb right here
(7th) this vacuum line where my finger is pointing is the brake booster line that attaches to a port coming off the manifold right above the egr... its always been that way
(8th) Here is another line coming off the cto as diagram shows going to the egr
(9th) this a port that I plugged coming off of the same line that runs from the manifold to where the brake line booster hooks in
(10th) another port high on the backside of the carb (white plug
(11th) yet another open port low on the backside of the carb (black plug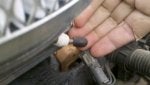 Now the diagram I used
Is it ran correctly? It still doesn't run the best and was wondering what can I do help me run these lines correctly! Plz