Discussion Starter
·
#1
·
I had a 2k TJ that I loved but got rid of. I have also had tons of cars mostly centering around subarus and chevys. I have huge custom project of a 90 subaru wagon that is ateempting to get 35" tires and a full independant supension with a supercharged subaru h6 motor, chevy trans and xfer case, for IRs/ifs 8.8 diffs, 4 wheel steering and basically custom everything.
With a 2 year old the project sits mostly right now. Anyway, i was driving my 2500gmc and It is a great truck but boreing and lumpy to drive everyday and also bad on gas. So i decided to pull the trigger on this 95' YJ on CL.
I wanted a fun DD with part time off road stuff with little projects. So anyway here it is...
Day, I got it two weeks ago.
Yes, I know the shkles are wrong. They get fixed.
So today... Yeah,
Front bumper off. I am gonna cut out the bottom captured nuts as one broke out already. Leave the holes for drains. Weld angle brakets on the sides of the rails to mount my new bumper to. Also still use the factory top bolt as well. This way I should be able to put the factory bumper back if I ever choose to. I doubt I will but...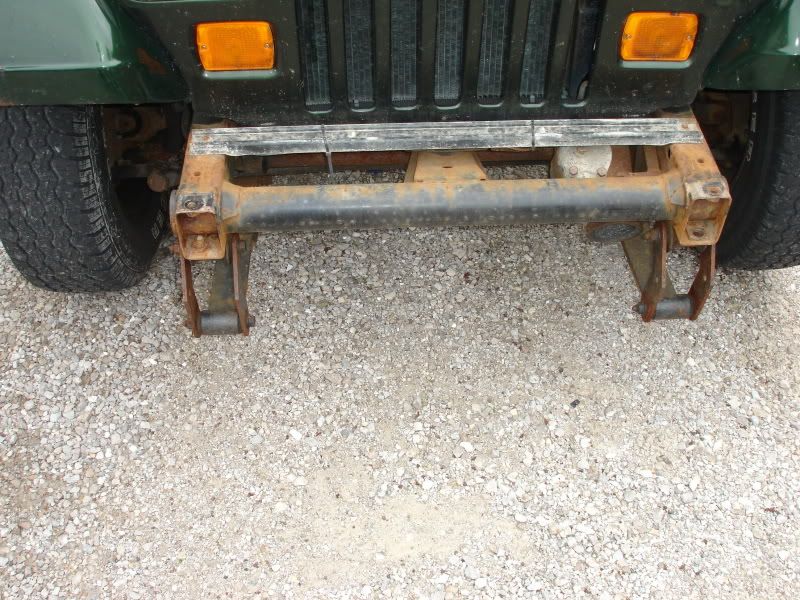 I also got some of the frame tub under coated on the passenger side. The before pic is the driver side but the passenger looked the same.
Wire brush, cleaned a lot, more wire brush, rust inhibiting primer, and truck bed line spray.
Alot more to do but...
Before:
After: