Discussion Starter
•
#1
•
I bought my '04 Sport with 107k miles at the end of August from the original owner who had kept the Jeep garaged and meticulously maintained. He used it as his daily-driver and very little trail riding. Needless to say, it was in excellent condition inside and out. EXCEPT for the damage you see in the picture below. Apparently he had backed into a bollard at a gas station one night. That was the only thing that made me hesitant on buying it. But after some research and pricing I decided to buy it, I figured after repair cost I would still be below book value. He had also accepted my offer of $1000 less than his asking price because of the damage.
I took the jeep in for bids on the repair for body and hardtop, which came in a little higher than I was wanting to go ($1200-$1500). That was also to repaint the whole top black (I wasn't fond of the khaki-gray color). After a little more research I decided I could repair and paint the hardtop myself, and I have a friend at a Chrysler dealership body shop to do the body work. Though I didn't get a huge savings on the body work, I was able to strip down the jeep to save on additional labor for removal and install of stuff. I also bought the corner panel online myself and saved about $50 there too.
Now, for the repair of my hardtop...
I had ran across a repair and paint process for the hardtop in a Google search. It was for repair of a JK hardtop posted in the JKOwners.com forum (
Hard Top Repair - JKowners.com : Jeep Wrangler JK Forum
). It's a great write-up and has a lot more detail than I'll go into, but I basically followed the same process.
Keep in mind, this if the first time I've ever done anything like this so some of the processes may not be "the right way" to do it. I just used the guide from the JKOwners post and made up the rest as I went.
I purchased the 3M Automix Rigid Parts Repair (05883) from my local automotive paint supplier. It can also be purchased from many places online, like Amazon, if you cant get it locally. You will also need the applicator cartridge gun for dispensing the epoxy. The place that sold me the epoxy told me I can purchase the gun, use it, then bring it back for a full refund, so that worked out well for me. I also bought a bag of fiberglass mat from Wal-Mart for reinforcement.
First thing is to sand down the area and feather it out so the epoxy has something to bond to. I was able to do the same on the inside (somewhat). I wiped down the area with acetone after sanding.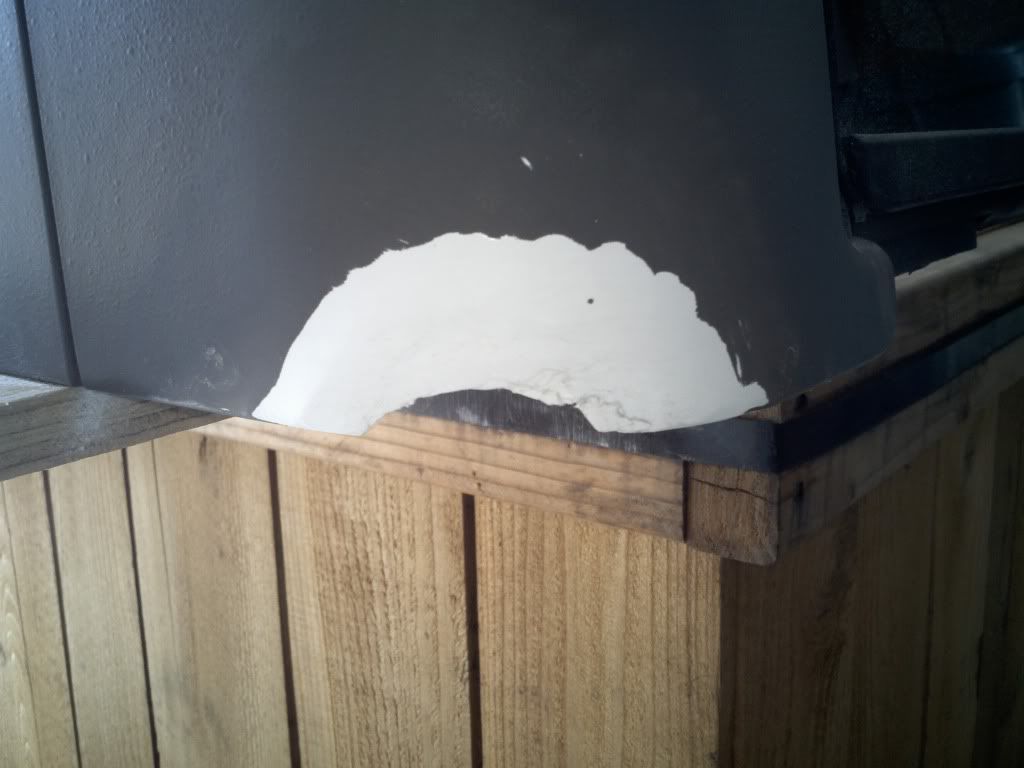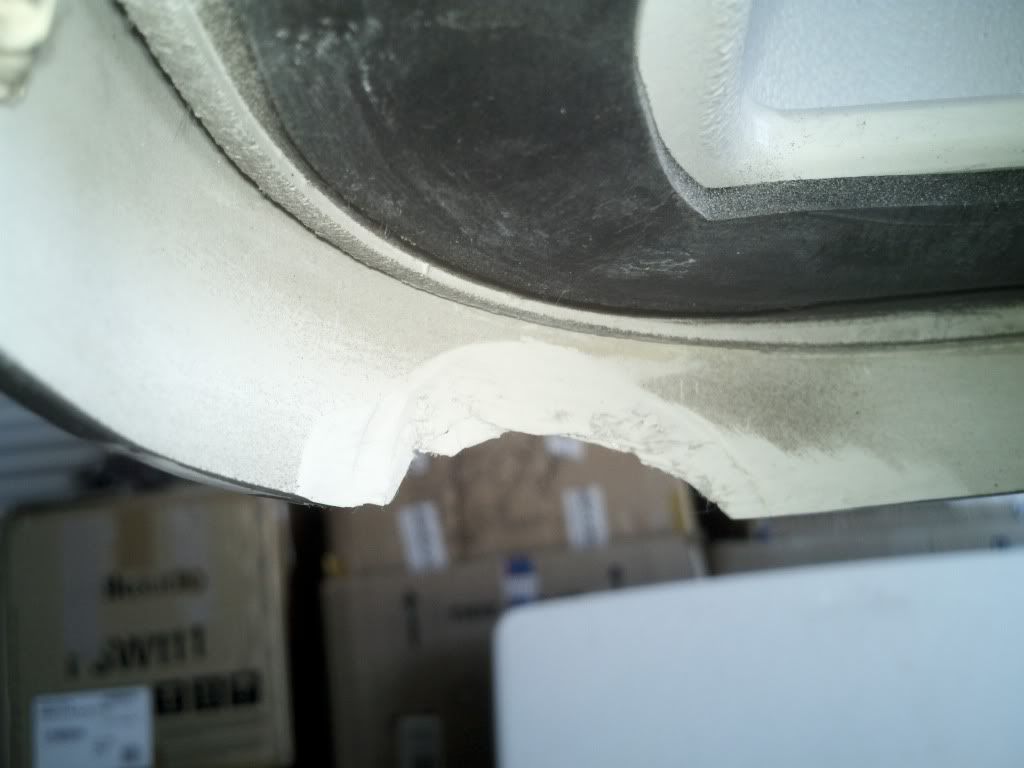 Next I put in a temporary backing and apply the first layer of epoxy and fiberglass fibers.
Next step... removed the backing, sand, clean with acetone, and apply another layer of epoxy and fiberglass fibers.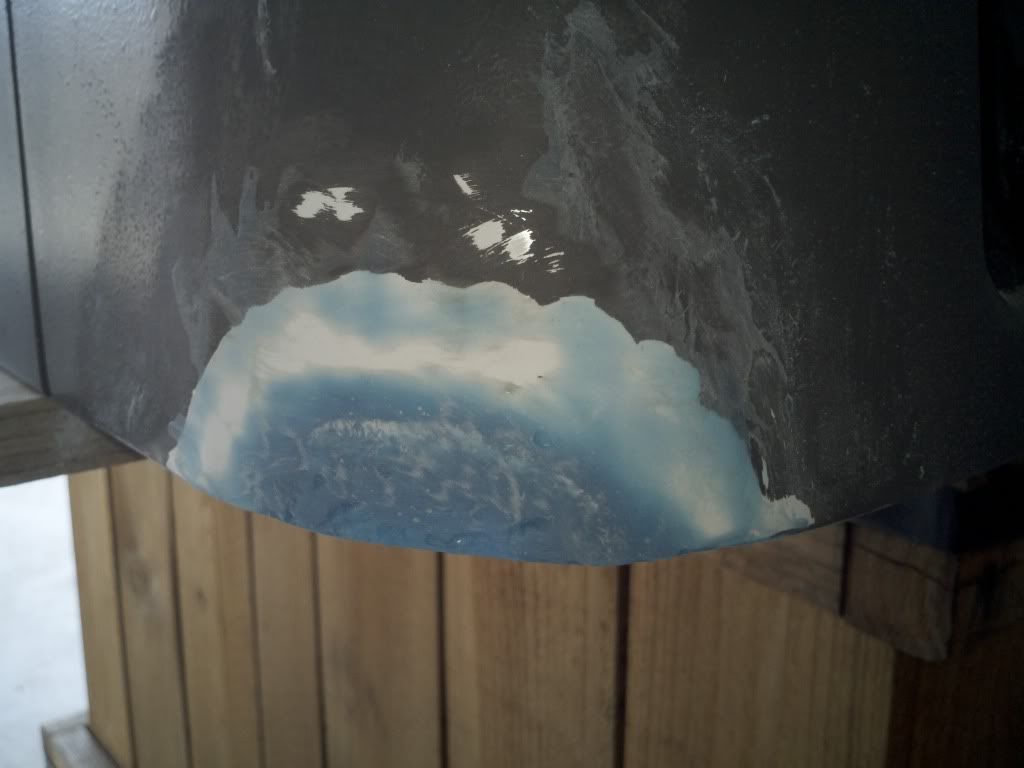 Repeat... sand, clean with acetone, and apply epoxy. (these last two times I didn't add any fiberglass)
After one last sanding I decided it was good enough considering the finished paint will be textured.
I primered the area with Rustoleum (rattle-can) primer. The repair turned out pretty good being my first time. If I was going to have a smooth finish I would have done a little more fine tuning.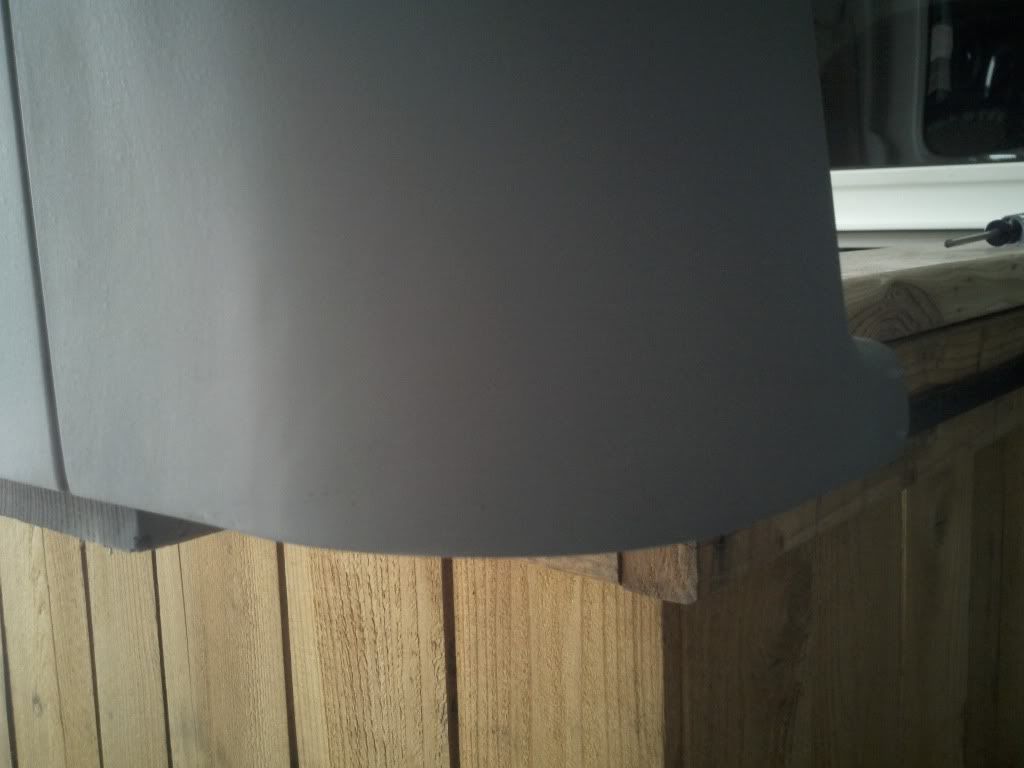 The epoxy was fairly easy to work with and it dried to a sand-able surface fairly quickly. I sanded the first layer about an hour or so after application, applied the second layer, an hour or so later I sanded again. The repair didn't feel rigid at that point, I was able to wiggle it a little bit and was becoming concerned that this epoxy wasn't as "rigid" as the name implies. I went ahead and applied the third layer and left it overnight. It was much more rigid the following day. I then sanded again, applied another layer, and let it sit overnight.
In the end, it feels like a solid repair, though I'm not about to see how much force it will take to break it off.