Discussion Starter
·
#1
·
Hi Everyone,
Well I got myself into another project. I have a 95 YJ Wrangler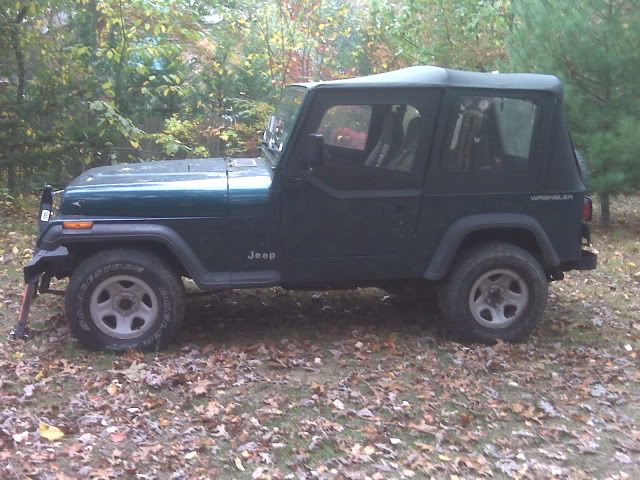 I bought her 2 years ago for $1400.00 and had a blast with her but hated the 4 banger Then........ the back perch on my front drivers side spring when through my chassis
With that she sat in the driveway and I used my Cherokee ( I'll upload pics of her later 4.0 auto 31" mudders)
Well Boating and fishing is just about over here in NY and I have been missing my Wrangler so I figured I would find a frame and swap it out, THEN I had the while I am at it syndrome :banghead: I HATE that 4 cyl!!!!!!
Well I started looking for a frame, they were all 4-$600 then I found a rebuilt AX15 for sale from someone that was parting out their jeep, shot him an e-mail and asked how much for the rolling chassis transmission and all, he said Hum $700 I said sold!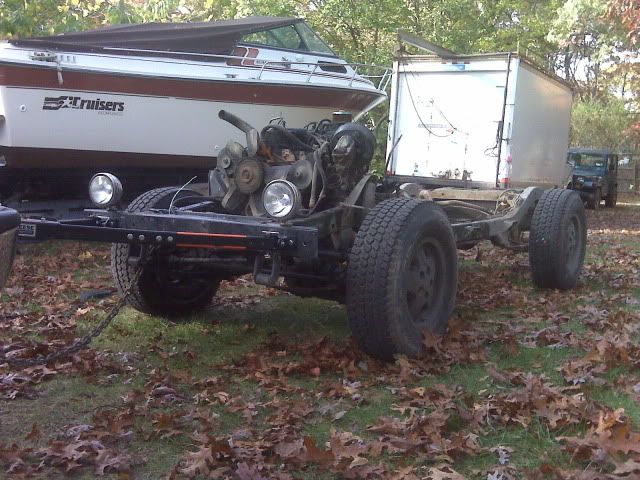 I flat towed her home this past weekend
The chassis is pretty solid , the only bad spot is by the shock mount and spring shackle on the passenger side. I figure my Miller 212 and some 3/16 steel and it will be better than new, I hope.
Well....... if you notice the boat in the background, I built a small block Chevy 383 for her and ran enjoyed her this summer. Well I figured who needs 400hp and go 65+ on the ocean in a 22' 4000# cuddy cabin for fishing?
Seeing that boat cams and truck cams are real close, I thought buy the roller and convert it with the 383. That's where I am at now, the roller is home, cleaned, and ready to strip down. BUT,....... after some research I am now questioning the Dana 30 & 35 along with the AX15 and 231.
Before I start buying adapters I figured I would ask the question, what kind of power can they handle, should I go to 44's ford 9" chevy 12 bolt or Dana 60 instead? should I de-tune the 383 put junk heads on it to drop the hp?
I can weld, have a nice miller 212 Mig & a suitcase 220 dc stick , no problems making things fit. Been a mechanic my entire life, planes then cars ,big trucks now hvac I originally planned on having it complete by Dec1st, that's now out the window, I just want her right.
At 46 yo I want to have my YJ to the end, I am the last owner so I want her perfect!!!!!!
Anyone have any thoughts for the driveline? will the 30, 35 & AX 15 hold up?
What should I do.