Discussion Starter
·
#1
·
I posted a thread about these last week looking for input and there were no posts so I decided to take a risk and ordered these to see what they were all about, this is my review thread of the unboxing and first few steps of the install. It will be a running thread with pictures as you read.
This is a link to the company's website but if you call you can get a better price, what's even more crazy is that these ship for free.
Side Protection Truck Champ Side Armor Part Number 16005 - TruckChamp
When these arrived the box was slightly beat up but the rails inside were really well packaged, tightly wrapped in foam and taped up with close to a roll of packing tape, I had to use a razor knife to cut through the multiple layers: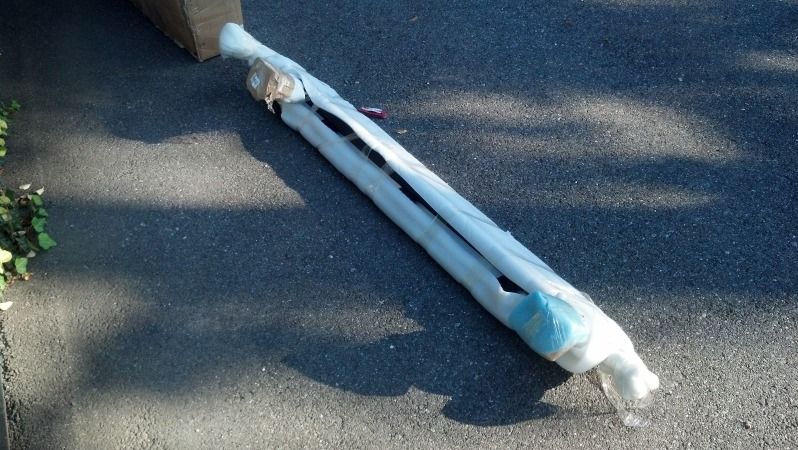 Once I got the wrapping all off and inspected the rails I was really impressed! The quality of the welds and powder coat was almost perfect I only saw a tiny mark on the underside of one of the rails that had a small bit of the powder coat rubbed off which probably happened during transit. The rails are E-coated before powder coat so there shouldn't be any issues with rust but if there is I will hit it with a shot of bed liner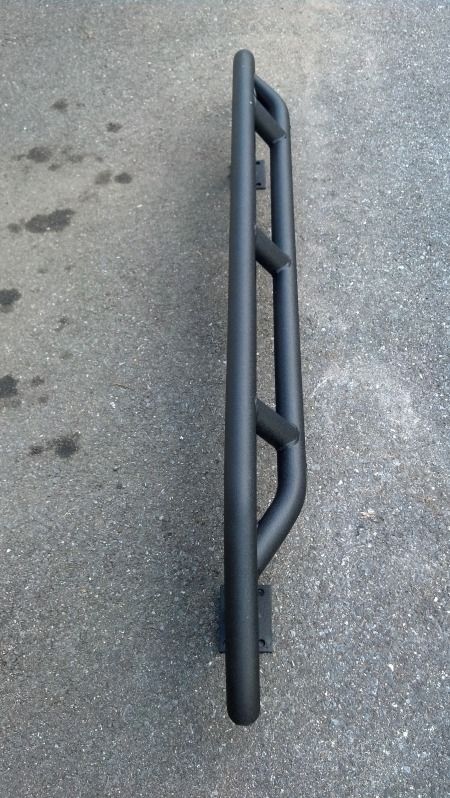 At this point it was a little to late to begin the install so I figured I would start the next day... unfortunately a hot water tank replacement took priority so I didn't get as far as I wanted with the install.
These come with (16) 3/8" self tapping bolts but I being the engineer that I am wanted to change the hardware a little so off the hardware store I went to get some supplies.
I decided since I had to drill the frame for the install I would go with drilled and tapped holes with fine thread bolts instead of the self tapping bolts, are the self tappers bad? No... but I just feel more comfortable with threaded bolts. I purchased a Q sized drill bit and a 3/8-24 tap along with (16) 3/8-24 x 1" grade 8 bolts and flat washers. Cost me roughly $37 but it was worth the cost to do the install the way I wanted.
I got the side rails in place and clamped them with wide jaw vise-grips, fine tuned the spacing between the pinch seem and marked the holes. While they still in place I center punched the frame with my spring loaded center punch.
I Removed the rails and began drilling, I started small and bumped up to a 1/4" bit and then finally the Q bit, once I had all 8 holes on the drivers side drilled I got my tap and ratchet and started tapping the holes, This worked great and the frame is just thick enough to support threads.
Here is a picture of the frame that has been marked and drilled:
Unfortunately with most of the day lost with the water heater project it was starting to get dark so I called it a day with the install. I didn't install the rail since I did not want to drive around with only one side on.
I plan on getting back to this today after work or tomorrow depending on the weather.
This thread will be updated following the rest of the install steps, as well as finished pictures. I just wanted to share with the members here what was done so far.
For those of you looking for a beefy set of side rails for a very reasonable price, these could be what your looking for. Wait for the finished pictures and such but as of right now I am very satisfied.
These were purchased for $214.99 shipped to my door for those of you who might be curious. A steal in my eyes since shipping seems to run anywhere between $50-$100 for most other companies to ship side rails.
As stated this thread will be updated soon once I continue the install.
-Drew