Discussion Starter
•
#1
•
Figured i'd post this here as well so it'd be easier to update instead of the normal "build" thread
I've decided to start a build thread from the day I got my 99 until now and will then update with the future progress which I definitely plan to accomplish. I'm hoping to have it at a nice build before the end of next year so we'll see how it goes (I usually get impatient and get things done quicker than i should lol). This may be a bit long winded but oh well!
Anyway, without further ado...here we are!
In August of 2010 I started searching for a TJ because for years it had been a dream vehicle of mine. I was living in Iowa which proved to me that finding them in good shape wasn't the easiest task due to salt on the roads every single year. I knew i wanted an unmodified TJ with a manual tranny so i looked at rig after rig. Finally in October of 2010 i found one that was newly listed on a dealers website so i immediately drove over. The only things listed were "red, manual, 99, all stock". When i got there, the rig was immaculate with only 61k on it. The big catch to this was it was a 2.5L 4cyl.
The following day i went over after work and drove it for an hour or so...looked everything over...drove it some more...and then went back to the dealership. It had everything i wanted minus the 4.0 which was almost like a unicorn to find for a decent price where i was. After about 20 minutes of negotiations i signed the paperwork to my new TJ.
Quick specs were as follows:
1999 Wrangler SE
2.5L 4cyl
61,000 miles
Mostly Stock (bushwacker flares)
Cruise
A/C (which i never use)
Soundbar
2 piece hard top
manual tranny
alloy wheels
zero rust
Even with the 2.5L, I had zero regrets buying it after i got it home (did fine in Iowa on the hwy due to being extremely flat lol).
Here are a couple pics the day i brought it home: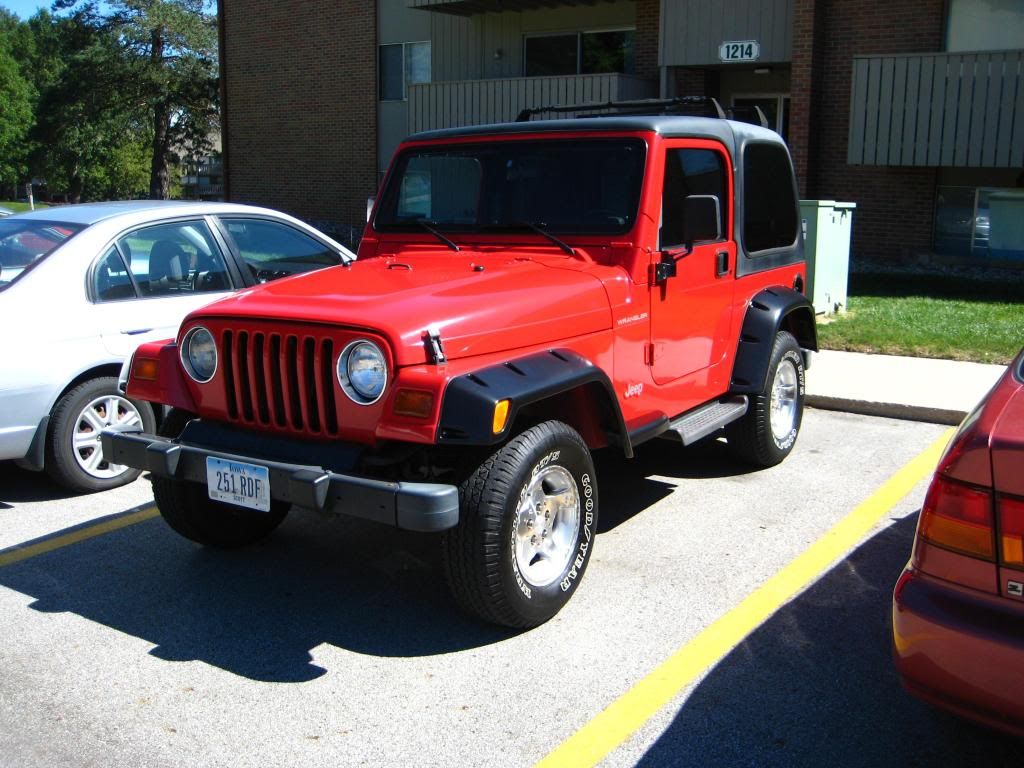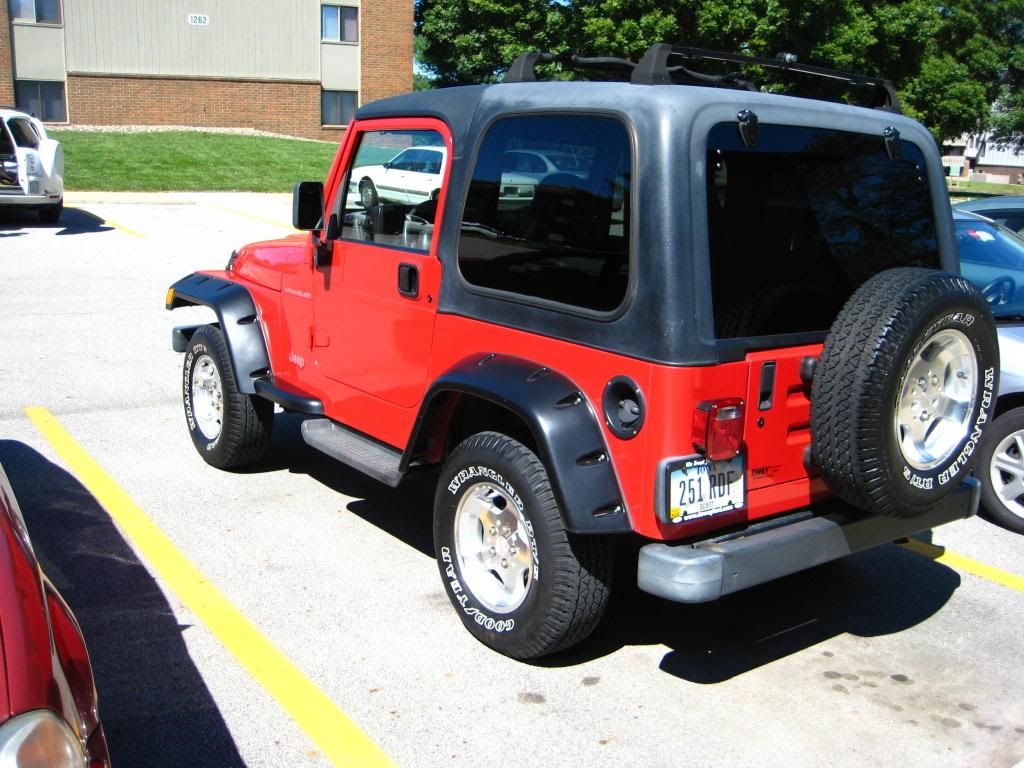 Like everyone else who falls victim to the wrangler, i started thinking of allllll the stuff i wanted to do to it.
The first week i had it read up on a few posts here and then did a full tune-up, repainted the faded hardtop, capped the bumpers, removed the rear seat and belts, removed the steps, and a few odds and ends such as tightening the ebrake and bedlining the rear. I also went topless for the first time which was fantastic and just brought the cloud of debt and mods closer towards my wallet.
After some touch-ups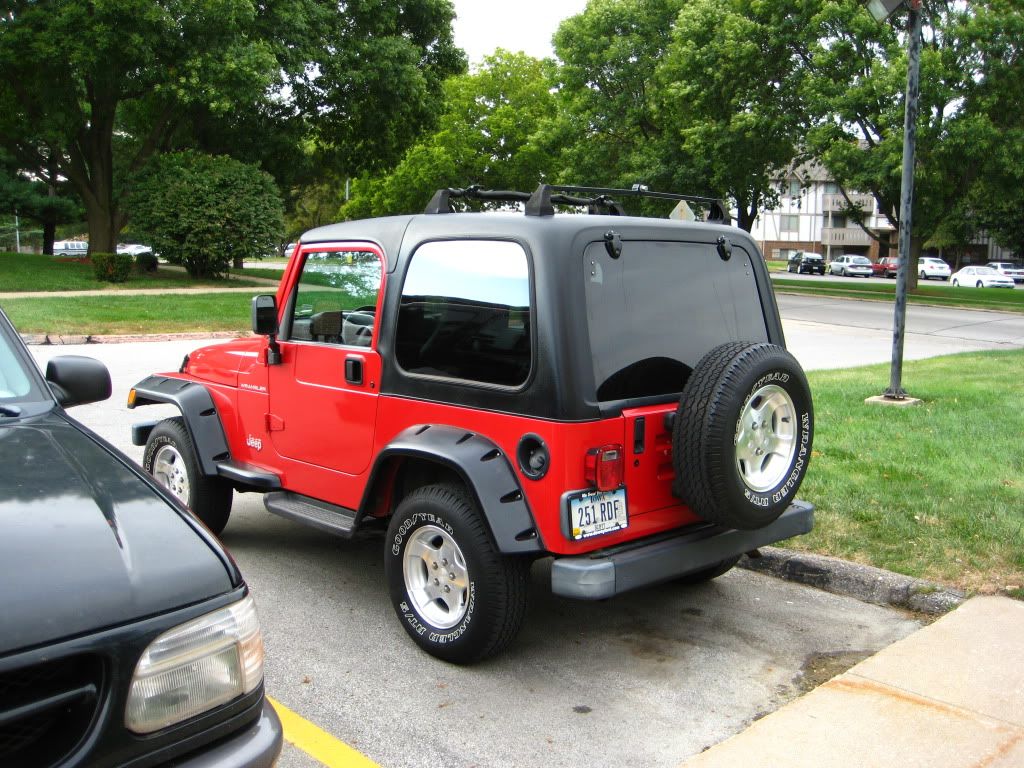 Soon after that i ended up stopping by the dealership where i bought her and picked up some paperwork...while i was there, i decided to look at some rims they had in stock and found some i absolutely fell in love with. A set of 15x8 Mickey Thompson Limited Edition Signature Series (what a mouth full lol). The list price on them was like 145 a wheel at the dealer so i was basically just window shopping at the time. Well, while i was standing there the shop manager came up to me and goes "you're the one that bought the red TJ, right?" so i told him yes and he said "i've got two sets of 5 of these wheels in stock i'm trying to get rid of due to the new JK wheels coming in. How about i knock the price down to 75 a wheel for you"...an hour later i showed up with cash and bought both sets...one set i mounted on my own jeep and the other i sold 2 hours later for 250 more than i paid for it...an hour after that my stock wheels were sold for 200. When you do the math, i actually made 75 dollars by going with the new wheels. I also added a magnaflow muffler and magnaflow cat at this time.
Here are where the mods started: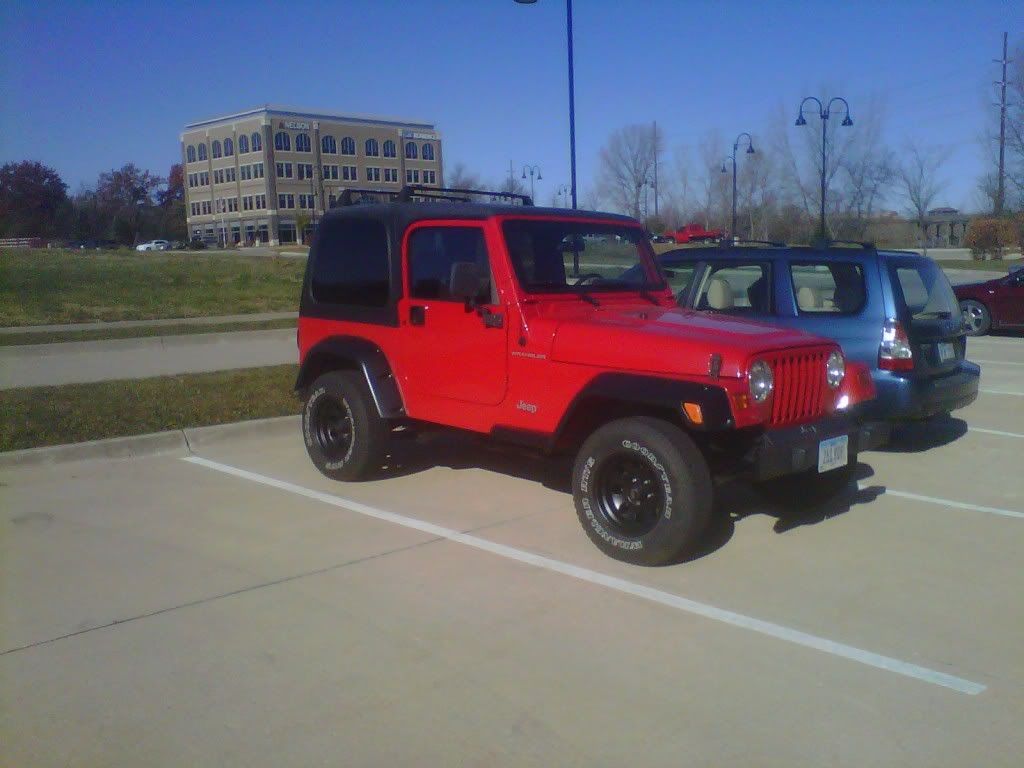 Shortly after installing the wheels (which the shop accidentally mounted white letters out), i moved from West Des Moines, IA to Denver, CO. Right when i got here, i noticed how everyone was tinted (Iowa was strict on this) so i went over and tinted my front windows to match my top and put in a new alpine deck.
Slow start but here she was tinted: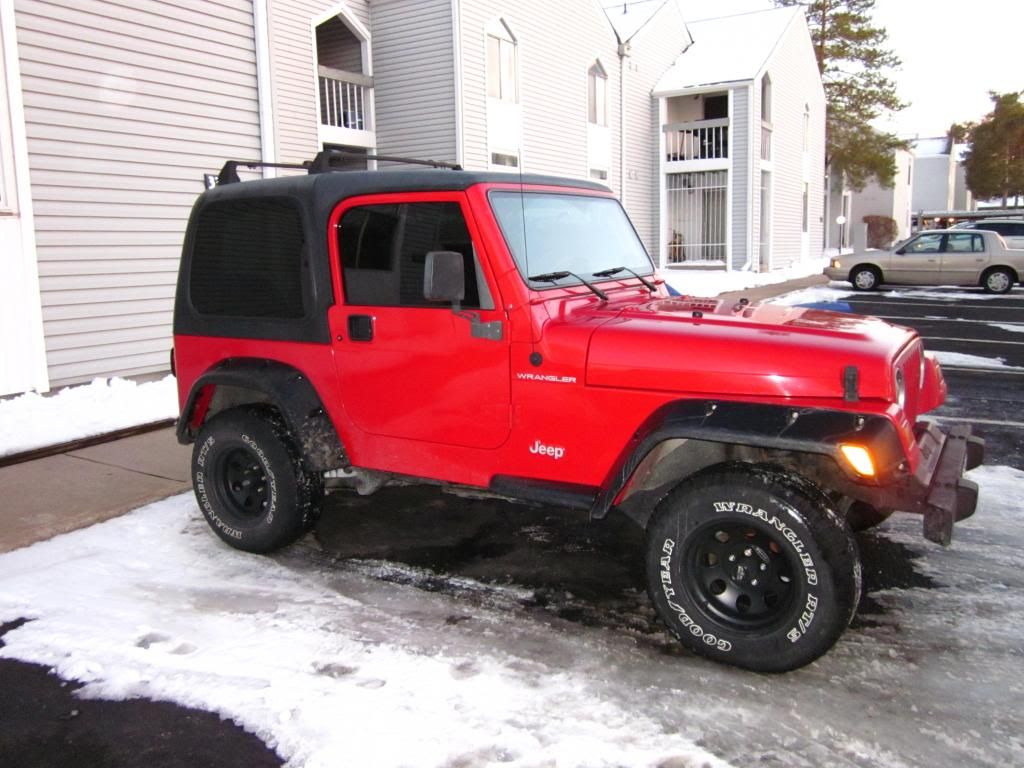 About 3-4 months after being here in Colorado, i really started planning of how i wanted my jeep to look and began my plan to have a great onroad vehicle with great capability offroad. I know they're able to do this stock, but i wanted to be able take down some heavy trials and then still drive home and drive the same vehicle to work the next day...i then ordered my 3" SL with a set of 32x11.5" tires. Once that was installed, it started to take a slight shape for what i wanted.
Lift and tires installed: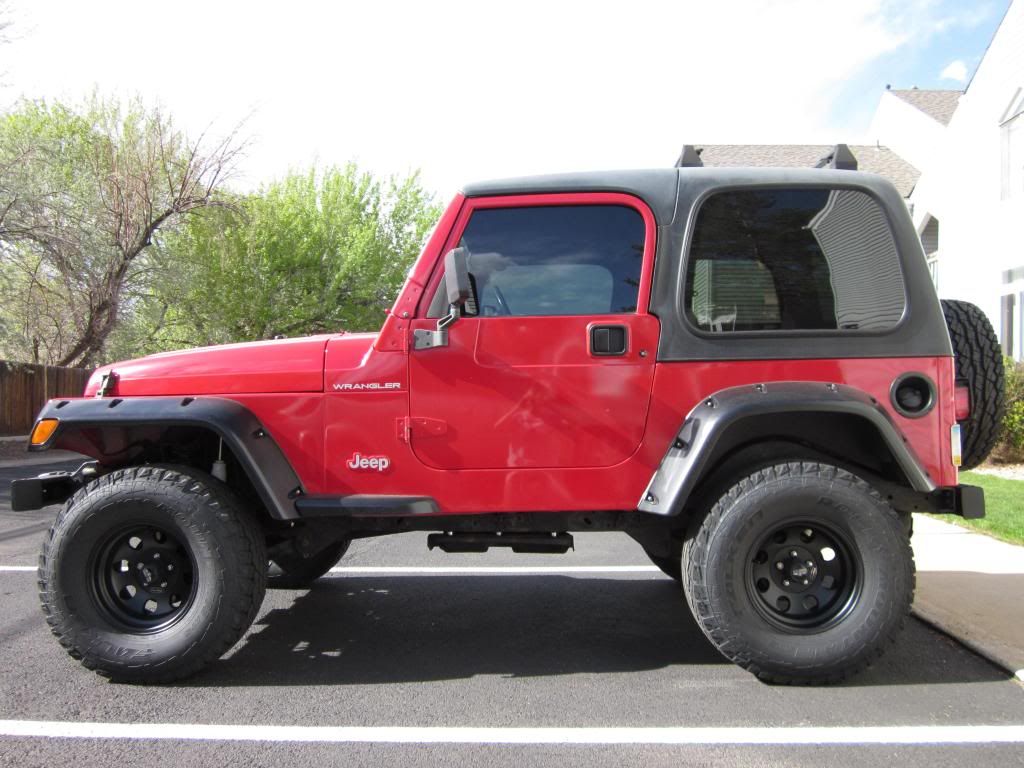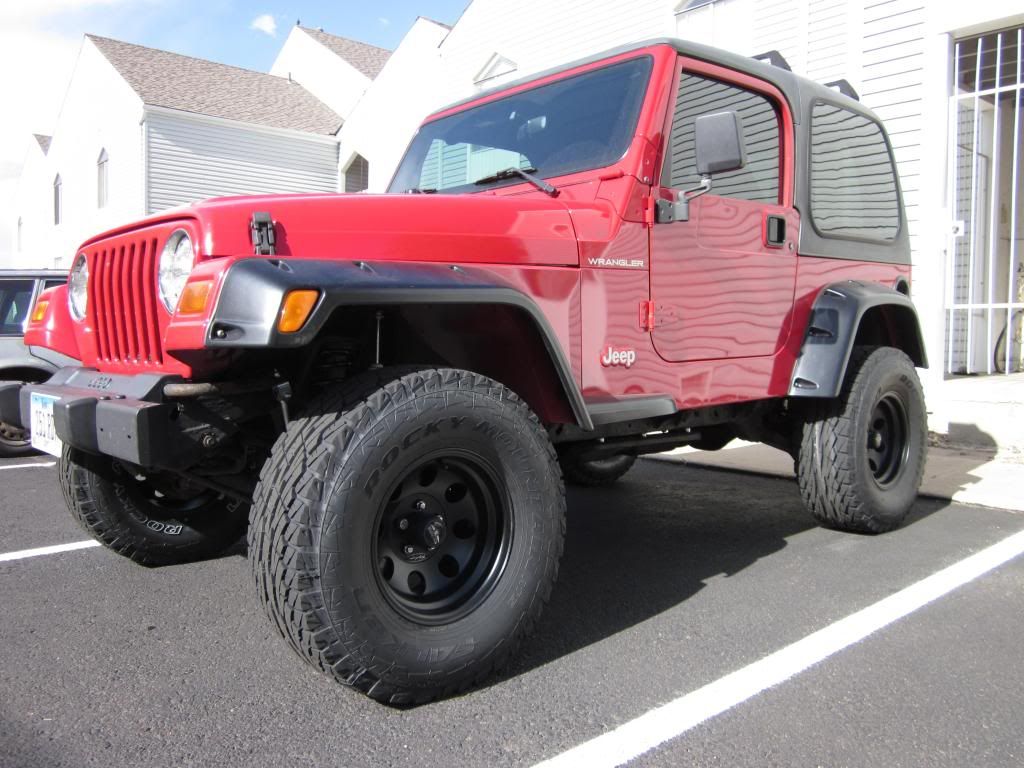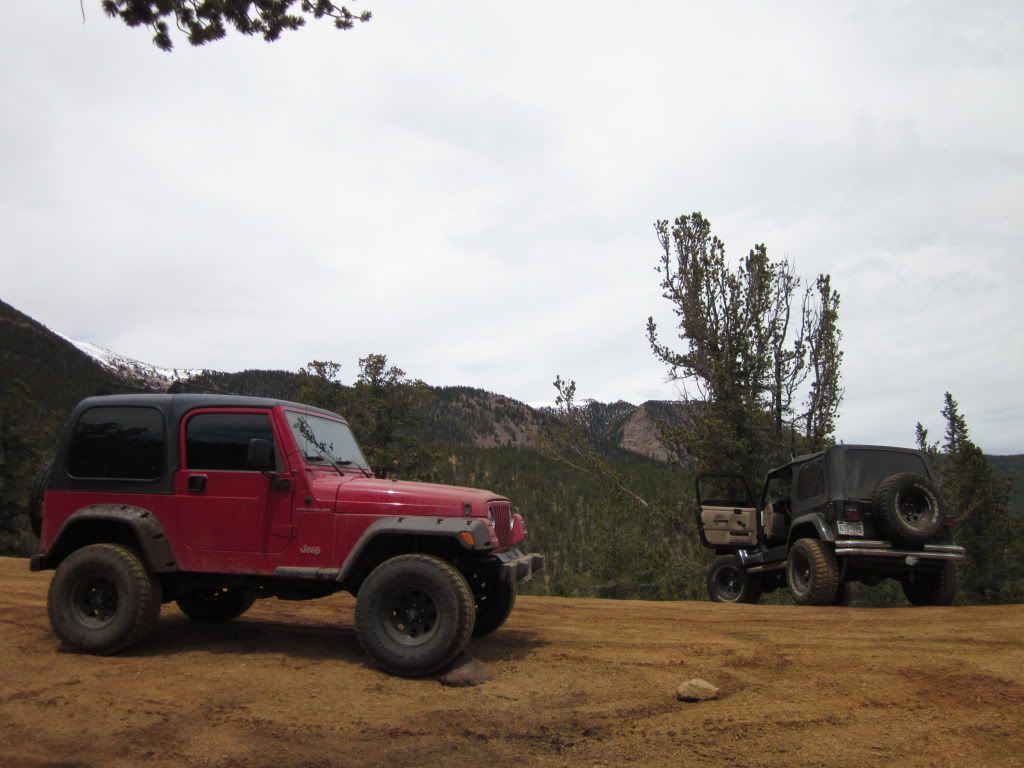 I was completely happy with it for the time being and held off a while before i did any more "actual" mods to it. I then focused on the fact i loved being able to just throw the top down when i wanted so i turned to craigslist and sold my 2-piece hardtop in favor of a trektop NX which i still currently have and absolutely love.
This was now around September of 2011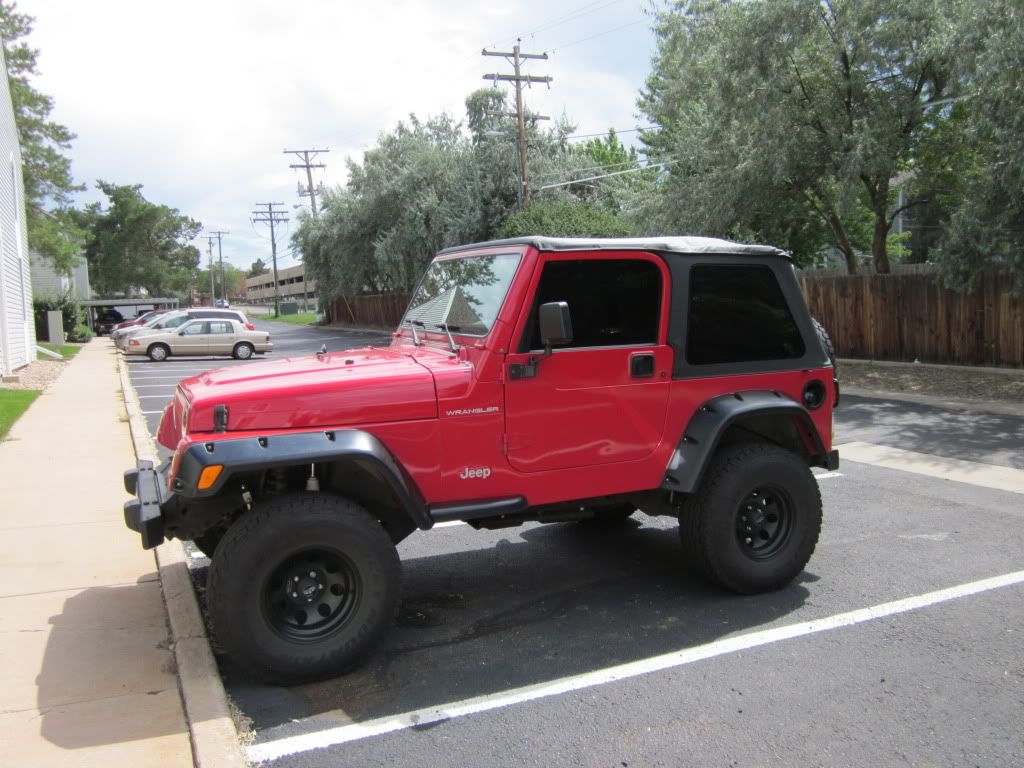 Now fast forward a while because i was broke from moving and doing the slight mods i had done so far (i was 24/25 at the time of this). I decided to start the smaller mods for what i had in store so i ended up getting rid of my tcase drop and going with a 1.25" BL and 1" MML. While i was at it i also threw on a set of quick discos. My thinking was i eventually plan on a tummy tuck and also wanted to throw some 33's on there in order to complete some tougher trails and just further the offroad ability of it while maintaining a decent onroad ride.
Newly installed BL/MML/Quick discos:
A couple months later i started thinking about my articulation and how i'd like to be able to flex when needed with the larger tires so even though i wasnt a big fan of tube fenders at the time, i put on a set of smitty tubes in front...relocated my turn signals to the grill...and ran a pair of 6" flat xenon flares in the rear. I didnt quite get the look i was wanting with this but now that it was done, i kept on thinking of things to do in order to balance out the look and the function offroad as well as onroad as my daily driver.
Not quite the look or function i was wanting: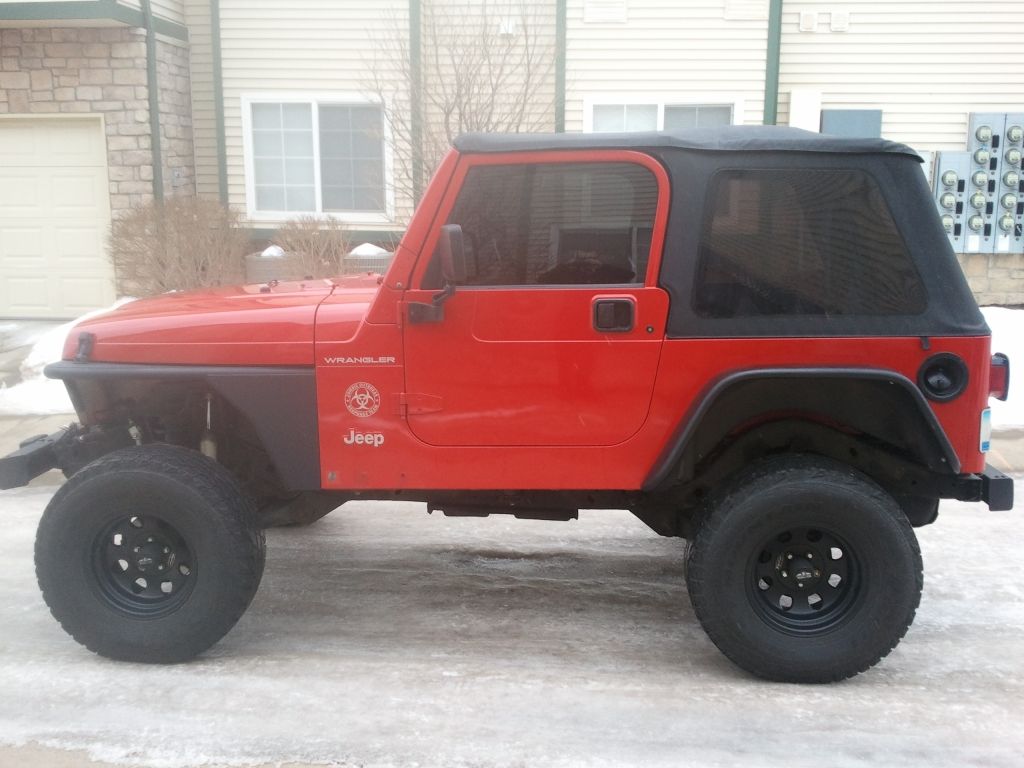 Now...fast forward about a year...i've been in Colorado for quite a while and my jeep plan had been put on hold due to going overseas to the Czech Republic and Germany for 2 weeks. Keep in mind i was then 26 (about 6 months ago) and wasnt exactly making it rain lol. Also, the previous year i had modded my 2003 R6 a bit more as well as my 1991 Mustang so that took some funds but i actually sold the motorcycle in June of 2012 and then sold the mustang in december of 2012 so those funds then went to pay my trip (as did my credit card lol). As soon as i got back, i was itching to mod the jeep and continue my goal of a great onroader/offroader on a budget.
I scapped my plans for 33's and decided that even with my 2.5L, i could DD a set of 35's because i rarely ever highway drive. So, being impatient like i usually am, i just threw a set of 35's on there without building for them first (even though i was very versed in what i needed to run them reliably). During this time, i also fully tinted my windshield 35%, threw on a 4.0 TB for some better midrange, and went with a set of sliders in flat black.
She is now starting to take shape: