Discussion Starter
•
#1
•
So i did this a while ago and thought I'd share what I did.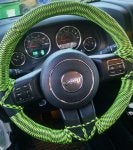 First I started with the halfway point of the cord and started wrapping it around the middle of the top section of the steering wheel; I did this to end up with the knot at the end being right at the bottom of the steering wheel.
Once I got to the first column I then began twisting my hands around the wrapped cord towards the end so that it got nice and tight. When I was satisfied with it not slipping I tied it off temporarily to my shifter to keep tension on the cord, then went back to the top middle and went the other way to the other side column repeating what I just did.
I criss crossed over the column looping once behind it straight up to keep the number of crosses even, probably not necessary but my ocd wouldn't let me go on otherwise. Tie it off to something to hold tension and repeat on the other side in the same manner.
Do the bottom quarter just like the top and again tie off temporarily and you guessed it, repeat for the other side.
The bottom was tricky on getting the knot where I wouldn't hit it while driving but the paracord slid nicely between the columns letting me have the knot raised from the rim of the steering wheel.
I had to play with it a bunch to get things just right but then I tied it off and cut it and scorched the knot with a lighter.(careful not to scorch the steering wheel, I turned it upside down to do this part)
After driving for 2 months with it on I still love it, it feels great in my hand, is nice and tight, and is so much more durable than slip on covers I was looking at getting.
I hope this helps anyone who thinks they might want to try to do this.
Happy Jeeping