Discussion Starter
•
#1
•
My wife and I decided to take the Jeep out and do a little trail riding. A last minute thing to do on a beautiful Sunday morning.
We headed west on route 60 out of Phoenix to Wickenburg. I googled some backed roads out that way and decided to take S Rincon Rd, off the 60, and just see where it goes.
Just a short while on Rincon we came across the Hassayampa River, which normally is a dry river, but since we had rain this spring, there was water flowing, and we got to drive through it. Now, this was no deep water crossing, the water may have been just inches deep, if that much, but we enjoyed doing it. We were crossing a river in a Jeep!
Not much further was Blue Tank Rd., we could see the mountains were just ahead on Blue Tank Rd., so we took it. This road circles around to Constellation Rd, which goes back in to Wickenburg and highway 60.
On Blue Tank Rd there are very many trails to the left and right. Most of these go up hills and/or through dry washes. Some of the hills, for me who is not experienced at off roading, were very exciting to climb. What was most surprising, was how many people actually lived in this back country, lots of homes in the distance. Imagine, literally crossing a river to get to your home?
I am attaching a few pictures of our 1/2 day trip. We had a great time. And now I have a Jeep to clean up.
This hill was steep! I went to 4 low to get to the top. My wife kept asking "is this OK", I said nothing till we got to the top, and then said "of course it is", like I knew. To the right of the Jeep, that is Blue Tank Rd. It is a nice wide two lane. From this distance it looks like a trail.
Going back down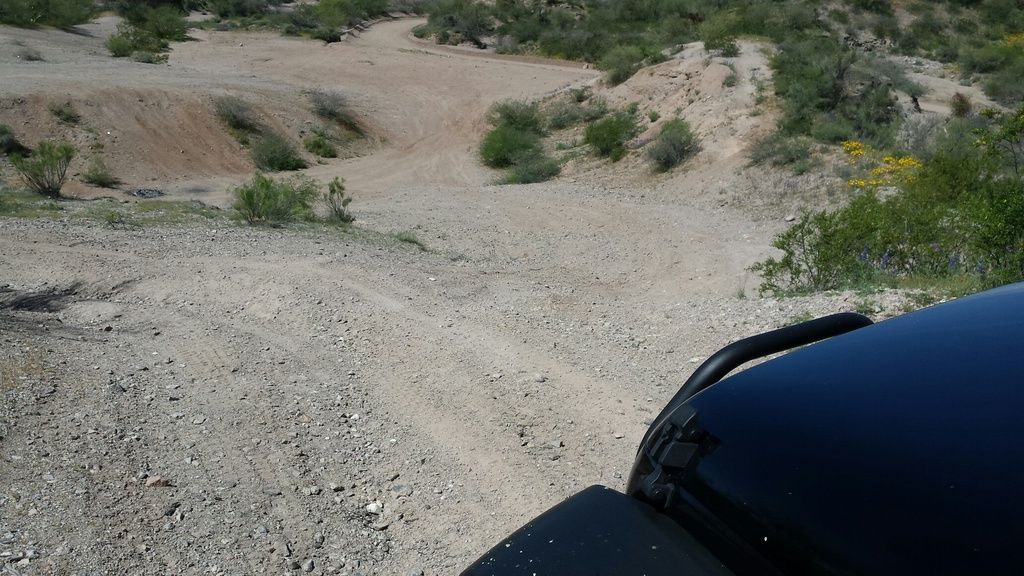 Just more of those side trails.
[/URL]