Discussion Starter
·
#1
·
The Jeep is in first gear with the parking brake off and im rocking it back and forth with my foot. I dont know a whole lot about clutches, obviously something has failed or is in the process of failing. Any ideas?
click the image for the video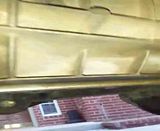 Another thing is that the Jeep seems to move back and forth a lot with the transmission in first gear. Is this a normal amount of movement or is it excessive?
click the image for the video