Discussion Starter
·
#1
·
Hey all, a little note before i start this thread.
Those of you who notice my posts probably notice that i like to talk a lot. So a lot of this is likely to be long-winded. If the thread doesn't get much attention, i'll likely shorten things up to keep people interested. I also plan on including a lot of pictures that WILL stay up for as long as photobucket doesn't mess with image URLs or gets taken down entirely.
This build thread is going to focus around both mods and necessary repairs/maintenance. While i'd like to keep people entertained with this thread, ultimately my goal is to document all my encounters/issues with all my projects on my Jeep. So that it will benefit both current and future TJ owners doing a google search.
For that reason, please, feel free to ask questions. There's nothing i like more than helping fellow Jeepers with the knowledge and experience I've gained!
With that being said, here's a (somewhat) brief history on me and my Jeeps.
My name is Josh, and i live in Northwestern PA. And my TJ is my daily driver. This sets the table for an interesting battle with rust that will, and has been, overlaying my entire Jeeping career.
I bought a old rust bucket 2000 with 143k miles for 4.5k back in may of 2013. After battling a lot of rust, doing mods and repairs that were necessary(due to rust/worn parts/engines exploding, etc) it finally succumbed last November when i lost control on the highway, smashing into the guardrail and cracking the front control arms mounts. I wish i had made a build thread on this TJ, because honestly i had done too many things to it to list in this one, and i'll probably reference all those mods/repairs later. But a picture(before the accident) will have to suffice.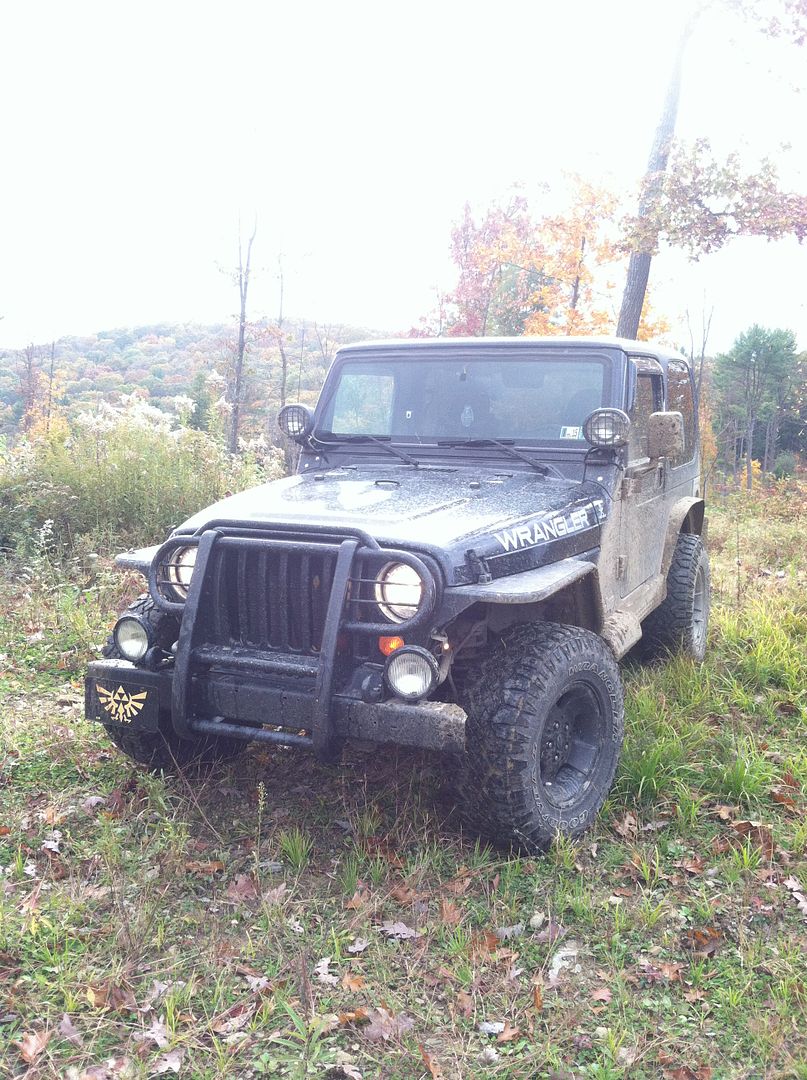 I still have this TJ. And i hope to put a few hundred into it this summer to make it into an off-highway secondary driver. But for now it sits in my side yard, looking at me with sad puppy dog eyes.
After that, i knew i wanted to go after another TJ with the knowledge I've gained of them(on the forefront of my mind is "rustisevilrustisevilrustisevil"). And finally i found this 2005 sport.
Minimal rust, 89k miles, auto, 4.0, D44 rear, all for 12.5K It was the next best thing to a Rubi. It came with some half-worn 31s, so i put on my 31" Duratracs with canyon rims from my 2000. I also swapped over the hard top, among other small things.
Some of the mods and repairs I've done in the past 6 months are:
-Drain holes drilled in bottom of frame & skid spaced with a couple washers
-Rampage Euro grille guard that used to be on my 2000(Only really a hood ornament until i get a proper bumper)
-KC H4 headlight enclosure kit swapped from my 2000
-Direct 12v 10ga wired & relayed headlights and fog lights
-Optilux 1800 driving lamps mounted on windshield brackets from my 2000
-Bestop Trektop NX from my 2000(As stated before, i have a hardtop for winter too)
-Decals
-GM gas filler to fix overflow issue
-Rough country 1.25" body lift
-Advanced adapters T-case shifter linkage isolation bracket
-Digital rear view mirror out of a 2002 Avalanche(Auto dimming, compass & temperature)
-Front & rear driveshafts rebuilt
Here's how she stands now(coincidentally, in the same car wash):
This year's goal for the TJ is to have it in tiptop shape for winter. I'm aware how bad Wranglers are in the snow & ice, and i should just put the money into a beater car with snow tires for winter. However, that wouldn't be very fun, would it?
This goal includes mods/add-ons i want to do such as:
-POR-15ing entire frame, underside of body, and axles. Eastwood internal frame coating on the inside.
-powered door/tailgate locks
-remote start/keyless entry
-ordering & installing an OEM hard top wiring harness, re-pinned for my 2000's hardtop
-designated snow tires(Seeing as some of the biggest sizes are 30s, these are gonna look funky on an eventual 4.25" of lift)
-new shocks, possibly higher rate coils for the weight of the hardtop(My current coils were bottoming out last winter)
A lot of people probably view these as "prissy" mods. However, i enjoy every aspect of modding my TJ. Both those creature comfort/convenience mods, and the gritty offroad mods. After i get my TJ where i want it function-wise, there will be plenty of time for the offroad mods. And i'll probably tuck some of them in this year.
If i get lucky, i would love to be rolling 4.55/4.88 gearing & Detroit truetracs front & rear. But that's a big bill to foot this year.
I also notice that my front fenders are starting to bubble. I would love to have MCE flat fenders & rear flares. However that would be nearly $600 alone so that might have to wait for next year.
I've already spent nearly half of the year laid off, so my TJ isn't going to be where the bulk of my finances will be going when i'm back to work. Hence why some of the mods I've listed are small-dollar mods. However i'll definitely fit some other mods into the year to keep things interesting(Electrical mods run cheap, and happen to be my favorite).
Towards the end of my build, i'm hoping to be running 33s with appropriate gearing, a 3" coil lift, trutracs front & rear, high-clearance skid, aftermarket front & rear bumpers, sliders, savvy aluminum gas tank skid, remote cooler & filter for the tranny, flat front & rear fenders, and maybe a V8 Vortec if my 4.0 decides to blow like my last one did.
I'm aware most of this is probably stuff that people decide to throw on in their first year. However, as a 21 year old shop rat with a girlfriend and his life ahead of him in his mind, sadly his TJ is not his primary money pit. BUT, i am thrifty and enjoy mods & repairs of all shapes & sizes. So i should be an entertaining person to follow(I hope!)
Thanks for reading this long-winded post. I'm sure more will come to follow. And if you didn't, i hope you caught the pointers!