Discussion Starter
•
#1
•
Ok, I had posted about this before but figured I would refresh it for those who have the lean on stock coiled jeeps ie those who are using spacers for lift or just leaning with no lift.
I have a 2014 jkurwith AEV 2" lift that has leaned to the passenger side. I tried everything. swapped coils and shocks from side to side and ended up adding a 1/2" spacer on the passenger side on top of the AEV spacer and that still just lifted the driver side as much as it did the passenger side. It drove me nuts. I have stock coils of 18 fronts and 60's rear. I have the hardtop and max tow package with auto which generally gives higher coils (I know not always). So I took a gamble and bought a set of 10A springs from a 4 door and last night I swapped out just the passenger side coil. The 10A coil was just over an inch taller free height and had one extra coil compared to the -18 I removed. 18 I removed was 18" and the 10A just over 19" free height.
so voila no more lean. ultimately my 2" AEV is exactly 2.25" taller then stock going by this measurement on both sides. Bottom of both fender flares to ground front and rear on all four corners is 39.25". front rubi rail is 1/2" lower then back of rubi rail so still a ever so slight rack but it does not look like there is a rake to the naked eye parked on flat ground.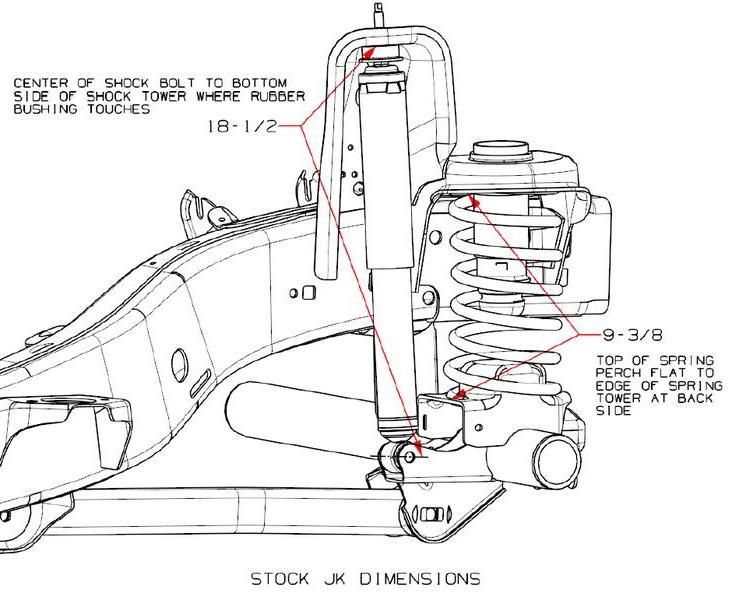 Again I only replaced the passenger side driver with the 10A coil nothing else. I have not had it out yet so hoping the different coil numbers don't effect handling but don't see how they will. I know jeeps come with different numbered coils from the factory so we will see later today when I drive it. If nothing else it shows that the 10A coils do lift about 1" vs the higher rated standard coils at least the front passenger one does lol.