Discussion Starter
·
#1
·
I spent a little while under my Jeep today just taking in all the strange things the previous owners mechanic did. My YJ is a 1990 but it's had a 4.0 from a 1992 Wrangler swapped in. I noticed my 4wd works but I get no indicator light on the dash, so I hooked the 4wd switch on the firewall to my mightyvac and sure enough the light came on. So I set about mapping all the lines out on paper so I could see what's going on. Here is how the PO has the vacuum lines set up: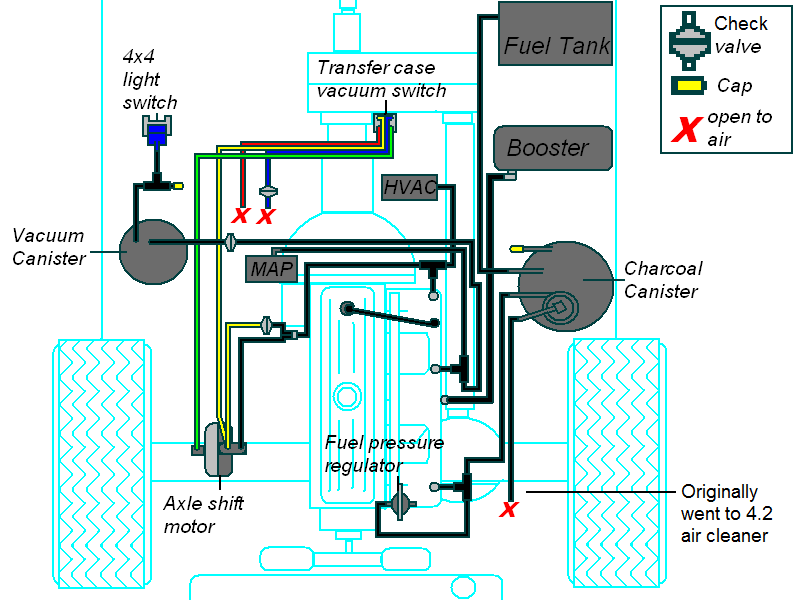 I might be mistaken but to me it looks like he has manifold vacuum hooked up to permanently keep the axle engaged. The red line that I believe is supposed to provide constant vacuum to the transfer case switch is cracked off and open to air just under the battery. Why do you suppose he has it set up this way? If I wanted it to work like it did stock then I would need to do something along the lines of this, correct?
Should I even use the vacuum canister? And what should I do with the line from the charcoal canister that originally went to the 4.2 air box, I currently have a cold air intake with no provision for that hose, should I cap it off or should I add a fitting on the cold air intake for it?