Discussion Starter
·
#1
·
I ordered a 2016 Rubicon this past fall and decided that along with replacing the base audio system I would try to bring the ambient noise level down. I read a previous thread by Seeyabubba and wanted to see if I could also measure the results and give everyone some more data points. I knew going into this project that with the aerodynamics of a vending machine it would be difficult to achieve a truly quiet cabin when the Jeep was going fast, but for a few hundred dollars I was willing to try.
2016 Rubicon Unlimited, Base 130 radio without UConnect. I opted to not go with the Alpine upgrade because I think that I will eventually try to put a fridge slide in the back and did not want to take a chance of limiting myself. The price increase also played a part. I had UConnect in my Ram truck and wasn't all that impressed. I gave up the EVIC, but thought I could easily do without and save a little money for other stuff.
Before....
After....
Materials: Hothead headliners, 46 sq/ft Stinger expert mat, 36 sq/ft Stinger carpet pad, 36 sq/ft Stinger 1/4" foam ccf, roll heavy duty velcro, dynamat tape
Audio: Pioneer AVH-5700BHS, 77Kick10s (all 8 speakers), Kicker 11HS8 powered sub, bass blockers, 2 x esky cameras, Sirius tuner, PAC adapter
Baseline: Driving home from Idaho to Vegas after taking delivery at 70 mph...56-57 db. Pretty loud. I'm an airline pilot and the back of an airplane in coach is about 51 db using the app on my phone. The cockpit varies from 56 -64 db depending on the model and age of the airplane.
Results: It helps. I bought too much aluminum expert mat. One large 36 sq/ft box would have been sufficient. Same with the carpet pad. The foam does not have near the heft of the carpet pad, but it's much easier to work with and fit in curved areas. I went with Stinger because it seemed to be the best value using Amazon (mat and crept pad) and Jet.com for the foam. See below for more details, but I finished the project with 51 db at highway speed and gave up trying to take more measurements at a slower speed because the app was too sensitive to give a consistent number - it would go from 45-53 db erratically. And that is with the sensitivity scaled back as much as possible. Would I do it again? Yes. But I would save time by not fiddling as much trying to access the inner door skin and the B pillar trim pieces. I would only buy 24 sq/ft of carpet pad and not even try to apply it any curved areas. Not sure what the total cost of everything was...approx $1300 for stereo and deadening material. Alpine, Nav and UConnect would have been quite a bit more. I'd change a few things, but overall no regrets.
Mod 1 - Hothead Headliners. Great product, customer service, easy to install, etc... I cut strips of the Stinger mat and applied just like is shown on the website. A worthwhile investment regardless of any noise reduction. The jeep seems more quiet and this should be a factory standard. At 70 mph the phone app still shows about 56 db after the install.
Mod 2 - Speakers. Replaced the OEM with 77Kick speakers. I used a little foil mat and polyfill as well. They are better than stock, but I wonder if I should have tried the component route. I'm not a big car audio guy (or mechanic for that matter), but my guess is for not much more money I could have done better. The idea of plug and play was attractive, so that's what I did.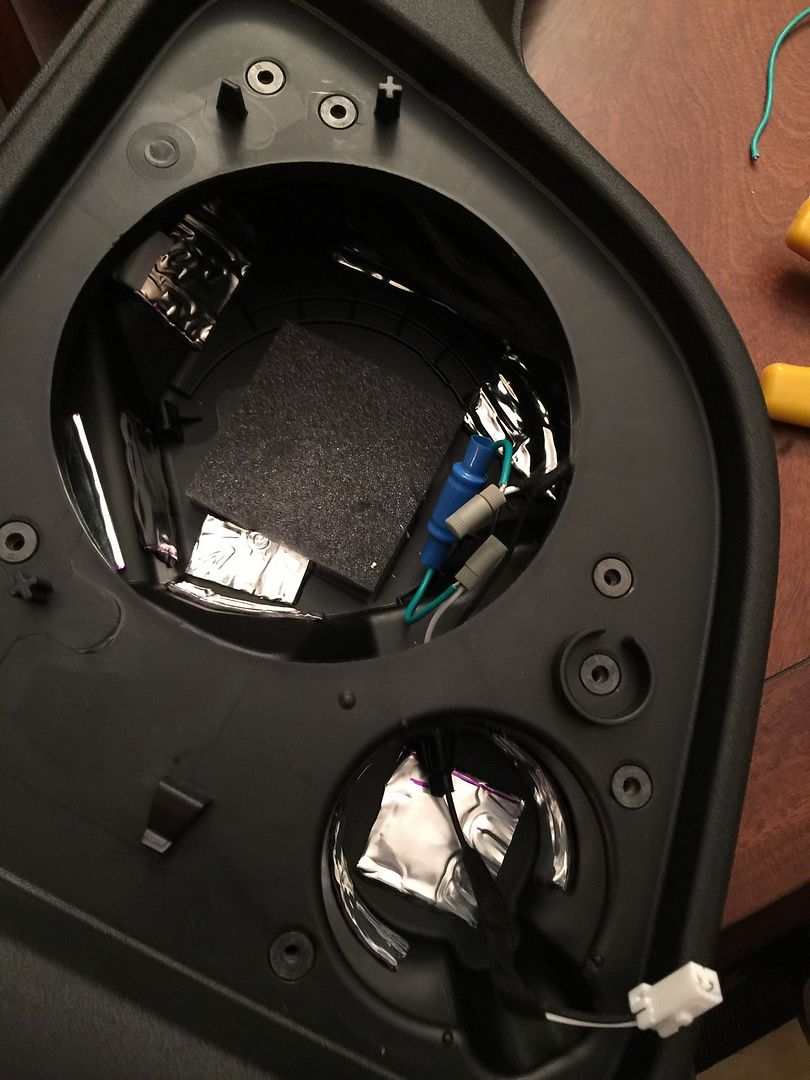 Mod 3 - Doors. Removing the inner door panel bolts didn't give me any play and I was unable to access the inner skin. I wasn't prepared to push my luck and remove the three odd looking screws on the door jam side. So I put small foil strips on the panel and used the foam. I didn't take any db measurements, but the doors obviously have that solid thud feel to them now. See pics below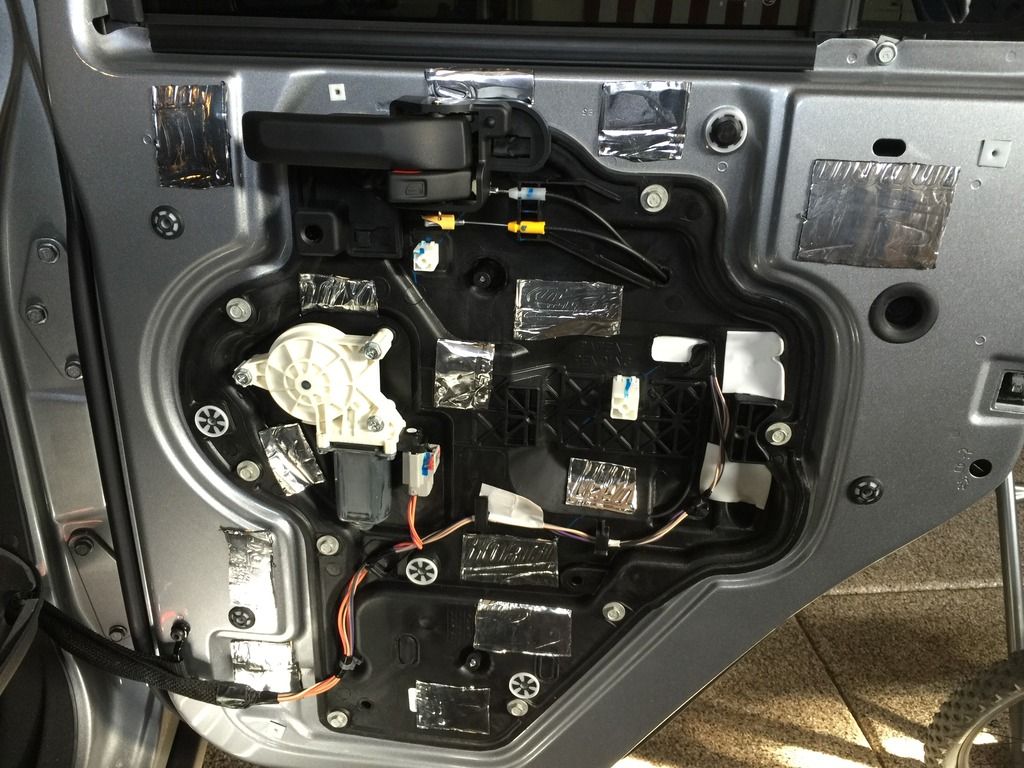 Mod 4 - Everything else. I never considered pulling seats - and glad I didn't. I pulled carpet and put down the foil mat and then ran most of the wires for the stereo/sub/camera/sirius. There is more foil coverage than I expected or even wanted. I was OK with buying a little too much product, but even with what you see, I still have about 8 sq/ft of foil left over. The carpet pad is thick and you can tell that it is going to block some sound. Stinger was quite a bit cheaper than the Dynamat version of carpet pad and also not nearly as thick (if the Amazon description is accurate). Dynamat pad would be too thick and too hard to work with in my opinion. The foam worked well on curved and vertical surfaces. I used some of the velcro and tape to help secure the foam and carpet pieces together and keep them from moving around. I put too much (foam and pad) under the front passenger seat and was unable to put the subwoofer there. It's now under the passenger bench which is OK, but it does not allow it to be folded flat. Not sure if I will revisit that later. So cruising the highway at 70 mph the phone app shows 51-52 db. When I slow down to 45 mph the app is all over the place so I kind of gave up on trying to record hard data. The plan was to compare it to my 2011 Ford Fiesta and a 2015 Hyundai Genesis sedan. Bottomline.....it's definitely more quiet, but once you get to highway speed the wind noise takes over. Not surprising.