Discussion Starter
·
#1
·
Well as part of my build I had do do a slip yoke conversion so I decided to do a write up for fun there are a lot of good write ups on this subject but I figured it would be nice to have as much pictures out there as possible so here goes I used a terra flex Super short SYE kit. this a np231j out of a 1994 YJ
First remove your drive shafts, and skip plate.
You can do the conversion with the tcase in the jeep but its a lot easier to do it out of the jeep. I found a 9/16 ratchet wrench was the best tool to use to remove the 6 nuts that mate the tcase to the transmission, the shifter linkage also is 9/16ths, pull off the linkage, the nuts, ans the vacuum plug also remove the vent tube. once you have all this stuff disconnected remove the t-case. I used the bench press technique to remove it.
Once you have the t-case out of the jeep the first step is to remove the yoke for the front drive shaft, an impact would be the best tool for this but I am a redneck so I had to do it the hardest way possible I used a 24inch adjustable wrench to hold the yoke while I broke the nut free with a 2foot breaker bar.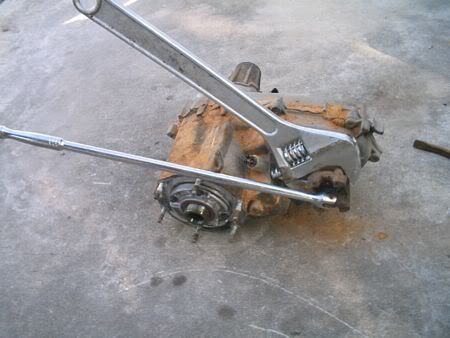 I then cleaned the dried mud off the tcase so when i split the case halves it would not get inside the case.
Next step is to remove the factory output housing.
Next step is use lock ring pliers to remove the snap ring that holds the out put bearing in place on the factory out put shaft.
next remove the speedo drive gear assembly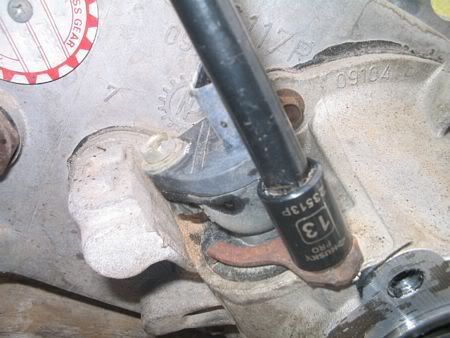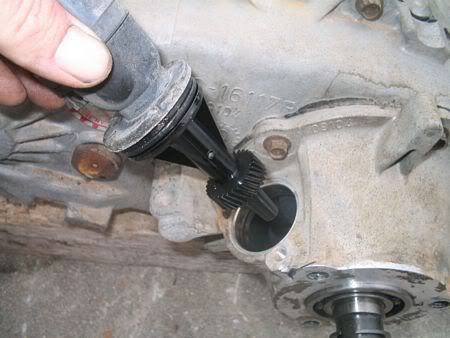 next remove the bolts that mate the output housing to the transfer case and remove the housing itself
After the housing is removed remove the bolts that hold the two case halves together
there is one 12 point 10mm bolt and all the rest are 15 mm why they did this I don't know
once all the bolts are removed find the two machined slots to pry the case haves apart if you pry anywhere else you will bugger up the mating surfaces and the tcase will leak.
on both of the transfer cases I have built they pop open very easy
be careful not to drop the oil pump when you take the front case half off.
this is what it looks like when you take the case apart