Discussion Starter
·
#1
·
This is one that I think should be added to your list of daytrip excursions from the valley. Dugas Rd is 1hr north of the 101 on I-17, just a bit further north of Bloody Basin Rd, Cordes Junction and AZ-69 (to Prescott). From the highway to the river you are looking at 2.5-3hrs of travel. There is a hot spring at the river leftover from a old resort (probably want to be vaccinated before you enter). I recommend packing a lunch and swim trunks. As with everything, weekdays will be best if you want to avoid "traffic" on the trail.
The scenery is fantastic and right now there are blooming agave everywhere. Lived here all my life and never seen them like that. The road looks unassuming on Google, but not long after passing the Teskeys and Sycamore Creek, it gets rough. Very similar to Backway to Crown King but seemed like I spent way more time in 4LO on this one, due to the "boulders".
We never even made the drop into the Verde River Valley because it would likely take another hour to drop down from the top of the rim and the rains were coming. When we went there were still some muddy spots and my DTs were >< this close to getting us stuck (Difficult to get speed in 4LO and I was concerned about ambush rocks in the puddles). Since we were running solo, I chickened out and headed back.
According to
these guys
you can link Dugas and Bloody Basin together... likely by FR29 to FR16A to FR269. This can take a you out to Sheep's Bridge and back out on Bloody Basin for an allllll day adventure. Nearly all the available tracks showed up on Google, Gaia and Garmin so should be easily routable on your device of choice. I have not driven the Bloody Basin part so I cannot comment on that part of the journey.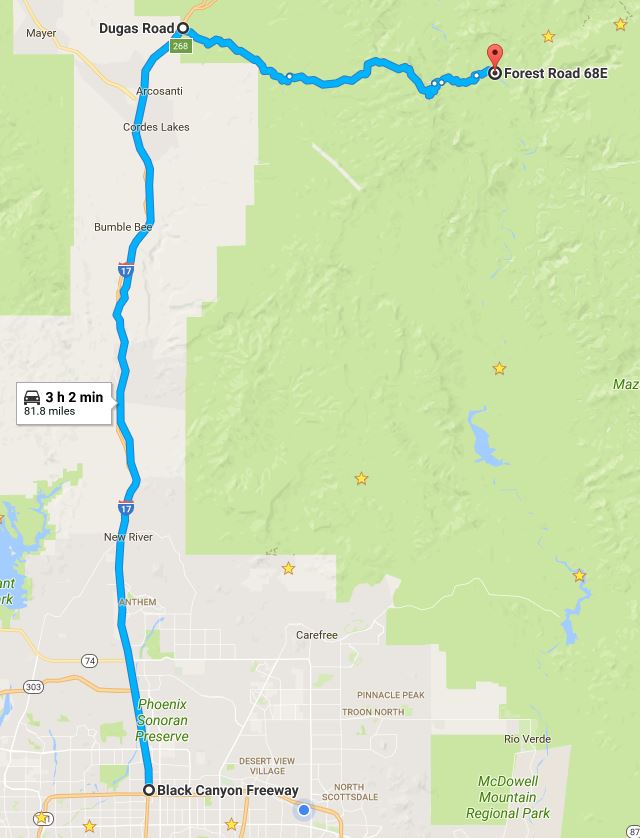 The Whole Enchilada