Unstuck 2016 JKU Hard Rock
Here it is!!! After 2+ years of planning and saving for my dream Jeep it's become reality :awesome:.
Picked up my 2016 JKU HR on 10-8-15.
Before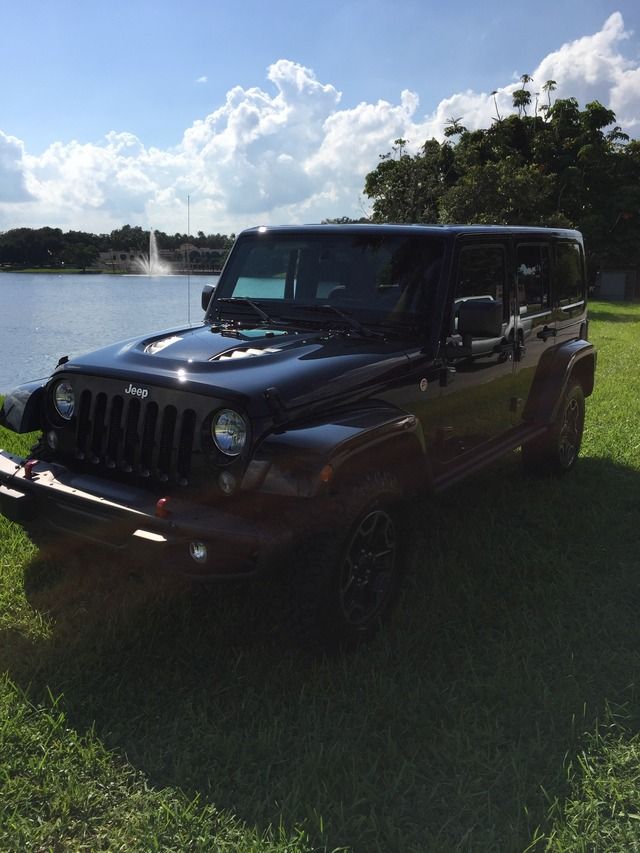 On 10-10-15 I dropped it off at a local Mod shop California Customs for the bulk of the installations. On the night of 10-15-15 I was able to pick it up start enjoying my new Jeep, what a blast to drive.
Over the next couple days I convinced my wife to help and we finished installing a bunch of other mods :happyyes:. I will list all the parts with pics.
After, In all it's glory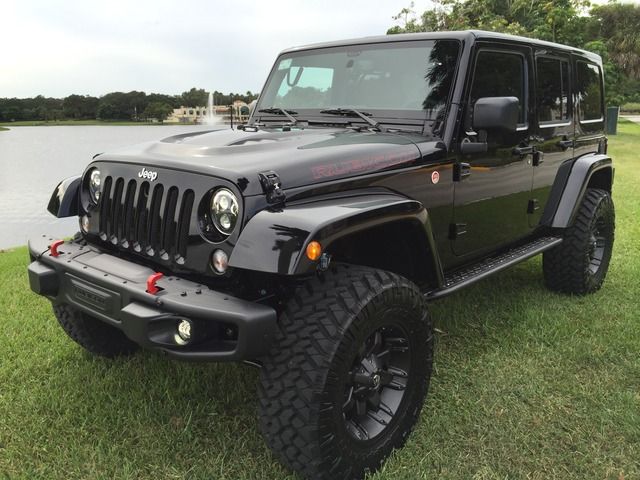 ★ AEV 3.5" Duel Sport RS Suspension System with Bilstein 5160 shocks ★
★ Bilstein Reservoir Brackets ★
★ Rock Krawler Adjustable Arms (8) ★
★ Fuel Octane 18"x9" 4.5BS (5) ★
★ Nitto Trail Grappler 35"x12.5" R18" (5) ★
★ Gorilla Locking Lug Nuts ★
★ Adams 1310 Driveshafts Front and Rear ★
★ FOX ATS Steering Stabilizer ★
★ TeraFlex HD Monster Front Trackbar ★
★ Grade 8 Bolts for TeraFlex Monster Front Trackbar ★
★ ARB Differential Covers Front and Rear ★
★ Lube Locker Differential Gaskets Front and Rear (Royal Purple) ★
★ Gibson Duel Exhaust ★
★ Crown Stainless Steel Extended Brake Lines (4) ★
★ Quadratec 10A Hitch with Wiring Harness ★
★ SmittyBilt Beaver Step with BOLT Hitch Lock (keyed to ignition key) ★
★ Mopar Locking Gas Cap (keyed to ignition) ★
★ TeraFlex HD Hinged Carrier & Adjustable Spare Tire Mounting Kit ★
★ AEV Rear Vision Camera System (Head unit) ★
★ IPCW LED Tail Lights ★
★ TNT Adventure Sliders/Steps (Line-X'd with UV Coating) ★
★ Antenna-X 13" ★
★ Drake Door Inserts ★
★ Rugged Ridge Hood Latches ★
★ BOLT Hood Lock (keyed to ignition) ★
★ eBay Mesh Grill Insert (hole for lock) ★
★ JW Speaker 8700 J-Series Headlights ★
★ JW Speaker 6145 J-Series Fog Lights ★
★ Maximus3 Fog Light Brackets ★
★ Headlight Revolution Wiring Harness for Fogs ★
★ Drake Under Hood Hardware Kit ★
----Interior---- (Some fun stuff here)
★ SuperbrightLED's ★
★ Drake Fire Extinguisher Mount ★
★ MaxOut 2.5lb Fire Extinguisher ★
★ SmittyBilt First Aid Kit ★
★ SmittyBilt G.E.A.R. Tailgate Cover (Molle) ★
★ Grabars (4) ★
★ Drake Billet A/T Gear Shift Knob ★
★ Drake Billet 4WD Knob ★
★ M.O.R.E. Dead Pedal ★
★ Aluminum Gas and Brake Pedals with Rubber Pads ★
★ PixelDecal.com Stickers (15 extra HP Yo) ★
★ Maximus 3 Flash Light Holder ★
★ Mopar Door Sills ★
Modifications after initial build
UPDATE 10-20-15
★ Llumar Window Tint ★
UPDATE 10-25-15
★ Hard Rock Hood Vents Cut Open ★
UPDATE 11-4-15
★ Rough Country Rear Coil Wedges ★
★ Rear Sway Bar Moved Back ★
UPDATE 11-7-15
★ Rock Krawler Rear 3" Bump Stops ★
UPDATE 1-2-16
★ JKS Quicker Disconnects ★
UPDATE 1-7-16
★ YETI Drag Link ★
★ YETI Tie Rod ★
★ FOX 1 5/8" Mounting Clamp ★
★ Crown Passenger Knuckle ★
UPDATE 1-20-16
★ TeraFlex Frame end Quick Disconnect Brackets for JKS Quick Disco's ★
UPDATE 1-30-16
★ MyGIG Lockpick Air with Front, Left & Right Cameras ★
★ Lukas 9750 WD Dash Cameras Front and Rear★
UPDATE 2-21-16
★ Uniden Bearcat 980 SSB CB Radio ★
★ Uniden Bearcat BC906W wireless Microphone ★
★ Uniden BC23A 15watt amplified speaker ★
★ Quadratec Quick Disconnect CB Mount ★
★ Firestik Firefly FL3 3ft. antenna ★
★ FireStik Fire-Flex K-8R18 Coax CB cable ★
★ FireStik K4 mounting stud ★
★ Teraflex hinge mount for CB antenna ★
UPDATE 3-1-16
★ Viper 5706V Alarm ★
★ Viper SmartStart GPS (VSM350) ★
★ Directed (aka Viper) DBALL2 (part#607D) ★
★ Directed (aka Viper) Duel Zone Motion Sensor (part#508D) ★
UPDATE 3-3-16
★ Directed (aka Viper) Glass Break/Audio sensor (part#506T) ★
★ Directed (aka Viper) Battery Backup Power Supply (part#520T) ★
★ Directed (aka Viper) Luminescent Armed Indicator Light (part#620V) ★
UPDATE 3-9-16
★ Maximus 3 Classic Bumper Hoop ★
UPDATE 3-13-16
★ sPod 6 Switch Duel LED's ★
★ sPod Remote Control Power Module ★
UPDATE 3-14-16
★ Maximus-3 Rubicon X/10A LED Light Bar Brackets ★
★ Rigid 20" Radiance LED Bar with Blue Black Lighting ★
UPDATE 4-3-16
★ Rigid Upper Windshield Mount ★
★ Rigid Radiance 50" LED Bar Mounted ★
★ Rigid A-Pillar Light Mount ★
★ Rigid D-Series Midnight Cubes Mounted ★
UPDATE 4-10-16
★ 50" Rigid Radiance LED bar wired to sPod ★
★ 20" Rigid Radiance LED bar wired to sPod ★
★ Rigid D-Series Midnight Cubes wired to sPod ★
★ Rigid Rock Light (6) installed and wired to sPod ★
UPDATE 5-16-16
★ Wired and Installed 2 more Rigid LED Rock Lights (#48211) ★
UPDATE 6-5-16
★ Springtail Solutions Molle Racks ★
UPDATE 6-11-16
★ Kicker 11PES10C Powered 10" Sub and 450-watt Amp ★
UPDATE 7-23-16
★ Optima Yellow Top Battery ★
UPDATE 9-3-16
★ Superchips TrailDash 2 for 2015 & 2016's ★
UPDATE 9-5-16
★ Genesis Dual Battery Kit 200amp with 2 Optima Yellow Top D34/78 Batteries ★
★ Genesis G-Screen Battery Monitoring System ★
★ Rugged Ridge Hood Struts/Pistons (Removed, pushing the hood out of alignment) ★
UPDATE 9-7-16
★ Superchips Dash Panel Mount ★
UPDATE 9-17-16
★ Carbon Fiber Hydro-Dip Interior Trim ★
UPDATE 9-28-16
★ Garmin VIRB XE Racing Bundle & 17mm Ball Mount ★
UPDATE 10-2-16
★ Kicker 77KICK10 Speakers 6.5" and Polly-Fill ★
UPDATE 10-25-16
★ Wilwood 14" Rotors with 4 Piston Calipers (140-12440 & 140-14066) ★
★ Mopar Over-Sized Master Cylinder and Brake Booster (P5160050)★
UPDATE 10-29-16
★ Ceramic Coating by Always Dry ★
UPDATE 9-27-17
★ Optima Digital 1200 Battery Charger ★
UPDATE 10-08-17
★ Solar LED Cup Mat ★
UPDATE 4-14-18
★ MPS Holster Mount ★
UPDATE 6-25-18
★ Replaced IPCW LED Taillights ★
UPDATE 6-25-18
★ Replaced Drake Door Handle Inserts ★
UPDATE 10-08-19
★ Kicker Deluxe 6.75" Speakers and Kicker 3.5" 77KICK25AB ★
UPDATE 3-8-20
★ Yakima Roof Rack with Showboat 66 roller ★
UPDATE 3-17-20
★ BOOMS Fishing Rod Holder ★
UPDATE 4-3-21
★ Nitto Trail Grappler 35"x12.5"xR18" ★
UPDATE 1-26-22
★ BlendMount Radar Detector Mount for Escort MaxCam 360c ★
UPDATE 5-1-22
★ Wilwood Brake Pads Replaced ★
Phewww, glad that's over :jawdrop:. Now its time for some Pics