Discussion Starter
•
#1
•
Rather than add to an older thread that's recently been revived I'm starting a fresh one:
I want to have halogen driving lights on my JKU that can be both switched when I go to high beam and turned on/off independently, too.
Also, I'd like the lights to be fed from the battery through a 'key-on' relay so that I know the switch won't work unless the key is on. Through some research I've created this wiring diagram which I hope the hive mind will study and let me know if I've got some fatal flaw I'm not seeing...
Already installed is an H4 headlights wiring harness from Susquehanna Motor Sports (
Rally Lights, Hella
) so I already have a 'sense' wire coming from the high beam relay to use in this wiring setup.
I also have a fuse tap I can take 12v from a key-on fuse in the fuse box itself to trigger a relay for both power and at the switch. (To be clear, not powering the lights from here; just the relay connections.)
I'm no electrician, so the logic that looks so, err, logical to me might be completely off track, and I'd like advice also on how to take this abstract diagram to reality: recommended wire gauges for 100 watt driving lights, best practices for wiring/gauges to use through firewall to On-Off-On switch, even brands to use/avoid, etc.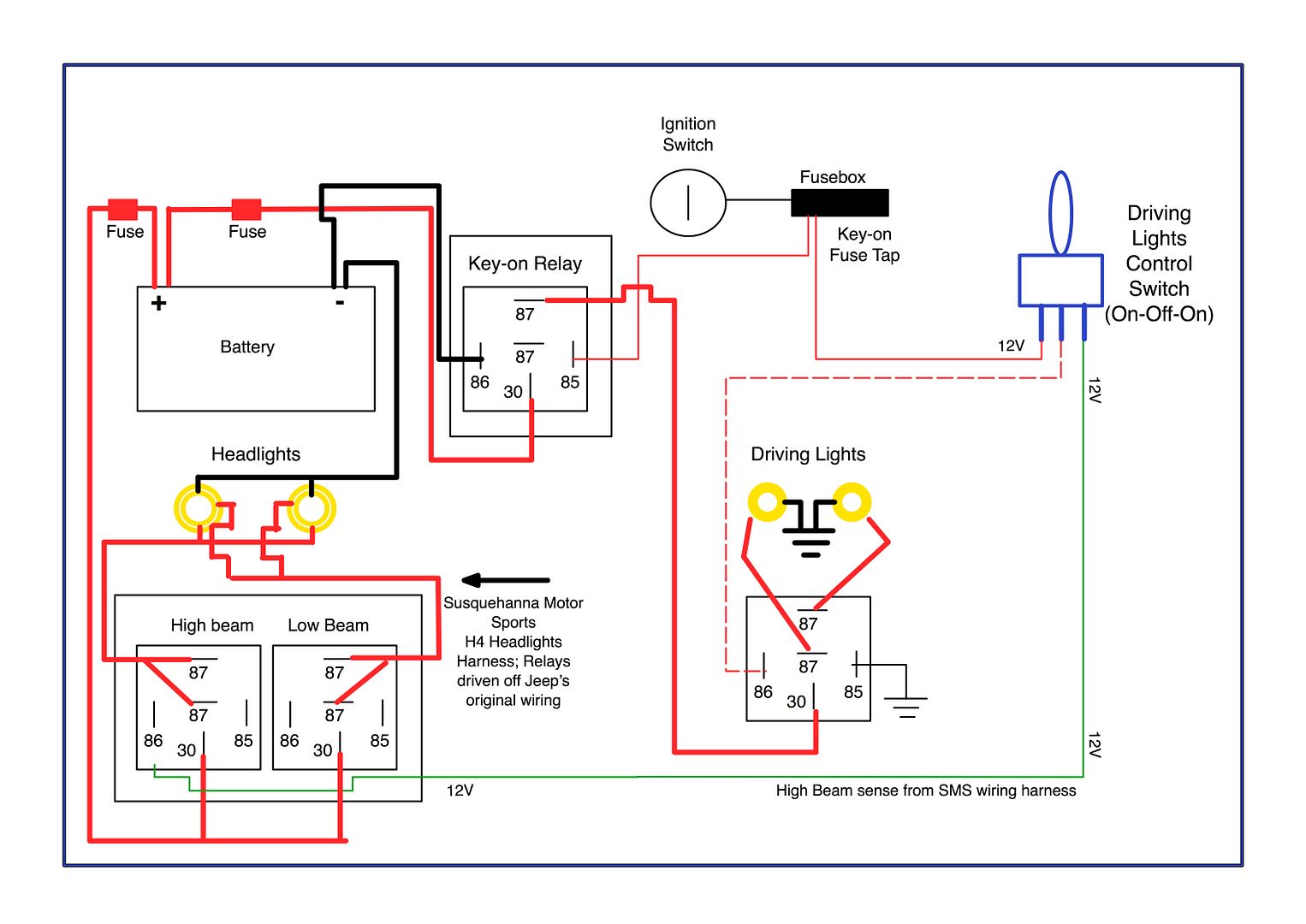 The Key-On Relay will probably become a power source for a little fuse block down the road when I want a couple more Key-On accessories, so it will be a fairly heavy load. Do I have the fuse in the right spot? Do I need fuses anywhere else?
Thanks!
Commo