Discussion Starter
•
#1
•
Since I bought my 90 YJ 4 years ago, I've wanted to tackle this project. My jeep still only has 59k original miles and is in very good shape overall. I've replaced just about every serviceable part over the last few years and it was time to tackle the appearance of this beast. I vowed that once the temps got consistently into the 50's or above I would start my paint project. So, about 5 weeks ago I tore the flares off and most of the other pieces that were easily were removable. I taped off the rest, and started sanding. I used an RO with 600 grit discs and knocked down everything. I sanded a bit by hand to get a key on everything else, and honestly the body wasn't too bad when I started. If I had used some glaze or filler here and there I could have really made the body perfect and flat, but it's a jeep, and definitely not a show car for me.
View attachment 3073666
View attachment 3073674
Then began the painting. I worked on every Saturday and a couple other random times. I did 8 coats, cut 2:1, Rusto Topsider : Mineral Spirits. Once you get a nice coverage, you can use the foam rollers for almost everything. I got quite lazy in the middle and didn't even sand between coats. It didn't really matter. I dug out the bugs before each coat and used a flat razor to knock down any major runs.
After 8 coats, it was starting to look really good. I lightly wet sanded the whole body with 1200 grit. I was under a time crunch with Memorial Day Weekend coming, and my friends & family counting on me to lead the group out onto Sandy Neck, our over sand beach on Cape Cod. If I had spent more time sanding, again I could have achieved a flatter, orange peal free finish. But oh well, I can always throw on 2 more coats of paint and sand it down really nice this fall.
To finish off the finish, I used a cheap Harbor Freight DA and HF pads with Meguiar's 105 & 205 to cut and buff the whole body. The Meguiar's products are pretty amazing. Not saying that I'm planning to do this to my daily driver, but it did a really nice job on my jeep. I had never used a buffer before in my life.
I addition to the body work, I picked up SEM Color Coat and revived my dash, steering wheel, and all my roll bar pads. These SEM products are nothing short of a miracle. My dash and roll bar pads hadn't been touch in 26 years, and they were a very pale tan color fading out from two and half decades of top down abuse. They were in good condition though, not any major tears or anything. I used the 3 steps that they recommend. SEM soap with a grey scuff pad, SEM Prep Spray, and then multiple light coats of the Color Coat. Bam! Good as new.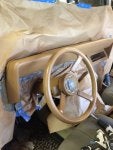 I spent the rest of project putting my flares back on, adding a new soft top, and new half doors that I picked up on Craigslist.
I'm thrilled!!!
I still want to paint the bumpers with some black to get them back to like new, but I have time.
This was such an easy way to get a nice Jeep appropriate finish with very minimal cost, and I learned a ton, and actually had a lot of fun doing it. I feel like I have a new Jeep.
Then my steering gear went to shit on me over the weekend, and I remembered my work on this jeep is NEVER done.
oh well. It's a labor of love.